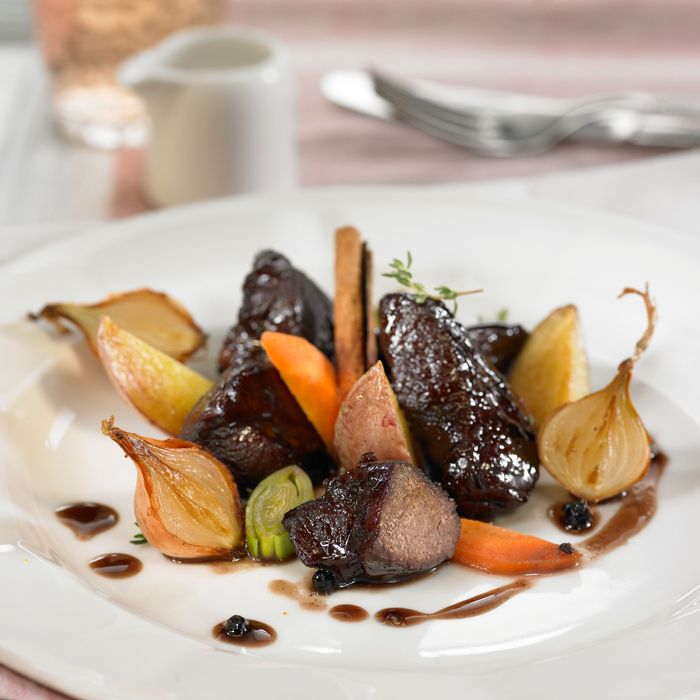 Wild boar is leaner than steak.
Photo: Lawton/SoFood/Corbis
Starting tomorrow, you're going to be looking to make good on those New Year's resolutions (which will only last a few days, tops). But you've got to ease into healthy eating this week: Kale and spinach won't satisfy you after you've enjoyed Christmas short ribs, sugar cookies, and eggnog. Turns out, restaurants around town are offering warm, comforting foods that happen to be packed with health benefits. This week, that means wild boar with chestnut purée at Vinegar Hill House, herb falafel at Boulud Sud, and creamy lentil soup at Zaytoons.
Monday, December 31: Go to Vinegar Hill House on New Year's Eve
The $80 prix fixe dinner at Vinegar Hill House tonight is based on the 1973 French-Italian film La Grande Bouffe, which is about a great feast. The menu features wild boar, which is leaner than steak and said to promote immunity, and it comes with chestnut purée, walnuts, and cherries. There's also quail with farro, currants, and aquavit. Now we know: The French ate a lot of super-foods in the seventies.
Tuesday, January 1: Eat Lentils for Good Luck
Some Italians eat lentils on January 1 because they're coin-shaped and thought to bring money and good fortune in the New Year. They're definitely good for your heart and digestion. Three lucky dishes to try: the red lentil soup at Birdbath Bakery; a super-creamy, yellow version at Zaytoons; and the lentil and bulghur salad at Moustache.
Wednesday, January 2: Hit Bien Cuit's New West Village Shop
Bien Cuit has brought its artisanal breads and ethically sourced coffee across the river. At the new Christopher Street location, skip the croissant and opt for two sandwiches that happen to be healthy: porcini and parsnip, and cucumber and coriander labneh.
Thursday, January 3: Satisfy Your Sweet Tooth at Hu Kitchen
Hu Kitchen doesn't focus on low-calorie food; the fare is healthy because it's unprocessed. Go for the sweet-salty organic flax brittle or an almond butter and puffed-quinoa chocolate bar, which is made with cacao and unrefined organic coconut sugar.
Friday, January 4: Sit Down for Lunch at Boulud Sud
Daniel Boulud's Mediterranean restaurant rolled out a brand-new lunch menu this week, and it's a great choice for a midday meal that won't leave you feeling weighed-down. Order traditional mezze, like herb falafel and baba ghannouj, or dourade a la plancha served with warm vegetables.
Kate Lowenstein is the senior features editor at Health magazine.