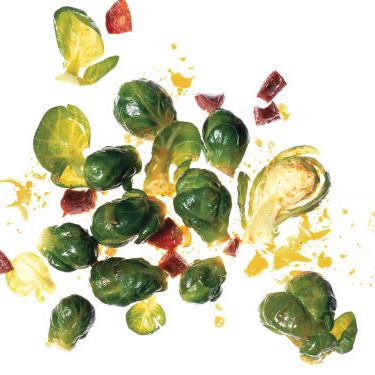 Nuritional MVP.
Photo: Kam Kim/New York Magazine
You're going to be doing a lot of eating this week, and you should feel fantastic about it. But when you're not feasting on Christmas roasts and cookies, there are options around town where you can get food that tastes great while giving your hard-worked stomach a breather. This week, that means warm soup at Todd's Mill, snow pea dumplings at Vegetarian Dim Sum House, and good-for-you Yule logs.
Monday, December 24: Eat a Vegan Version of an Old Favorite
The season of holiday pastries is coming to an end, so take a trip uptown, where Francois Payard's wife is trying to steal his business with healthier versions of his creations. Her Vegan Divas patisserie reimagines Payard's signature Yule log in two ways: a vegan chocolate sponge cake with chocolate mousse filling, and a vegan vanilla sponge cake with housemade organic raspberry jam and organic shredded coconut from Sri Lanka.
Tuesday, December 25: Go Veg for Your Dim Sum Fix
What New Yorker doesn't wake up on Christmas morning craving Chinese? To keep the General Tso's O.D. in check, head to Vegetarian Dim Sum House for a festive array of meat-free delicacies: Snow pea dumplings, mock spare ribs made from yams, and bean-curd galore will keep those overworked arteries clear.
Wednesday, December 26: Detox With Brussels Sprouts
Cabbage is said to lower cholesterol and protect us against cancer, as well as fight colds and the flu. Get roasted sprouts at Rosemary's, con queso fresco at Toloache, or a version that's dotted with hazelnuts at Walter Foods.
Thursday, December 27: Go Out to Todd's Mill
Spankin'-new Todd's Mill may be making a name for itself with its crispy sweetbreads, waffles, and braised short ribs, but there are plenty of other good options on the menu that happen to be lighter: Try a golden-beet soup with kelp and a pickled quail egg, a raw-vegetable salad with cashew dressing, or the roasted-squash tart with sage, ricotta, and leeks.
Friday, December 28: Healthy Fare Straight Out of Brooklyn
Lot 2 may have a new menu, but the gist is still clean, local food. Try a salad featuring rainbow carrots (plus ginger, mint, and goat's-milk feta), or the striped bass with romanesco and green lentils.