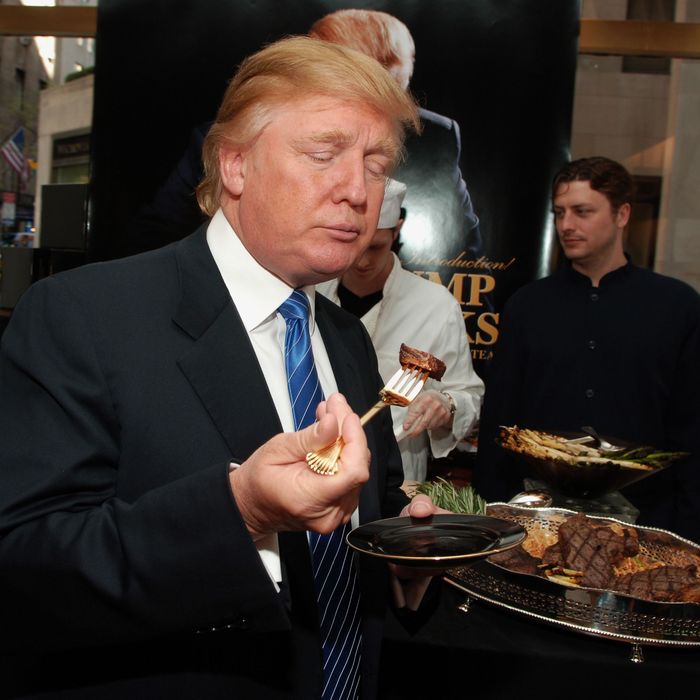 No whiskey to wash down that Trump steak.
Photo: Stephen Lovekin
Donald Trump is really on fire this week. First, Trump Grill is bestowed with the illustrious and completely nonexistent "highest rated sanitary award in NY," and now, ever the crusader for truth, Trump has called on the good people of Earth to boycott Glenfiddich and its parent company, William Grant & Sons. "Glenfiddich is upset that we created our own single malt whisky using another distillery, which offers far greater products," Trump has decreed, according to the Guardian. "People at our clubs do not ask for Glenfiddich, and I make a pledge that no Trump property will ever do business with Glenfiddich or William Grant & Sons."
He also said this: "I hereby call for a boycott on drinking Glenfiddich products because there is no way a result such as this could have been made by the Scottish people."
So, what's Donald Trump on about now? While there apparently is such a thing as Trump-branded single malt, the real-estate magnate and perpetual media thistle is actually very upset that Glenfiddich is the main sponsor of the Top Scot award, given earlier this week to Michael Forbes, a country farmer who famously and defiantly refused to relinquish his 23-acre property to make way for construction of the ornate Trump Golf Scotland resort in Aberdeen. Past winners of the Top Scot prize include J.K. Rowling, so Forbes is in good company.
A documentary called You've Been Trumped that depicts Forbes and his neighbors protesting the entrepreneur was shown earlier this year on the BBC. Trump, who said he hadn't seen the documentary, nonetheless called it defamatory and had his lawyers threaten the network in order to prevent it from airing. Here's the trailer:
Glenfiddich has released a statement explaining that, while the company may be a financial backer of the Top Scot award and its ceremony, it has nothing to do with choosing winners. "There may have been some confusion and misunderstanding concerning the structure and running of the Glenfiddich Spirit of Scotland Awards," the liquor company wrote in a press release. "The person receiving the greatest number of votes, cast by the people of Scotland, wins the award."
Donald Trump's Scottish love affair on the rocks after whisky award slight [Guardian UK]
Earlier: Breaking: Donald Trump Given 'Highest Rated Sanitary Award' in New York