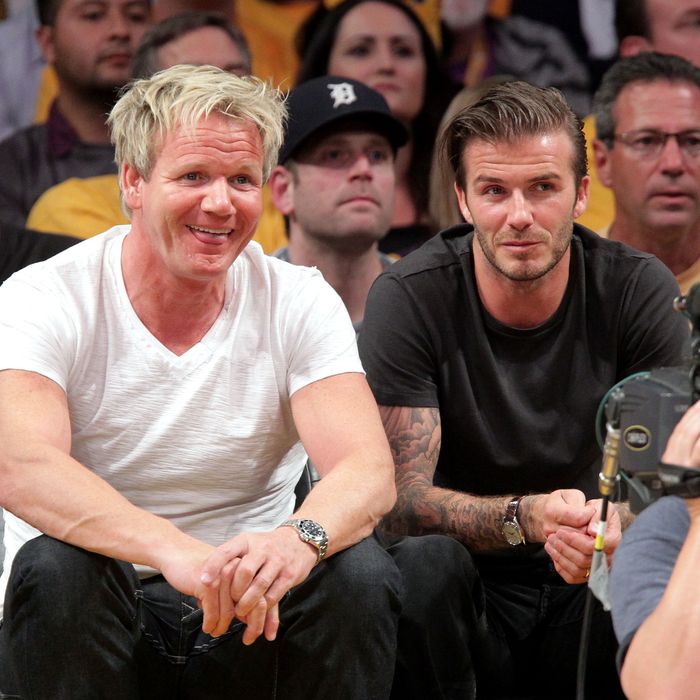 Really, we can't wait.
Photo: Noel Vasquez/Getty Images
Make it stop: Just before taking the field for his final game with the L.A. Galaxy, David Beckham was quoted as saying his next career moves involve business plans with Gordon Ramsay, including a restaurant. "It will be a business thing but owning a restaurant is going to be fun as well," Beckham told the Sun. When we last heard about Ramsay's business plans, of course, they included a preemptive U.K. trademark filing for the name of the Spotted Pig, the New York restaurant owned by Ken Friedman and April Bloomfield. There's been speculation that Ramsay moved to trademark the name of a restaurant he does not own to snipe at onetime sparring partner Mario Batali, a Spotted Pig investor, but we're pretty sure the Gordo-Becks project is the Spotted Pig U.K., or some such attempt. Here's why.
• Gordo was pining for a gastropub à la the Spotted Pig as far back as 2008, when he told the Post: "In New York, I'm gonna do something a little bit more relaxed in the style of a cafe/bistro. We opened Foxtrot Oscar in London — it's an amazing neighborhood bistro along the lines of The Spotted Pig."
• In 2010, rumors float on a raft of tabloids that Ramsay and Beckham plan to open the Queen Vic, a Los Angeles gastropub named after Victoria "Posh Spice" Beckham. It would serve the athlete's "beloved pie and mash and fish 'n chips."
• In 2011, Posh takes up baking.

So, while a Spice Girls-themed restaurant would likely be more exciting, some kind of forthcoming food chapter from the conjoined egos of these megawattage English British people seems incontrovertible. It may not be a Spotted Pig, too. After all, when news of the trademark-squatting broke last month, the chef's spokesperson told the Sunday Mail that Ramsay's restaurant group "regularly seeks trademarks and there were no current plans beyond that." Maybe they'll name it Alinea, or Per Se. Le Cirque would be good. This whole thing has the same clownish of a big-top circus, after all.
Becks teams up with pal Gordon Ramsay to open restaurant [Yahoo]
Earlier: Why Is Gordon Ramsay Screwing the Spotted Pig?