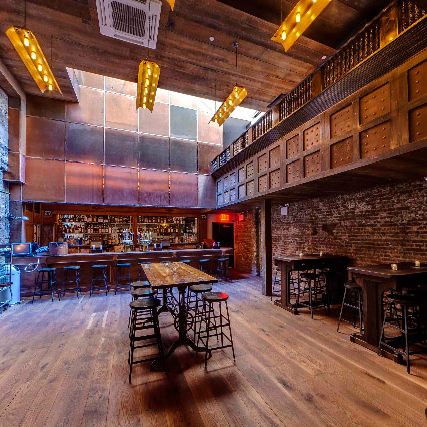 A very handsome Frankenrestaurant.
Photo: Courtesy Brass Money/The Copper Room
The great big New York–restaurant-fixture circle of life has a few funny quirks: When Drew Nieporent closed Montrachet in Tribeca, its chairs went to Centrico, and the banquettes ended up at the Redhead. When Alain Ducasse opened Benoit in the old La Côte Basque space, the chef left some of the old landscapes hanging and added many of his own; and when Steve Tzolis opens the Bar Room on the Upper East Side, it'll feature the enormous old mahogany bar built in the 1880s that was once part of Tonic. Now here comes the Copper Room, a beer bar opening inside Brass Monkey on Little West 12th Street. It does all of these other restaurants one or two better.
Reclaimed design may be standard these days, but the press materials for the Copper Room, which opens Thursday and will have brisket sandwiches, salads, pastas, meat pies and more* to complement its roster of 95 beers, suggest the beer den is salvage-on-steroids, featuring "parts from historical New York and New England factories," a mahogany bar taken from the ballroom at the old Puck Building, pieces of the old Coney Island Thunder Horse Carousel, and brass doors, "which come from the Macy's flagship showroom when it was first built." Sort of like a big city museum, but with more stout.
55 Little West 12th St., New York, NY 10004
*This post has been corrected to show that The Copper first and foremost a pub and not a restaurant.