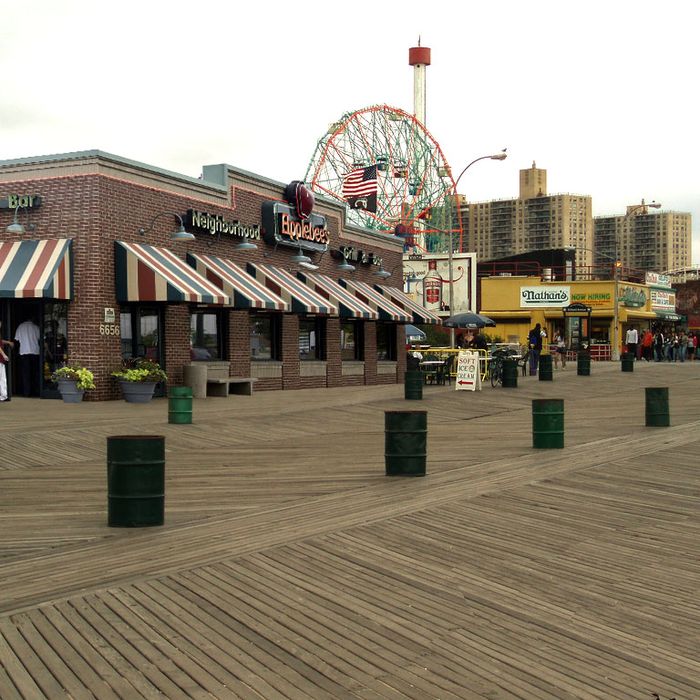 Coney Island Applebee's: not coming to the boardwalk, but close enough.
Photo: Eddie~S/Flickr, Getty Images
National restaurant chains Red Mango, Johnny Rockets, and Applebee's are poised to open in Coney Island, Amusing the Zillion reports. Real-estate broker Joe Vitacco tells the blog that Johnny Rockets and the frozen-yogurt shop will open first and together occupy 8,000 square feet at 1215 Surf Avenue, with a brand-new Applebee's building to follow next door in a parcel that currently contains a building and a vacant lot. The leases were confirmed by Joe Sitt of Thor Equities.
How bad is this? A study released earlier this week indicated that the city's total number of national restaurant chain locations has increased again this year; the cluster of franchised restaurants around Stillwell Terminal already includes Subway, Dunkin' Donuts, Baskin Robbins, and a forthcoming Checkers. Grimaldi's, which operates Brooklyn-style pizzerias around the country, is also scheduled to open down the street in 2013.
Though Paul's Daughter somehow manages to reopen its fast-food concessions each season and the 76-year-old Prospect Heights luncheonette Tom's was able to bring ricotta pancakes to the boardwalk this fall, many of the neighborhood's old businesses and mom-and-pop shops are being phased out. Hurricane Sandy decimated Totonno's and closed Denny's Delight for good, and Cha Cha's may not reopen.
Regardless of the damage and recovery rate, it's back to the drawing board for these restaurants, again, which comprise the retail core of Coney Island and make the neighborhood so improbably close to the hearts of millions of New Yorkers. And as New York State's Board for Historic Preservation nominates the nearby Far Rockaway Beach Bungalow Historic District for addition to the register of historic places, what happens next in Coney Island is not only a benchmark for the lower shore of Brooklyn, but one for the city.
Sitt, who is typically reticent when it comes to projects under development, confirmed the incoming Applebee's, Johnny Rockets, and Red Mango. Invoking the "local, ahead-of-their-time business owners who brought flair, hipness and edge to the People's Playground," however, Sitt also promised to "slash rents" at his new building at 1232 Surf Avenue for Brooklyn-based businesses, at least for the summer of 2013.

Will Coney Island's Surf Ave Become a Mecca for Franchises? [Amusing The Zillion]
Thor To Add Local Flavor To Coney Island By Leasing Major Surf Avenue Parcels To Local Brooklyn Merchants At Reduced Rents For 2013 [PR Newswire]
Related: 7-Eleven, Dunkin' Donuts, and Subway Shops Are Basically Overtaking the City