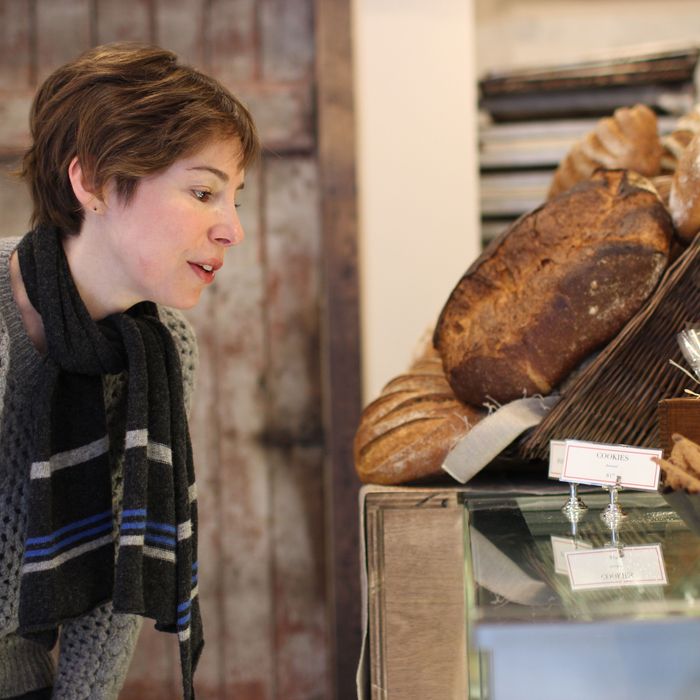 Shortly after this photo was taken, Druckman discovered a "killer" croissant at the new Bien Cuit.
Photo: Melissa Hom
You probably expect a food writer's diary to be filled with accounts of unchecked gluttony, a litany of dropped chef names and perhaps the odd side order or two of uni-topped roasted bone marrow. Expectations like this are "perfectly understandable," writes Skirt Steak author Charlotte Druckman, "especially at the peak of holiday season." But what happens when a food writer gets felled by "the plague"? It's a whole other story, she says. For Druckman, fighting off a bad cold means eating lots of anchovies on buttered toast, and dipping into her strategic reserve of olive oil gelato. If you are both hungry and intrepid, get your Purell on and head straight into this week's New York Diet.
Friday, December 21
I woke up earlier than I'd like because something very exciting was about to go down. My old refrigerator was on its last leg; the compressor was wheezing and I'd been told it was only a matter of weeks. So the new one was set to arrive, somewhere between 9 a.m. and 2 p.m.. The challenge would be to empty its contents as quickly as possible and move them into the new machine. If I took my ice cream out at 9 a.m. and no one showed up until 1:30, for example, I'd have an ice cream massacre on my hands, and that is unacceptable. I waited.
The nutritionists are all going to shake their disappointed heads when I confess that I'm not a breakfast person. I'll reluctantly have a yogurt (vanilla Ronnybrook and orange-ginger Siggi's are on regular rotation) if I deem it necessary. In general, I don't eat when I'm not hungry. What I will have to start my day is tea. On the morning in question, I made "Almond Cookie" rooibos from l'Âge de Thé, which you can buy (and/or sip) at Bosie Tea Parlor.
By 12:15 p.m., Operation Refrigerator was under way. It wasn't as simple a maneuver as expected, though, and installation wasn't complete until 1:45 p.m. Fortunately, lunchtime was moved to 2:20 p.m. Phew.
Usually, I work right through lunch until my stomach starts to rumble and/or my blood sugar level falters. In theory, I'd pause then and enjoy a small savory repast. In practice, I usually end up going for a cookie or two. It was a holiday week, however, and though my editors were e-mailing and there was copy to write, I figured it was only right and fair that I take a moment, in honor of all the abused freelancers out there, to have a mini-holiday myself.
And what better mini-holiday than lunch at Gramercy Tavern, which is one of the city's warmest, most welcoming spaces, especially at Christmastime? So totally festive. My dear pal, the creative mind and brilliant photographer Melanie Dunea, arranged for us to sit up front in the Tavern. When I walked in, she was there to greet me, along with Michael Anthony, who has to be one of the kindest chefs on the planet.
We had flutes of sparkling rosé. The amuse bouche was cauliflower custard with roasted romanesco — pure brassica love. Melanie and I opted for two appetizers each. I ordered the caramelized cauliflower with apple, celery, and pumpkin seeds and the swordfish confit salad with cranberry beans, capers, and pine nuts. I had some of her mushroom and calamari with turnips and hazelnuts, and also the duck-liver mousse with pickles and grilled bread.
Michael generously sent out an additional course — a warm lobster salad with carrots and chicory for me, and, for Melanie, a gently smoked, delicate trout served over a deep, beet-backed magenta puree.
You can't go to Gramercy and not have Nancy Olson's desserts; I don't care if you don't have a sweet tooth. To finish, we ordered the chocolate cake, which came with candy-cane ice cream and a caramelized white-chocolate sauce flavored with cinnamon and vanilla bean. After four hours and some Grüner Veltliner, however, it was time to head home. I had a recipe to test.
I stopped at Agata & Valentina ("Ags" for short) on University Place and picked up the ingredients to make a salad from Jim Lahey's My Pizza. It's six things — celery, shiitake (raw), grated parmesan, lemon, olive oil, salt, and pepper. This was a calculated move. I was about to test a recipe for my favorite version of one of my most favorite things, rice pudding. I've spent enough time eating with myself to know what was going to happen: I'd want to eat that rice pudding for dinner. That would really throw the nutritionists into a tizzy. I figured if I offset it with a light salad, I could pretend I'd had a more balanced meal.
Made myself a matcha latte (almond milk is the secret; a bamboo whisk is essential) to offset the effects of the wine, then got cooking. Chef Heather Carlucci-Rodriguez's rice pudding (a.k.a. the world's best rice pudding) doesn't have an added thickening agent — it's cooked low and slow. It was almost midnight when my pudding went into the fridge to set, and I felt supremely tired and like I was coming down with something, but I chalked it all up to the long day, lunchtime booze, and late hour. I ate my salad with some toasted, crusty bread slathered with ricotta, this spectacular tomato jam, and some fleur de sel. Then I had a bowl of the bestest rice pudding, indeed I did.
Saturday, December 22
I woke up feeling crap. Truly crap. The kind of crap where you know the cold has taken hold and is building itself a happy home in your chest.
Here's how I know I'm sick:
1. I get up to do a radio interview (by phone, thank goodness — dialed in from my bed, in my PJs, and scratchy voiced, eked out whatever I could about Skirt Steak), and then lie down again, for a "nap," and, next thing you know, it's 3:30 p.m.
2. I have no appetite whatsoe'er. None.
At 4 p.m., I make my usual "cheat" matcha latte. It's inspired by the one served at Bosie Tea Parlor, with almond milk, coconut water, and agave. At home, I've found the coconut water unnecessary, and wasn't in love with the weird aftertaste the agave was leaving behind. I was curious about Stevia a few months ago and got myself some; added to the green tea powder, it does some of its best work in this drink. I whisk up my bright green frothy matcha pulp with hot water (180 degrees is best), then top it with almond milk.

It occurs to me that I should eat something. My people, the Jews, will not be pleased to hear this (so now, I will have alienated the nutritionists and the Jews, too), but I don't like chicken soup. I don't love soup in general; I like to have something to chew. More than that, chicken soup has all the same negative associations as Jell-O; it's sick people food. Call it "broth" and it's even worse. It's rare that I'll order soup at a restaurant — ramen and pho are in their own separate and approved leagues; there are maybe five chefs whose soup I'd willingly and happily sign up for.

Miso, though, I've found makes you feel better. It's my cure-all. There's usually a tub of white miso in my fridge … except, if you remember, yesterday was fridge-moving day. Had I chucked my old miso? Yes, I had. So I went around the corner to my neighborhood deli and got a few packages of the instant stuff.

I accept the fact that I will not be able to attend the holiday dinner party I've been looking forward to all week and that I should, while I'm out, get my dinner provisions squared away. There's a new line of boxed meals that one of the country's best (in my opinion) chefs has developed and I needed to test one or two. This seemed as good a time as any. You're supposed to add shrimp, broccoli, and feta to a quinoa and spice combo. I walk into Ags and one of the first things spotted is romanesco. Why make broccoli when you could have romanesco? Over at the seafood counter, I ask what's looking best today seafood-wise. Rock shrimp is the answer.

Wandering through Ags, I started finding things that looked interesting or that I might want to have later. There was no rhyme or reason. A new kind of French-style saussicon? I'll take it. Sharon fruit? Ooh! Into the basket it goes. I grabbed some ground grass-fed sirloin, too, in case I felt like testing another boxed meal (this one has bulgur with Turkish spices and pistachios, and you add ground beef, cucumber, and yogurt to it). Finally, and this is really the moment when I knew all was not right, I picked up two containers of vegan chocolate mousse.

(If you are wondering why I didn't get the regular chocolate mousse, here's the reason: When you have a chest cold, you need to start eating like an opera singer. This, we call the Diva Diet. Lots of tea, and no dairy.)

Back home, I've got my miso to keep me warm. And, knowing it's not enough sustenance, I make one of my favorite (and oft-eaten, as you'll see) snacks — heavily buttered (yes, butter is dairy — this doesn't count), thick, crusty pieces of toast with good-quality anchovies. I like Ortiz.

Later, for dinner, I test out the Greek quinoa meal. For dessert I had vegan chocolate mousse from Vegan Divas (there's Callebaut chocolate in there), and though it was, in fact, quite satisfying, I had bites of Perfect 10 and a 5Boro Kookies. These I'd ordered from Momofuku Milk Bar out of curiosity; they, too, coincidentally, are vegan. I'd eat those cookies any time. Nicely done, Tosi.

Sunday, December 23
Despite the Nyquil, I wake up (late, very) feeling worse. Not hungry. Not at all. I have some ginger tea to soothe my throat. I'd intended to go to Bosie to get some work-related reading done — Jessica Harris's fascinating High on the Hog — and have a "real" matcha latte and one of Damien Herrgott's scones, a perfect hybrid of an American biscuit and a British scone. It's the simplest, barely sweet thing and I can't get enough of it. Alas, I can't make it that far. Instead, I taste a sample slice of panettone at Ags and buy one chocolate-hazelnut and one polenta-anise biscotti. Later, I have another round of buttered toast with anchovies, and some diet raspberry Snapple, which I'm a sucker for.

Dinner is a bright spot. My dad knew straits were dire when I texted him for sympathy and poo-poo-ed his chicken soup suggestion, and he surprised me with delivery from Barney Greengrass. All accounted for: bialys, nova, sturgeon, cream cheese, fresh-squeezed OJ, and a chocolate babka. Gary won't tell us where he gets this babka (he outsources it), but I wish he would. It's the only babka I've ever liked.

I've always had a penchant for baked goods and desserts. Growing up, I wasn't much of a breakfast eater — my favorite morning bite was a warm pain au chocolat out of which I'd gouge all of the molten, dark chocolate. In high school, it was suggested that I receive a refund from the cafeteria for all the lunch I didn't eat. Instead of lining up for baked ziti or hitting the salad bar, I would grab two mini-cartons of milk and an empty plate, and make a beeline for the tray of cookies or brownies. Things haven't changed much.

Monday, December 24
The coughing is getting worse. Cool.
Christmas is the one holiday I look forward to most. Yes, I am the Jew who shuns chicken soup and grew up decorating the family tree and boisterously wassailing. We, the Druckmans, always pick a special restaurant to dine at on December 24. Le Bernardin was the intended destination. I had made the reservation. To say I was looking forward to this dinner was an understatement.
God as my witness, I would rally.

Sleep? Check. Ginger tea? Check. Matcha latte? Check. Copy drafted? Yup, that too. Buttered anchovy toast? But of course.

Did I feel better? Nope. Worse. My father checked in via e-mail.
Dad: Feeling any better?
Me: The green phlegm has hit New York City. Craptastic.
Dad: Oh, I am sorry. Does that mean no dinner?
This means they'd probably appreciate it if I did not show up and spread my germs. This is the moment where I have to have the talk with myself. Should I go to dinner? I know very well I should not. I feel truly wretched and more than anything, I want and need to make it to Christmas.

You can always count on Otto to deliver, and Meredith Kurtzman makes the best gelato in the city. I went for a medley of antipasti: spicy broccoli rabe with ricotta salata; cavolo nero with ricotta; parsnips, parsley, and parmigiano and octopus, celery and lovage. I also had the baby spinach salad with (more) ricotta salata, toasted crouton crumbs, and truffled honey, then ordered two pints of gelato, the olive oil (because, please, you have to), and hazelnut stracciatella. So much for the no-dairy policy. I was despondent, after all, but I restricted my intake like a responsible-ish citizen.

Tuesday, December 25
Oh boy, do I feel positively dreadful.
But no one will ruin my Christmas. No. One.

Santa had been apprised that I wanted this newfangled pizza "stone" that's actually made of steel. Santa usually complies with my requests. Wouldn't it, I reasoned, be in keeping with the Christmas spirit, to make pizza for the family and test out my present? I'd prepped Jim Lahey's no-knead pizza dough, gathered my various toppings, and after having my ginger tea and packing up the mise en place, I head uptown.

Mom made her peerless pancakes she only serves on Christmas, plain and blueberry. I've brought some maple syrup. I like bacon with pancakes.

Eventually, the restless natives get peckish, and I ask Mrs. Klaus where my pizza stone is. This thing is fucking heavy. But it works, like a charm. Three different types of pie were tried: Lahey's tomato-based stracciatella and his ham (prosciutto) and cheese (fresh mozzarella, gruyere and fresh pecorino) pizza (the genius ingredient here: caraway seeds), plus my creation with black trumpet mushrooms, mozzarella, Gruyère, an egg — cracked over the top in the center — and, to finish, truffle salt. Everyone's faces lit up like the Christmas tree we didn't have.

My mother used to make Christmas dinner. Now my parents make reservations. This doesn't sit well with me, even when I'm not sick. What's worse is that, this year, they've picked Red Farm. I'm a fan of that restaurant, for the record, but, really? Chinese food on Christmas?! How cliché. They drop me off and enjoy, I am told, three kinds of dumplings, crispy grilled bass with miso sauce, stir-fried Brussels sprouts with corn and asparagus, dry-sauteed string beans with ground pork. Ed Schoenfeld, who has become quite chummy with my Dad, sent out some wonton soup, too. It's probably an excellent restorative if you have a cold.

Me? I hit rock bottom. I bring out the pints, and I raid my stash we've got of the fudgiest brownies from Robicelli's and Dorie Greenspan's Beurre & Sel sables, among other treasures (don't forget my old pal, the babka). Sugar coma followed by more NyQuil.
Happy Christmas to all, and to all a good spike in the glycemic index.
Wednesday, December 26
I'm only starting to feel better, but I've got to get out. The new fridge is already boring me with its contents. Plus, I've heard Bien Cuit has opened a stone's throw away on Christopher Street. This I can muster the strength for. First, ginger tea. Then, go time. I get a crumb-topped apple-cardamom danish, a chocolate-chip cookie, and a half a miche. I also procure a tebirke, which has the shape of a pain au chocolat but is covered with a coating of poppy seeds and filled with almond paste.

Later in the day, I whip out the miche, cut a few thin slices, and toast them. Anchovies and butter again? You cut the bread thicker for that. I'm taking a tartine turn. There's some nova left and it's too good to waste. You want the lightest layer of butter here, and then a few slices of the smoked fish layered across. Sprinkle some lemon and, if you feel like it, add a few capers. Oh, cracked black pepper is a wise idea.

On my way home from Bien Cuit, I detoured to Ags (again), because I kept thinking about the romanesco there and how badly I wanted to roast it. I grab a head, along with another of radicchio, some baby Brussels sprouts, and a red pepper. I roasted them in a hot oven with olive oil and kosher salt, then immediately threw them into a bowl with some minced anchovies, toasted pine nuts, and raisins. I added balsamico, a drizzle of olive oil from the cured fish, and a dollop of ricotta to the bowl. That was dinner.

Finally, I had my Bien Cuit chocolate-chip cookie. You didn't think I'd forgotten about it, did you? I always save room for dessert.