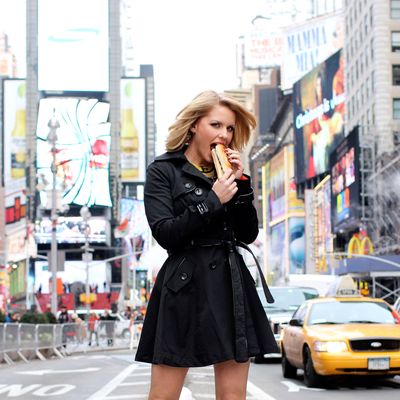 "I'm an eater, but the hours don't let me eat much."
Photo: Melissa Hom
Carrie Keagan, the lively, lusty host of VH1's Big Morning Buzz Live, is a woman who really eats. "I'm all over the place with my food," she says. "I love cheap takeout as much as fancy restaurants; I love classic homemade meals as much as stupid crap." After a few years of vegetarianism, Keagan is even off the meat-free wagon, making a beeline to her hometown (Buffalo) specialty, beef on weck, and gorging on "as many pork products I can get my hands on." Read all about Keagan's Jameson devotion, Doughnut Plant dreams, and $100 truffled risotto in this week's New York Diet.
Friday, December 7
My alarm goes off around 4:45 a.m. every weekday. Surprisingly, I don't drink coffee. I also can't eat a lot in the morning because my body just isn't functioning. So sometimes it's a Cheez-It or a weird bite of whatever, but usually I just get an egg wrap from catering, tear off half, and douse it with as much hot sauce as possible. I'm an eater, but the hours don't let me eat much.
Lunch was beet juice and a granola bar. I slurped it down while getting briefed on the next show.
Luckily, on the second show, we had a segment with marshmallows in chocolate fondue, and five different cocktails. Nothing will ever beat the segment with peanut butter and jelly doughnuts from Doughnut Plant. I almost orgasmed on live TV from that. I ooze love for them.
After work, I walk home to Times Square, get in my jammies, and refuse to get out of them. In other words, I'm a Seamless.com girl. My new order obsession is from Boi Noodles: a spicy pork sandwich on a baguette and shrimp soup. Answered the door in bathrobe. Devoured in peace.
Saturday, December 8
Weekends are where I get to eat and party.
Brunch was somewhere in Hell's Kitchen: kale Ceasar salad with shrimp; ham and cheese waffles with scrambled eggs; mimosa.
My girlfriends and I wanted to go to Bagatelle because we heard hot guys go there, and I'm single. It was really more like 52-year-old women and super-attractive waiters and gay guys looking for sugar daddies, but I still liked it because of this: the $100 white-truffle risotto. I'm obsessed with truffles. It was the most wonderful, aromatic, creamy goodness. I let everyone have bites. Motherfuckers ate the shit out of my bowl.
Sunday, December 9
Let's just say: I drink a lot on the weekends. Jameson. Here's the secret: You cannot mix it with anything. No sugar. No other alcohol. Straight Jameson on the rocks all night long, and you will feel totally fine the next day. But hey, maybe it's because I'm Irish.
Woke up late and ordered from Seamless: corned beef on rye with sauerkraut from a deli.
My friend Stacy, who is my fabulous, fierce friend who I look up to a lot, has started cooking Sunday night dinners. I don't have a lot of family in New York, so it's really nice to shut down and eat with loved ones and no distractions. She made turkey potpie and green beans with garlic sauce.
Did a little work on NGTV — my dark side. Then bed by ten … which is actually late on work nights.
Monday, December 10
Eggs in the morning from catering.
"Beets Me" beet juice from Green Symphony because I didn't have time to eat lunch. I was a huge Diet Coke person, but it kinda makes me sick now; I'm back on water and coconut water.
Skipped dinner because I was exhausted from work. Jumped in the shower, jumped into bed. Just me and the lights of Times Square.
Tuesday, December 11
Egg wrap from catering.
David, an old friend from my hometown, Buffalo, cooked for me at my place because he was couch-crashing. He made salmon, Brussels sprouts, and Japanese sweet potatoes. My kitchen has only been used once, ever, so he had to literally make this dinner with nothing. We reminisced about Mister Pizza in Buffalo … my favorite pizza in the world. The pizza is cut into squares, not triangles, and you have to get the bleu-cheese sauce. Nothing compares.
Wednesday, December 12
This was a big, long day because of 12/12/12 and Viacom had a live eight-hour stream with me, plus I had to tape two shows. I had a Beets Me juice because I didn't have a second for more.
Drank Yamazaki Japanese Whiskey all day. My friend, a mixologist at Acme, did a segment on whiskey for women for the show. He let us drink it straight, which I was happy about. Then I obviously snagged a bottle.
Later on, I had a hot dog from the vendor outside and threw back a carnitas burrito from catering. By the way, a carnitas burrito was the thing I craved the most when I wasn't eating meat. I broke my vegetarianism with one from Chipotle. Not ideal, but did the trick.
I had plans to visit my new favorite restaurant, Harding's, because I seriously fantasize about the short ribs and scalloped potatoes there. But I literally couldn't move my body. I'd never complain, because I love my job so much, but oh yeah … I was done.