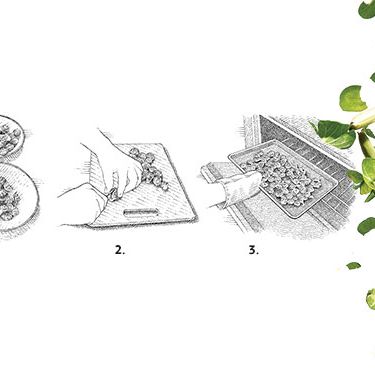 Photo: Victor Prado/New York Magazine. Illustrations by John Burgoyne.
Peak season for Brussels sprouts begins in fall and runs through winter. Prompted by a good frost or two, the aristocratic little cabbages turn their stored starches into sugar, rendering them sweet and nutty. Frost is to sprouts as sunshine is to tomatoes. To give the veggies a crisp textural boost, Kyle Knall, chef of the terrific new whiskey bar and restaurant Maysville near Madison Square, pulls the leaves from the hearts and cooks them separately. Then he tosses them together with crunchy bits of pig's ear, but in a pinch, bacon does the trick.
Kyle Knall's Brussels-Sprout Salad With Crispy Bacon and Buttermilk Dressing
For the buttermilk dressing:
1 shallot, minced
2 tbs. sherry vinegar
Salt and freshly ground black pepper
1 egg yolk
Juice of 1 lemon
1 cup grapeseed or canola oil
1/4 cup buttermilk
4 dashes Tabasco
For the salad:
40 Brussels sprouts
1/3 pound slab bacon, cut into lardons
2 tbs. plus 1 tsp. extra-virgin olive oil
Salt and freshly ground black pepper
2 Honeycrisp apples, cored and diced
2 lemons, cut into supremes and diced
4 quail eggs, boiled for 2 minutes and 10 seconds (available at Whole Foods)
2 ounces Pecorino, for grating
For the dressing: In a bowl, combine the shallot with the sherry vinegar, a pinch of salt, and 1 teaspoon of pepper, and marinate for 10 minutes. Whisk in the egg yolk and lemon juice. Drizzle in the oil, whisking until an emulsion forms. Whisk in the buttermilk. Add the Tabasco, and season with salt and pepper. Reserve.
For the salad: Preheat oven to 425. (1) Remove the outer leaves from the sprouts. (2) Cut the hearts in half, and add them to a bowl with the lardons and 2 tablespoons of olive oil. Toss and season with salt and pepper. Place lardons and sprout hearts, cut side down, on a baking sheet. Roast for 20 minutes or until golden brown. Meanwhile, add the sprout leaves to the bowl with 1 teaspoon of olive oil; toss and season with salt and pepper. (3) Spread the leaves on another baking sheet, and roast for 10 minutes or until crisp. In a salad bowl, combine the hearts and lardons with the leaves, apple, and lemon, and drizzle with buttermilk dressing.
To serve: Garnish with quail eggs, and grate Pecorino over the top. Serves 4.
*This article originally appeared in the December 17, 2012 issue of New York Magazine.