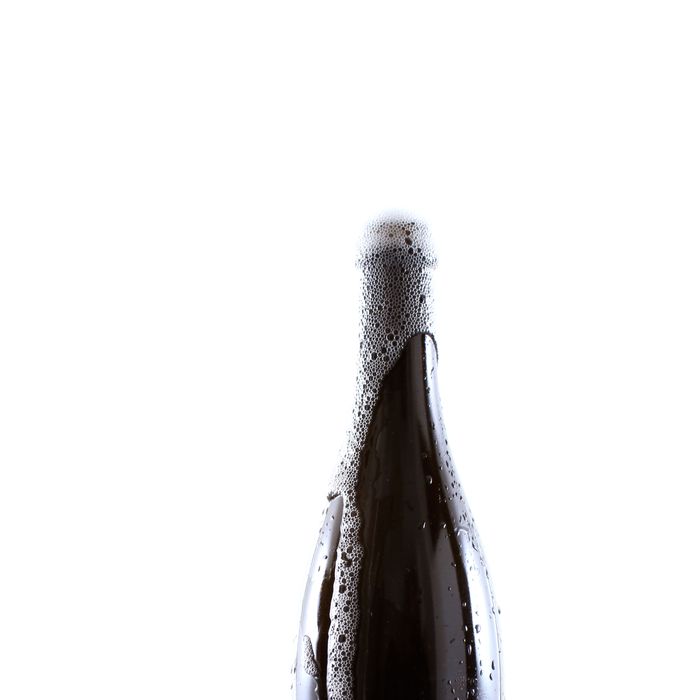 How about some sparkling wine from the Jura?
Photo: Melissa Hom
Sure, when New Year's Eve rolls around this year, you could grab a magnum of Krug or Moët and call it a night. But when you know which farm your pork comes from and are on a first-name basis with the person who makes your goat cheese, there's no reason to ring in the New Year with champers that's made by multinational luxury conglomerates a million bottles at a time. Far better to pop a few bottles of wine produced by small operations in limited quantities with minimal additives. New York is full of sparkling wine that's easy to find, often cheaper than the brand-name stuff, and much, much more interesting.
Fleury Pere & Fils Carte Rouge Brut NV ($41)
This is pinot noir Champagne in the old-school French, bureaucrat-approved meaning of the word. Unlike a lot of brand-name bubbly, though, it's biodynamic, the grapes are farmed by the producer (rather than purchased), and thousands (rather than tens of millions) of bottles of it are produced a year.
Tiphaine, Nouveau Nez, 2010 ($25)
Produced in the Loire from chenin grapes, this one is produced petillant naturel, meaning that the carbonation is completely a product of the grapes. (Champagne producers add sugar and yeast during the bottling to get their sparkle.)
Saumon, La Cave Se Rebiffe, NV ($19)
Another petillant naturel, this one is a rosé made from young, hotshot, natural Loire producer Frantz Saumon. It's made from gamay (a grape usually associated with Beaujolais) and sealed with a crown cap, like a beer bottle.
Bouchard Inflorescence 08 ($75) Cedric Bouchard is the closest thing to a Champagne celebrity. He works in the Aube, a formerly redheaded-stepchild southern subregion of Champagne, on a tiny one-man operation. This wine is everything big-name Champagne isn't: Instead of chasing a consistent style year after year, this wine is produced in limited quantities from a single plot of land, with a focus on the character of the soil and the year it was grown.
Domaine Valentine Zusslin Zero Sans Soufre 08 ($25) Extremely close to Champagne but from Alsace, a region to the east, and less expensive. Made from Auxerrois (a white grape important in Alsace but fairly rare elsewhere), it" s="None" biodynamic,="None" and="None" there's="None" no="None" extra="None" sugar="None" or="None" sulfur="None" added.="None"
Champ Divin Champ d'Étoiles Crémant du Jura 09 ($22)
For those who don't know, the Jura is a region of France near the Swiss border known for producing some seriously idiosyncratic wines from grapes not grown anywhere else; to say it's a wine-geek darling is an understatement. This wine is a more classic sparkler, but it still manages to fly the freak flag a little: The vineyard is organic and biodynamic, and unlike most sparkling wines, there's no dosage, so expect it to be very dry.
Venturini Baldini, Malvasia Dell'Emilia NV ($15)
Think of this organic example of a sparkling Malvasia as the white cousin of much-maligned but back-in-style Italian sparkling red Lambrusco. It's less carbonated than many other sparkling wines, so grab something else for a dramatic pop at the stroke of midnight, but it will serve you well earlier in the night.
Mosse, Moussamousettes 11 ($20)
Almost all sparkling wine uses the techniques of riddling and disgorging developed by Veuve Cliquot in the early 1800s to produce a perfectly clear product. Not so with this natural Loire producer: The yeast sediment is left in the bottle, producing a cloudy orange wine. It makes the flavor distinctive, too, but it tastes much less outlandish than it looks.
Gruet, Brut, NV ($15)
New Mexico isn't known for its sparkling wine, but Gruet has been at it for 25 years. This one is produced from Chardonnay and pinot noir in the Champagne style. It's patriotic, and light on the wallet too.
Sparkling Pointe, Brut, NV
Here's one for New York locavores: Sparkling Pointe is making Champagne-style wine on the North Fork. It doesn't hit all of the same offbeat talking points as some other choices here, but it's small-batch grower-made wine produced less than 100 miles from the city — a crowd-pleasing story, if anything.
Related: Sloshed: The Pro-Am Guide to New Year's Eve Drinking