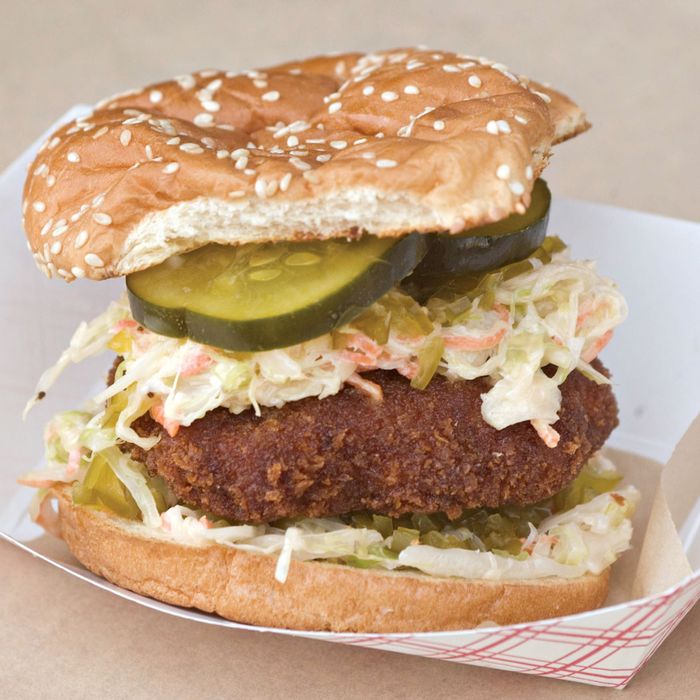 The McRib wishes it could be as good as Bark's crispy pork sandwich.
Photo: Ryan Monaghan/New York Magazine
Hey, maybe you heard that McDonald's is once again rolling out its McRib sandwiches for a limited time only. It's true that people go crazy for this thing, but ick. We have a tough time abiding. Pork purée that's been molded into a strange rib facsimile and slathered with too-sugary (and way-too-red) barbecue sauce just isn't our idea of a great sandwich, especially in a town that's as pig-crazy as New York. In fact, this city is stuffed to the brim with juicy, fatty, makes-life-worth-living pork-and-carb excellence. Below is but a small sampling of our favorites. Check them out, then, as always, let us know what your favorites are, too.
The Sandwich: The Macho Man or Woman
Where to Get It: Court Street Grocers
The South Brooklyn grocery store's sandwich counter turns out plenty of pork (tamarind pork loin, a killer rendition of a Cuban, even a pork roll at breakfast), but Grub's favorite is this pulled-pork-butt, cheddar, and cole slaw combo finished with house-made duck sauce and stuffed into juice-drenched garlic bread.
The Sandwich: The Cumberland
Where to Get It: Brooklyn Sandwich Society
This Fort Greene newcomer is very quickly making a name for itself among sandwich devotees. One reason why: this mix of honey-glazed pork belly, pickled carrots, sharp shiso, and kimchee mayo.
The Sandwich: Porky Melt
Where to Get It: Pork Slope
Dale Talde's homage to highway roadhouses gets it right with this (even if we doubt they have anything similar in St. Louis): toasted marble rye, mustard, onions, and a fat patty of ground pork sausage.
The Sandwich: P.B.L.T.
Where to Get It: John Brown Smokehouse
Burnt ends get all the love at the Long Island City joint, but don't overlook this over-the-top, smoked-belly take on a BLT.
The Sandwich: Crispy Pork
Where to Get It: Bark
Skip the hot dogs here and get the sandwich: Heritage pork parts get shaped and deep fried into a crispy-juicy patty that's then topped with pickles and slaw.
The Sandwich: Char Siu Pork or Pulled Pork
Where to Get It: Dickson's Farmstand Meats
The menu changes daily at the Chelsea Market butcher, but you can count on either a classic pulled-pork with cole slaw, or a spiced char siu version. Honestly, it doesn't really matter which one you get since, no matter what, the meat used is top-notch.
The Sandwich: The Cubano
Where to Get It: The Spotted Pig
At $18, April Bloomfield's pork-stuffed (lunch-only) Cuban sandwich is hardly the cheapest in town. Then again, this is confit heritage pork and funky Gruyère cheese from one of the city's great chefs — that kind of pedigree comes with a price.
The Sandwich: Banh Mis
Where to Get It: Pretty Much Anywhere
The great banh mi fad of the late-aughts may have settled some, but that doesn't make the porky, paté-stuffed sandwiches any less amazing. Check out Banh Mi Saigon Bakery, Nicky's Vietnamese Sandwiches, Ba Xuên, or plenty of others.
The Sandwich: Steamed Pork Bun
Where to Get It: Practically any outpost in the Momofuku empire
Steamed buns blew up this year, but Grub still gravitates back toward David Chang's pork-belly mainstays.
The Sandwich: Pork Hero
Where to Get It: Defonte's
Whether you go to the Red Hook original or the Manhattan offshoot, order a gigantic hero full of roasted pork and fried eggplant.
The Sandwich: Porchetta Sandwich
Where to Get It: Porchetta
Sara Jenkins has made New York's ur-sandwich: Grand Daisy ciabatta rolls filled to the brim with slow-cooked loin, belly, and skin — and no slaw or mustard or anything else to get in the way.
The Sandwich: Spicy Pork Hero
Where to Get It: The Meatball Shop
It's hard to beat the bare-bones subs at the ever-expanding meatball empire. (Get it with tomato sauce and mozzarella.)
The Sandwich: Pulled Duroc Pork
Where to Get It: Num Pang
We've already talked about New York's army of amazing banh mi bakeries, but we'll call special attention to the Cambodian shop that puts out a similar sandwich yet fills it with tender, slow-cooked pork.
Related: Eight Things Britney Spears Has in Common With the McRib