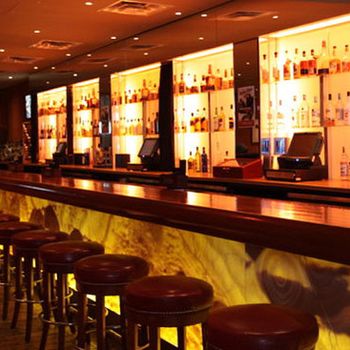 Maker's Mark Bourbon House in Lousiville.
Photo: Courtesy Maker's Mark Bourbon House and Lounge
Andre Mulligan and his brother met with representatives at the Maker's Mark Bourbon House and Lounge in Louisville last August in order to book a party for the following day. "During the meeting," Mulligan alleges in a complaint filed this week in Jefferson County Court, "the officials from Maker's Mark demanded to know the ratio of 'black people' to 'white people' attending the event." When Mulligan told them the party would be "100 percent African American," management allegedly replied that the restaurant would not host the event. When his party showed up at the restaurant the following night, they were turned away at the door. Mulligan is now suing the restaurant's operators for costs and punitive damages for violating the Kentucky Civil Rights Act.

The bourbon company Maker's Mark, which is owned by Beam, points out in a statement released on its website that it only licenses its name to the Louisville restaurant and has no ownership or operational claim.


Maker's Mark licenses its name and trademark to a third party appointed by Cordish Operating Ventures, LLC, which is solely responsible for the ownership, operation and management of the Maker's Mark Bourbon House and Lounge in Louisville Kentucky. Maker's Mark has no ownership or involvement in the Lounge whatsoever. Maker's Mark was unaware of the complaint filed by Andre Mulligan against the Lounge until it was covered in the media and, contrary to a published report, no one from Maker's Mark has had any dealings with Mr. Mulligan.
"The allegations in the complaint are extremely serious and, if true, reflect behavior that is abhorrent and unacceptable, as well as absolutely contrary to the core brand values of Maker's Mark. Maker's Mark does not accept, and will not tolerate, discrimination in any form, and has so notified and warned the company which is solely responsible for the operation of the Lounge. While not involved in the litigation, Maker's Mark will continue to monitor the situation closely and will take all actions it feels necessary under the circumstances."


Bill Samuels, Jr.
Chairman Emeritus
Rob Samuels

Chief Operating Officer
The details of the complaint are still emerging, and a representative of Cordish Operating Ventures, a party named by the suit, tells Eater Louisville it is not actually included in the court papers. Maker's Mark Bourbon House and Lounge, the restaurant that allegedly denied service to Mulligan's party, has yet to release a statement to the press.

Blatant Racism [Courthouse News Service]
Dear Maker's Mark Friends [Maker's Mark]