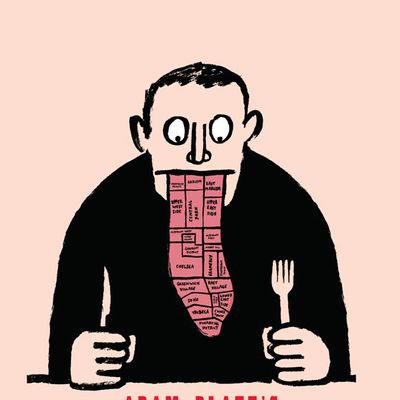 The right dinner spot for you is on the tip of his tongue.
Photo: Jean Jullien
Hope you're hungry: This week's New York cover story is critic Adam Platt's annual guide to city restaurants. Unlike last year's 101 Best, the restaurant critic's master list for 2013 presents itself as a function of ten of the most dominant dining world trends. Are chefs really bringing back traditional blanquette de veau? Why are there so many dry-aged rib eyes on menus all of a sudden, and what's up with all this foraged lichen? Platt explains it all.
In a year that saw the closure of the high-end destination restaurants Robuchon and Adour, Platt say that a new wave, including Calliope in the East Village and Andrew Carmellini's forthcoming Lafayette in Noho, are poised to bring back a kind of old-school, unfussy French food. Elsewhere, extravagant suppers are still down and out, but $55 steaks in the Upper East Side point to a resurgence of higher price points. Meanwhile, Brooklyn continues to innovate in unexpected ways.
Platt points out that small Italian restaurants are thriving downtown, adding that there's a good reason why sandwiches like the chicken parm on semolina at Parm are having a moment. For dessert, Platt argues why the "fallen" winter fruit with wheatgrass granite at Acme is one of New York's best new desserts, up there with the more calorific Black Forest Charlotte for two at M. Wells Dinette.
The critic finishes with his ten best new restaurants, five of the city's best new chefs, and caps it off with a directory. And of course, Platt has a few bones to pick. Writing "Oregonians may like to eat their dinner off bark, but this is New York, for God's sake," the critic sends back a few overdone trends to the kitchen. Check out the whole thing, below.
Where to Eat 2013 [NYM]