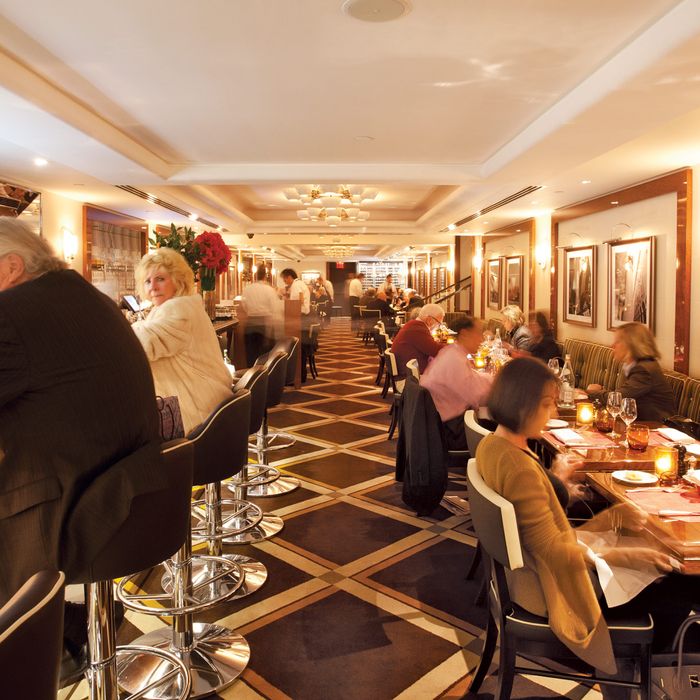 Sirio Ristorante.
Photo: Victor Prado/New York Magazine
Like Sirio Maccioni's flagship restaurant, Le Cirque, the new Sirio Ristorante, at the Pierre on Fifth Avenue, is outfitted with the kind of shiny, mahogany-trimmed walls you'd find in the stateroom of a billionaire's yacht. Like at Le Cirque, there are images of the famous restaurateur hung here and there, along with photos of the kind of glamorous destinations frequented, over the eons, by his famous clientele. Like at Le Cirque, the plates are monogrammed with the restaurant's name, the wait staff address their customers with great ceremony, and the tables are filled with the types of people—elderly former Wall Street kingpins; a U.N. ambassador or two; watchful, skinny matrons sporting $1,000 hairdos—who might have darted off for the weekend to Monaco or Portofino many decades ago, back at the dawn of the jet-set age.
Unlike Le Cirque, however, this latest Maccioni outlet has been designed as a "casual" restaurant. There are no white linens on the polished wood tabletops. A $27 Sirio cheeseburger is served at lunchtime, with caramelized onions and a wad of melted Fontina cheese on top. Many of the dishes on the upscale brasserie menu have been inspired by the traditional Tuscan dishes of Maccioni's youth. They include a robust antipasti version of insalata di mare (with cannellini beans, assorted seafood, plus artichoke hearts), large salumi platters of the kind you see at any self-respecting Italian restaurant below 60th Street these days, and an elegant butternut-squash soup, which the Maccionis may or may not have dressed with poached apples and little marbles of fried caciotta cheese back in old Tuscany.
The best things at Sirio, however, are the more unadorned traditional dishes, in particular the pastas, like tubes of rigatoni caked in tomato sauce and melted burrata, and the chewy pappardelle, which is rolled in-house and sunk in a rich, well-simmered beef, veal, and pork ragù. By a happy coincidence, the slightly overcooked texture of the gnocchi in my gnocchi with squid matched almost perfectly the texture of the soft little chunks of octopus surrounding it, and the porcini risotto is as smooth and smoky as you'd expect a mushroom risotto to be on this rarefied stretch of Fifth Avenue. My wife and her friends turned up their noses at a strange eggplant-Parmesan creation muffled in too much puff pastry, but they gave rave reviews to the generously cut veal Milanese, which was encased in a bubbly, perfectly crisped crust and served with a cooling mound of green-apple coleslaw.
After the pastas, and with the exception of the veal, however, dinner at Sirio devolves into a more mundane, hotel-style affair. My Cornish game hen al mattone was oversalted, and the filet mignon in the tournedos Rossini was a ragged piece of meat by Rossini standards, and its center was cold. Some of the seafood dishes, like the turbot and the branzino with crushed olives, have a stolid, professional quality, but others—a fried-oyster special encased, tragically, in a cinder-colored squid-ink crust—do not. If you're nostalgic for the kind of anti-desserts the Maccionis used to be famous for, try the cardamom-pear affogato, which is served with brown-butter almond cake and cardamom gelato. If you're in the mood for something a little simpler, I suggest the strawberry tiramisu, which is tinged with a sour-sweet touch of balsamic and served in a regal-size brandy snifter with a colorful spoonful of strawberry compote on its top.
The original Strip House began life as a posh Euro-themed steakhouse in the Village, in a space once occupied by Asti, a beloved red-sauce joint known for its singing waiters and portraits of opera stars plastered on the walls. Then Steve Hanson's mammoth BR Guest Hospitality Group (Ruby Foo's, Dos Caminos, Blue Water Grill, etc.) purchased the restaurant and its Las Vegas branch out of bankruptcy last year. Strip House Midtown, on 44th and Fifth Avenue, is the latest addition to this empire, and it has the same lush, scarlet, Belle Epoque color scheme as the original restaurant, and the same Asti-era black-and-white photos decorating the walls. There are numerous dining rooms and bars in this multiplex version of the original chophouse, however, and on noisy evenings, you may feel like you're dining less in an actual restaurant than in a rowdy beef-eater theme park.
But if there's an art to populist, theme-park dining, then Steve Hanson mastered it long ago. This new Strip House menu is priced for the midtown expense account (no hunk of beef costs less than $40), but many of the signature dishes (roasted bacon, the bone-in rib eye, potatoes crisped in goose fat) retain a touch of their old magic. The porterhouse for two ($48 per person) was tender and expertly charred, the rib eye was well marbled, and the rack of lamb was crusted with a nice mustard-flavored scrim of bread crumbs. You can enjoy this red meat with the usual avalanche of heart-stopping sides (the creamed corn with pancetta being the most potentially lethal), but avoid the desserts, several of which (the baked Alaska, a caveman-sized slab of the signature, 24-layer house chocolate cake) taste like they've recently been exhumed from the depths of BR Guest's giant, corporate refrigerator.

Sirio Ristorante
795 Fifth Ave., at 61st St.; 212-940-8195
Hours: Dinner daily 5:30 to 11:30 p.m. Lunch Monday through Saturday noon to 3 p.m., Sunday 11:30 a.m. to 4 p.m. Breakfast daily 7 to 10:30 a.m.
Prices: Appetizers, $14 to $24; entrées, $26 to $59.
Ideal Meal: Pappardelle with veal, beef, and pork ragù, veal Milanese, strawberry tiramisu.
Note: The Sirio Sour, with Bulleit rye, is the best of the eponymous house cocktails.
Scratchpad: One star for the pastas and another for the veal. Minus a star for the less-inspired hotel-style entrées and the extravagant Fifth Avenue prices.

Strip House Midtown
15 W. 44th St., nr. Fifth Ave.; 212-336-5454
Hours: Dinner Monday through Wednesday 5 to 10 p.m., Thursday and Friday to 11 p.m., Saturday 4 to 11 p.m., Sunday 4 to 10 p.m. Lunch Monday through Friday 11:30 a.m. to 2:30 p.m.
Prices: Appetizers, $8 to $19; entrées, $29 to $49.
Ideal Meal: Roasted bacon, rib eye or porterhouse for two, goose-fat potatoes.
Note: The new luncheon menu at this Strip House outlet features a ten-ounce bacon cheeseburger, and a classic Maine lobster roll.
Scratchpad: One star for the prime meats, and another for the sides. Minus a star for the carnival, theme-park ambience.
*This article originally appeared in the December 10, 2012 issue of New York Magazine.