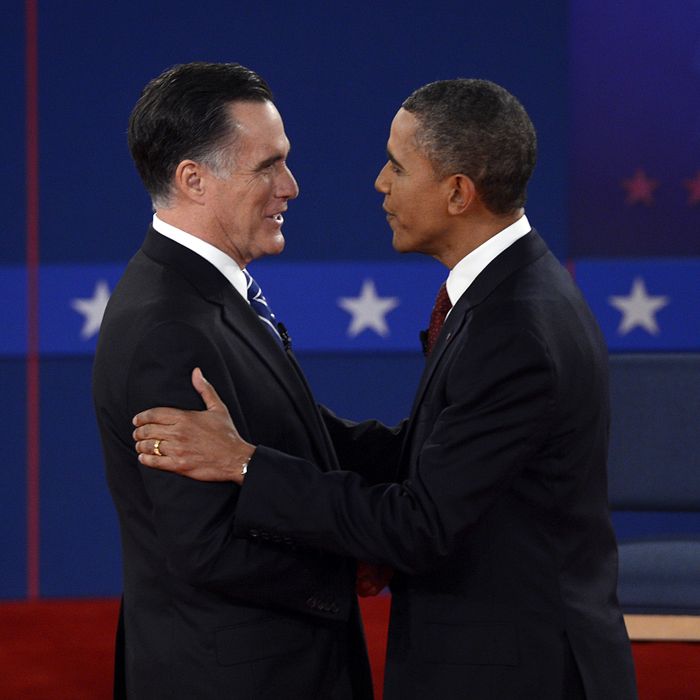 "Let's grab a drink when this is over," said neither of them.
In a few hours, the polls will be closed, the heavy lifting done, and all that will be left to do is wait for the votes to be tallied. According to some, that last part might take a while, so you may as well turn it into a party. Here are two dozen places serving up food, booze, and company, so you can celebrate if the night goes your way (or drown your sorrows if it doesn't).
230 Fifth
At 230 Fifth, democracy smells like a free buffet from 7 to 8 p.m., part of an election party that doubles as a Sandy relief charity event, with 50 percent of the proceeds going to the Red Cross. The election coverage will be shown on a projection screen in the Penthouse Lounge and Rooftop Bar, and red, white, and blue drink specials ($6 red and white wines and Blue Moons) will be on on sale throughout the night.
The Bell House
Lord knows we could use a laugh, and that's just what you'll get when you watch the election results live on fifteen-foot screens at the Bell House's "Raging Election: 2012 Election Viewing Party," hosted by comedian Liam McEneaney. The hungry can score tacos from Korilla BBQ parked out front, while the thirsty can purchase drink specials including Coke & Rumney ($6) and the Bahamobama Mama ($6). Mike Doughty D.J.'s, hosts, and, if needed, provides counseling at the after-party.
Black Rabbit Bar
Get cozy at the Black Rabbit (seriously, there's even a fireplace) when they start screening results at 4 p.m. and you're able to enjoy $4 drink specials as well as a full menu from the kitchen all night, including mini-cheeseburgers and Frito pie. Because finger food ain't partisan.
Liberty Hall
One for if you think you'll need to go underground, literally, as the Breslin's chic subterranean bar hosts all-night election coverage, screening the results from 6 p.m. to when the polls close. Celebrate, eat, and drink with friends. A food menu will be available throughout the night and the bar will be open.
Brooklyn Winery
Beginning at 7 p.m., two rooms of the Brooklyn Winery will be transformed into party central, complete with an election-night menu full of top-shelf snacks (pork nachos, flatbreads, and popcorn shrimp) as well as discounted bottles of wines ($10 off the namesake's bottles and carafes).
Creole
From 7:30 to 11:30 p.m. Creole leans left, turning into a land flowing with $5 Obama-tini and Obama-Swag cocktails, Voodoo Wings, and Fried Coconut Shrimp. Funk band Pure Volume provides the tunes and Council Member Melissa Mark-Viverito will emcee the evening, co-sponsored by Organizing for America Team Harlem, the Progressive Democratic Club of East Harlem, and Drinking Liberally Harlem.
DCTV
Drinking Liberally, Planned Parenthood NYC Action Fund, the Manhattan Young Democrats, and ACT NOW convene at media arts center DCTV to watch the election results unfold. The event is free, but there is a $10 suggested donation, which will be used to aid Occupy Sandy efforts that are bringing relief to the hardest hit areas. A beer-wine cash bar will also be provided.
Edi & the Wolf
Starting at 7 p.m., the Austrian wine tavern gets into election mode by projecting the results on their big screen. Hungry for a full meal? They're also serving up a "2013 Presidential special," the chefs' classic Wiener Schnitzel paired with a beer or glass of wine, for a fitting $20.13.
Housing Works
Convene with fellow book lovers (and political junkies) from 7 p.m. to midnight. Drink specials run cheap (two PBR for $5, two Brooklyn Lagers for $9, and two Sixpoint Sweet Action for $11) and comfort food like chili soothes nerves. For past Housing Works patrons, there may be a chance to win a bucket of PBR.
(Le) Poisson Rouge
Show off your "I Voted" stickers all day (and night) at (Le) Poisson Rouge. Flavorpill, Gawker, and Rock throw a dance party at 1 p.m. (a.k.a. lunch break) with beats by LCD Soundsystem's Pat Mahoney, and with funds donated to the NYC Food Bank. RSVP online thehookup.flavorpill.com. If you miss that, just head over tonight for an Election Party with Kevin Powell and BK Nation, featuring music by DJ Herbert Holler and rapper Pete Rock. Doors open at 8 p.m.
Mission Dolores
What had previously been called "the Sour Election Night" has turned into an "Election Night Party for a Good Cause," with all profits directly benefiting the Red Hook Initiative. The night will feature $4 sour beers and free shots depending on the election results. All in all, tonight, you will be drinking for good.
Galapagos Art Space
Celebrating not only the election, but being back in business after being submerged by Sandy, Galapagos Art Space will be showing the election on its giant fourteen-by-twelve-foot screens and serving up election-themed cocktails ($10) such as the "Red Elephant" and the "Blue Donkey." Sounds delicious!
The Gate
The cozy tavern will be playing the elections on TV, but it'll also be working with Smuttynose to donate proceeds to hurricane relief. Drink for a cause starting at 6 p.m.
Satori at the Sanctuary
Cheer on your preferred candidate starting at 5 p.m. at "Satori Presents: Decision 2012," where the election will be shown live on flat-screen TVs. Show off your true colors as you drink $10 festive cocktails like the "Obama-rama," "Right Wing Slinger," and "Politically Correct." If you get hungry, the bar will be serving a full food menu.
HiFi
The East Village bar will be screening the live broadcast of the election results plus drink specials, including $4 Radeberger Pilsner and $5 Stoli Flavors from 9 p.m. to midnight. Head in before 8 p.m. to snag a seat and score happy-hour specials ($3 pints and $4 wines).
Pacific Standard
The California-style craft-beer haven will be showing the election starting at 4 p.m. A limited number of tickets will be sold at the door for $10 (with a free beer) to help ring in the next presidential term.
Professor Thom's
Step into Professor Thom's at 6 p.m., get stamped with your party's color (for a free Champagne toast for the winning party at the end of the night), and look around: All twenty televisions on the main floor will be tuned into election coverage. There will also be special drinks for the night such as "Donkey Punch" and "Elephant in the Room," and the chance to win ree drinks by playing the Thom's free Swing State Challenge.
Red Rooster Harlem
Rock the vote, sip specialty cocktails, and devour delicious dishes while celebrating democracy at Red Rooster Harlem. Doors open at 9 p.m., but reservations are recommended to ensure a seat to see who wins the title of America's President.
Rockbar
Join host Jason Romas and the Human Rights Campaign in the West Village for a fun-filled night not only limited to election screening. Be prepared for team trivia competitions, drink specials ($3 Miller and Miller Light), and prizes to fuel more excitement as ballots get crunched nationwide. Doors will open at 8 p.m., and who knows? Maybe Katy Perry will make another surprise appearance.
The Stand Restaurant and Comedy Club
Comedian Dave Smith adds his funny two cents to the election results at the Stand. Doors open at 8 p.m., but guests are invited to come earlier to begin watching results trickle in. The show will begin at 9 p.m. and tickets, $10, can be purchased here. All proceeds will go to Sandy relief.
TOY Oyster Bar
Hotel Gansevoort's TOY Oyster bar shows the election on flat-screen TVs. But this is of course meatpacking, so viewers can indulge in $1 oysters and drink specialty cocktails as soon as 4 p.m.
UCB East
Laugh or cry with help from UCB comedians Anthony Altamanuik and Ryan Karels at the East Village outpost of the Upright Citizens Brigade Theater. There will be special political-themed bits from special guests. Reserve a spot on their website.
Village Pourhouse
SideBAR
The Village Pourhouse and SideBAR will be duking it out as Obama supporters pile into the Pourhouse and those for Mittens rally together at the Sidebar. As votes are being tallied, SideBAR will be serving up $5 "Rum-ney" shots while Pourhouse will be offering $5 "Barack O-Bombs." Keep an eye out for Romney and Obama (or at least their costumed dopplegängers) to make an appearance.
Related: The Ultimate Guide to Watching the Election [Daily Intel]