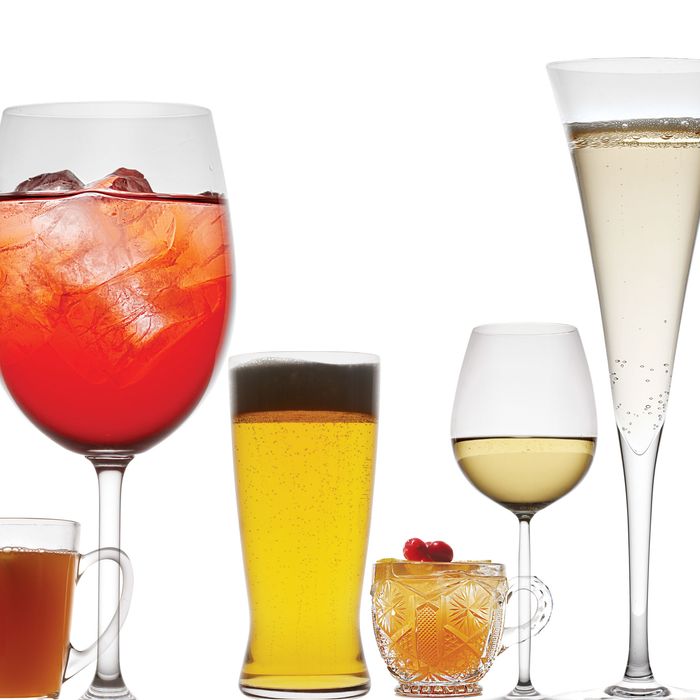 Photo: Victor Prado/New York Magazine
Everyone knows there's more to Thanksgiving than the bird. There's family dynamics; there's the seemingly warring flavor profiles of all the other fixings; there's football. And there are plenty of opportunities throughout the day to sip, toast, guzzle, and slurp, whatever your chosen libation. But that's just it: Although turkey is incontestable, what you drink with it is not. In the absence of hard and fast rules, we consulted the beer, wine, cider, and cocktail experts on what to quaff at every critical juncture, from basting the bird to the ritualistic gobbling of the leftover-turkey sandwich. While there is no one perfect pairing for the entire feast day, there are plenty of great suggestions, courtesy of Belinda Chang, head beverage honcho for Jean-Georges Vongerichten's Culinary Concepts; master sommelier and Corkbuzz co-owner Laura Maniec, who's got a soft spot for bubbly; PDT cocktail maestro Jim Meehan; and Hayley Jensen, beer sommelier at Taproom No. 307.
Related: The 2012 Thanksgiving Guide
*This article originally appeared in the November 19, 2012 issue of New York Magazine.