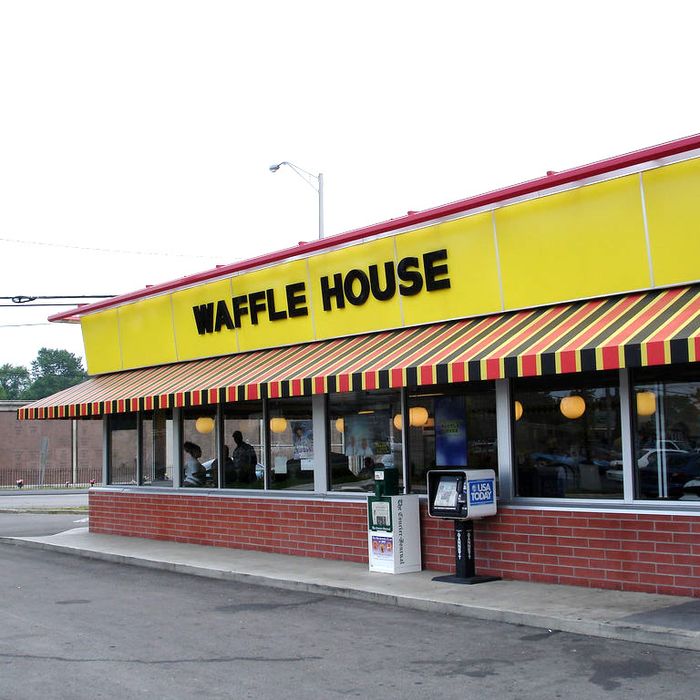 Greasy.
Photo: Eli Hodapp/Flickr
Here's some news to mull over breakfast this weekend: ABC News says a woman who worked for Waffle House chairman Joseph Rogers Jr. is accusing Rogers of sexual harassment.
Mye Brindle, who says she worked for Rogers from 2003 until 2012, and according to a report she filed with Atlanta police, "As a condition of Brindle's employment, and against Brindle's will, Rogers willfully, repeatedly and with specific intent to harm and oppress Brindle, required Brindle to perform sexual services." And you thought your boss was bad.
Oh, but hey, why didn't she just quit instead of enduring nearly a decade of sexual misconduct? Well, per the statement:
Brindle endured the sexual harassment and assault by Rogers for a number of years because she could not find work of comparable pay, because her child's father abandoned them, left the country and left Brindle to her son on her own without any financial contribution whatsoever.
In June, Brindle did resign, once her son graduated from high school and secured a college scholarship. She went to Atlanta police in September but no charges have been filed yet.
But don't go blaming all this sleaziness on Waffle House. A rep for the chain tells ABC that Brindle was Rogers's housekeeper, not an employee of the company. "This is a private matter for Joe Rogers and his family and doesn't involve Waffle House," says the rep.
Waffle House Chairman Accused of Requiring Sex Acts [ABC News]
Acworth Woman: Waffle House CEO Forced Me to Perform Sex Acts [Acworth Patch]