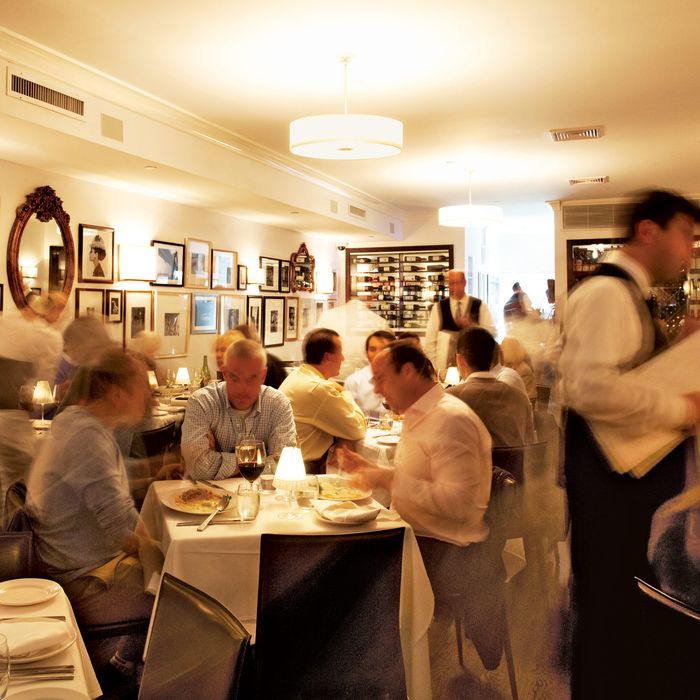 Il Mulino uptown.
Photo: Victor Prado / New York Magazine
This week, our own Adam Platt found that despite the familiar "ritual avalanche of bountiful pre-meal finger foods" at the uptown Il Mulino, the outpost pales next to the West Village original. Where did the other critics dine? Read on to find out.
Pete Wells visits M. Wells Dinette for his follow-up to last week's Guy Fieri opus, and discovers the ever-changing menus "can be read as methodical studies in the uses of animal fat." Animal parts anchor the Québécois cuisine at the small museum café, but it's not a heavy-duty meat party: "[T]he rich oils of smoked herring can bring depth to a surprisingly light Caesar salad with broccoli," he writes. Blood pudding, an open-face sandwich of bottarga, and the Québécois meat pie provide the real reasons to visit M. Wells Dinette.
Jay Cheshes also visited M. Wells Dinette and likes how Dufour's meat dishes coexist with a "boisterous spin on Korean staple bibimbap" and "the mini bento box of silken trout gravlax with vinegared rice." Chess pie filled with warm chocolate custard and "an extravagant ladyfinger-ringed Black Forest charlotte" make dessert worth staying for.
The Pines is "smart, sincere, and often delicious," reports Tejal Rao, and, unlike other young Brooklyn restaurants, doesn't succumb to "a sense of bravado that the food and service don't merit." Chef Angelo Romano is one to watch. "Dishes built for sharing can ramble on the plate," Rao writes, "like the pork shoulder scattered in juicy, blushing cubes with feathers of puntarelle, berries, and black garlic." More traditional fare, like "rustic capellacci," defy expectations. Romano's dishes demonstrate "sharp technique," but don't "show off about it."
At Pok Pok Ny, Stan Sagner learns that "enthusiastic sharing is the only way to get even a reasonable sense of what's on offer" — and what's on offer "won't fail to make an impression." Sagner suggests ordering two to three items per person: Ike's Vietnamese Wings double up on the fish sauce and "eat like hot candy"; Tam Kai Yaang, a roasted game hen "stuffed to near-bursting" with ground lemongrass and garlic to be dipped into "a gently spiced palm-sugar" sauce; a spicy duck salad whose flavors, "like a tsunami," come in waves. To end the night, Sagner recommends the house affogato, which "is as bracing, imaginative and sublime as most of what kitchen has in store."
Ryan Sutton asks: "Is Jersey City the new Brooklyn, a place to savor creative food for a few dollars less?" He dined at Thirty Acres, a "highbrow-lowbrow tightrope act" executed by ex-Momofuku Noodle Bar chef Kevin Pemoulie and his wife, Alex. Many of the seventeen dishes on the menu will clear your sinuses, but the heat is never gimmicky: oysters with a beet cocktail sauce, cod collar that "soaks up salty soy and more jalapeno," braised chuck flap "finished with a generous shaving of sinus-clearing fresh horseradish," and cavatelli "jazzed with so many chilies you might think you're in a Sichuan restaurant." With all the dishes under $27 and a BYOB policy, Sutton concludes: "Welcome to the sixth borough."
Robert Sietsema, motivated by a friend lamenting the compulsive creativity of Brooklyn ramen shops, goes on a tour of the most talked-about spots. In Williamsburg, Ramen Yebisu features a signature bowl of the same name that, while generous with seafood, had a broth that "tasted like brackish floodwater," though "the other soups on the short menu are doctrinaire but good." At Chuko, "the real star of the show was the vegetarian ramen." Lastly, the "transgressive" Dassara earns that adjective with its deli ramen, "a bowl that represents what ramen would be like had it been invented at Katz's," though the tamer lamb ramen "is the restaurant's best soup."
Shauna Lyon at The New Yorker finds that the sedate, daytime tableau at Rosemary's "belies the singles-playground atmosphere and egregious decibel levels that transform the place at night." The Tuscan food, however, mitigated the atmosphere. Salumi "are impeccably sourced or house made," antipasti "showcase the harvest from the rooftop garden," and Chef Wade Moises "has a way with pastas, several of which are created on the premises."