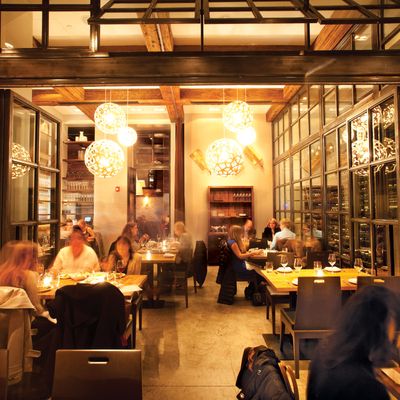 L'Apicio.
Photo: Victor Prado/New York Magazine
This week, New York's Adam Platt awarded two stars to L'Apicio, the latest Italian spot in this trattoria-mad town. But where did the rest of the city's professional eaters deign to review this week? Read on to find out.
Pete Wells files a report on Amanda Cohen's vegetarian haven, Dirt Candy. And you know what? He loves it. In fact, he says a trip to the restaurant "can be like going to a child's birthday party in a country where all the children love vegetables." He gives it two stars.
The Daily News' Michael Kaminer heads to Tribeca and rediscovers the Odeon, a place that's "like those redoubtable Manhattanites of indeterminate age who've seen trends, scenes and people come and go." His four-star (out of five) verdict: The place is cool and doesn't need to show off to prove it.
Robert Sietsema (and his Indian-food expert friend Bobby) are in Curry Hill this week at Chote Nawab, "a great Indian newcomer." Get the tunde ke kebab ("You'll never taste anything more tender"), and the roomali roti ("thin as a silk handkerchief"), among several other standout dishes.
Meanwhile, Sietsema's colleague Tejal Rao is on the Lower East Side at Pig & Khao. The service is "clumsy," but the food from Top Chef-er Leah Cohen is terrific, if a little inconsistent. If you can deal with the Lower East Side crowd ("there are a lot of identically dressed people with identical haircuts, all crowding around your table as they wait for their own"), the place can be fun.
Ryan Sutton trudges out to Smith Street to check in on Battersby and discovers the place isn't all its cracked up to be: "It's a fine, if uneven, local spot, not consistently good enough to justify riding the F train from distant precincts to Bergen Street." It's not all bad, though: "Order carefully and you will eat well." Sutton gives it two stars.
Time Out's Jay Cheshes awards three stars to Chelsea Market's Giovani Rana Pastificio and Cucina, which "is what Olive Garden might look like if it were run by Italians with very good taste." Even though it's a chain (in Italy, at least), "the superlative noodles and sweets certainly wouldn't be mistaken for big-box junk."
The Post's Steve Cuozzo tries out the Library at the Public, a place where "it's easy to mellow out." The food got better each time he visited and the cocktails are great. In the end, it's "a noshing zone that's almost too normal, too civilized, for a neighborhood full of overreaching eardrum-breakers," and Cuozzo gives it two stars.
The New Yorker's "Tables for Two" takes a trip to Alphabet City to check out Bobwhite Lunch & Supper Counter, which is back up and running post-Sandy. Good thing, too: The fried chicken's skin "is consistently crackling and crisp," Brunswick stew "is a minor revelation," and the cheddar grits demand immediate intake.