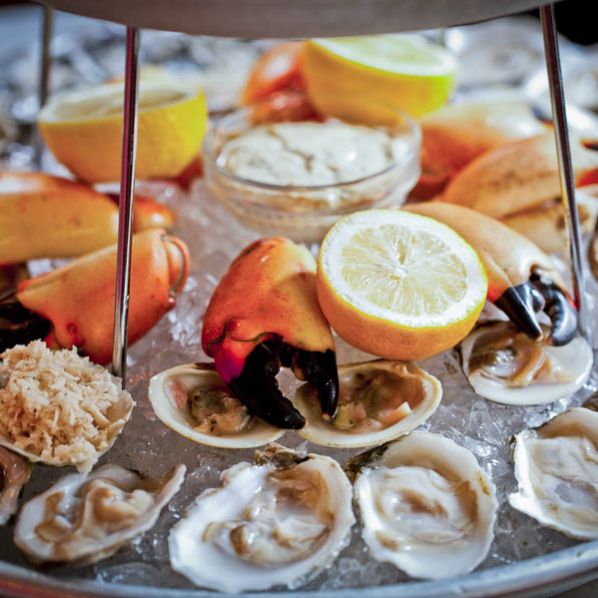 The presentation at Jeffrey's Grocery
Photo: Courtesy of Jeffrey's Grocery
As we move towards the holidays, and all the group dining sessions that come with them, Grub Street is in search of food that's festive — and there aren't many restaurant options more convivial than icy tiers of fresh oysters, just-shucked clams, lobster claws, and the like. How perfect, then, that a top-rate seafood plateau has become a menu staple in New York. Here are some of the most striking newcomers, and some stunning picks from the old guard, too.
Balthazar
At the Soho brasserie, "Le Grand "($95) is a platter of solely oysters while "Le Balthazar "($145) is loaded with three tiers: a bottom layer of oysters and clams, a middle tier containing a jumbo scoop of ceviche in a radicchio cup, and finally, a Maine lobster and shrimp lounging up top with bits of mussels, conch, and snails mixed in.
DBGB Kitchen and Bar
The glittering Plateau De Fruits De Mar menus can be ordered from the raw bar, the green market menu, or "For the Table" during brunch. Whichever platter (Petit $35.00, Grand $65, Royale $90) you pick, expect shrimp, mussels, clams, East and West Coast oysters, snails, tuna tartare, and crab claws.
The Dutch
Andrew Carmellini's elegant two-tiered Sullivan Platter ($75) is full of oysters, little necks, sweet shrimp, uni, sea scallops, and ceviche. But for those craving more (hint: two dozen oysters), the three-tiered Prince Platter ($135) also boasts meaty crab claws paired alongside mustard aioli, generous sevings of uni, and oysters, prawns, little necks, sea scallops, and ceviche.
Grand Central Oyster Bar
Head underground for the freshly shucked East Coast Oyster Platter (eight for $21.35), the Bivalve Platter (four oysters, four clams for $14.35) or the Medley of Shellfish (ten oysters, two clams, two jumbo shrimp, three mussels for $32.35). While you're at it, add some lobster ($46.35 for half; $60.35 for a whole) to the mix.
Hill Side
The 30-seat wine bar next to Vinegar Hill House offers small and large oyster platters ($18 or $33) and a petit plateau ($23) of oysters, shrimp, and crab claws.
Jeffrey's Grocery
Head to the back-room raw bar and go for it: The Plateau de la Mer ($50) offers oysters, clams, king crab legs, shrimp; the Grand Plateau de la Mer ($75) has got oysters, clams, king crab legs, shrimp, and a half lobster; and the king of them all, the Plateau Royal ($105) is oysters, clams, king crab legs, shrimp, whole lobster, and crudo.
The John Dory Oyster Bar
April Bloomfield's Ace Hotel seafood spot serves shellfish plateaus and Parker House rolls for two, four, or six people. Dine on oysters, scallops, crudo, oyster pan roast, and Eccles cake for $50, $130, and $195, respectively.
Lure Fishbar
The sceney Soho spot has plenty of platter options: Choose the small ($25), the medium ($58), and large ($110) for a variation of oysters, shrimp, clams, crab claws, seafood salad, and lobster.
Maison Premiere
Williamsburg's "oyster house and cocktail den" lives up to its billing. Options include "La Petite Maison" ($50), "La Maison" ($80), and "La Grande" ($175), which are served decked out with plateau oysters, lobster, crab, scallop, shrimp, clams, sea urchin, and caviar.
The Mark
Head to the Upper East Side hotel for oysters, clams, shrimp, lobster, and tuna tartare in large ($76) and small ($38) sizes.
Mermaid Inn
At the East Village mainstay, the Baby Grand Platter ($29) serves six oysters, six clams, tuna crudo; The Grand Platter ($65) has a dozen oysters, six clams, tuna crudo, shrimp cocktail, and a chilled half lobster.
NoMad
Daniel Humm's kitchen doesn't merely shuck some oysters and throw them on ice. Instead the fruits de mer here ($24) are a series of tiny composed raw-bar dishes like scallop ceviche with yuzu, uni with green apples, and dressed lobster served in a cross-sectioned shell.
Pearl Oyster Bar
The West Village oyster bar won't destroy your budget: The combination cocktail ($16) includes lobster, shrimp, oysters, and clams.
Prima
At this East Village neighborhood spot, the Strada ($65) includes half chilled lobster, whelks, periwinkles, shrimp, Nantucket bay scallops, ceviche, Jonah crab claws, littlenecks, and a variety of oysters. The Prima ($95) adds more of everything, plus a chilled lobster.
Sik Gaek
The Korean restaurant in Sunnyside, Queens, is known for its fresh octopus ($24.99) — live and squirming in a hot pot. But for those not so willing to get down Oldboy-style, there's also the fresh oyster platter ($24.99) and the plate of fresh clams ($19.99 for a dozen).
Walter's
This handsome Fort Greene neighborhood spot surprises with the variety and quality of its raw-bar selections. Platters include The Whitman ($45), which includes East Coast oysters, little neck clams, and a shrimp cocktail; and The Frazier ($100), the chef's special assortment of all raw bar items.