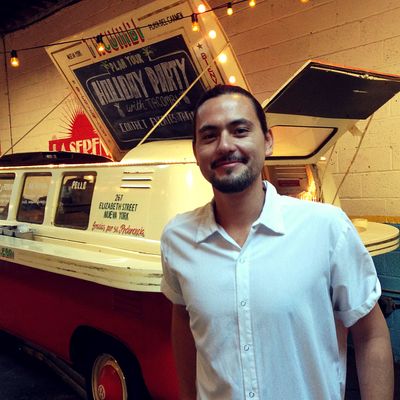 Puente on point.
Photo: Courtesy of Tacombi
The restaurant Fonda Nolita, home to stellar breakfast tacos and Tacombi, has hired a new chef. Mexico native Luis Aguilar Puente cooked with molecular celeb chef Fran Del Piero in Mexico City was had founded Tortilleria Chispo in Tulum. That's where Tacombi owner Dario Wolos encountered him after tasting a particularly amazing blackened habanero salsa the chef had whipped up. So Wolos convinced him to move to New York.
Despite arriving just before Sandy, the chef has been chipping away in Nolita and steadily adding new items to the restaurant's taco menu, including achiote-rubbed Chicken Xic and garlic-and-onion-laced camaron a la talla. Puente is also developing salsas, including a deeply flavored version of that blackened habanero stuff, which looks like tar and tastes deeply fiery and oily, almost Asian. For turkey-day stragglers, he's whipping up a $25-per-person Mexican spread tomorrow that includes chipotle and al mojo de ajo turkeys; e-mail thanksgiving@tacombi.com for reservations and advance takeout orders.