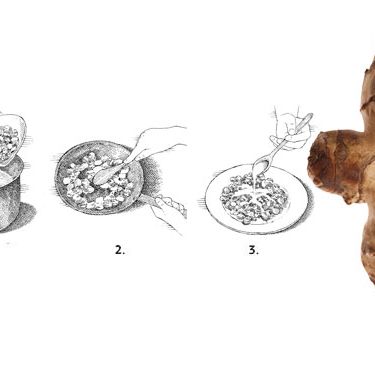 Photo: Danny Kim; Illustrations by John Burgoyne.
The Jerusalem artichoke (a.k.a. sunchoke) is neither from Jerusalem, nor an artichoke, although its similarly delicate, nutty flavor could account for the artichoke half of the misnomer. Seamus Mullen, the chef-owner of the Spanish gastropub Tertulia, in Greenwich Village, likes to serve fried sunchokes as an alternative to fried potatoes. "They have a wonderful sweet flavor, and when you fry them, the starch makes them extra crispy," Mullen says. Think of the sumac-yogurt dressing as the sour cream of the dish: The coolness and acidity make a nice contrast with the hot, starchy 'chokes.
Seamus Mullen Crispy Fried Sunchokes With Sumac Yogurt
2 cloves garlic, 1 whole, 1 grated on a microplane
1 bunch thyme
2 bay leaves
2 medium-size dried chiles
Kosher salt and ground black pepper
1 lb. sunchokes, washed, unpeeled, snapped into irregular 1-in. pieces with a paring knife
2 cups plain yogurt
2 tbs. sumac
2 tbs. extra-virgin olive oil
1 lemon, juiced and zested
3-4 cups olive oil (other oil can be substituted) for frying
Fill a large pot with 1 gallon of water, 1 clove garlic, thyme, bay leaf, chile, and a generous amount of kosher salt. (1) Add the sunchokes and bring to a boil over high heat, then reduce and simmer until the sunchokes are tender all the way through and slightly overcooked, about 20 minutes. Strain and discard water. Make sure the sunchokes are well drained on a paper towel before frying. In a medium-size mixing bowl, combine yogurt, grated garlic, sumac, olive oil, lemon juice, and zest and season to taste with salt and pepper. In a heavy-bottomed cast-iron pot, heat the oil over medium-high heat until very hot (should be about 350 degrees on a candy thermometer). Working in small batches, (2) fry the sunchokes until golden and crispy, about 3 minutes per batch. (3) Strain on a plate lined with a paper towel, season with kosher salt, and serve immediately drizzled with sumac yogurt. Serves 4.
*This article originally appeared in the November 12, 2012 issue of New York Magazine.