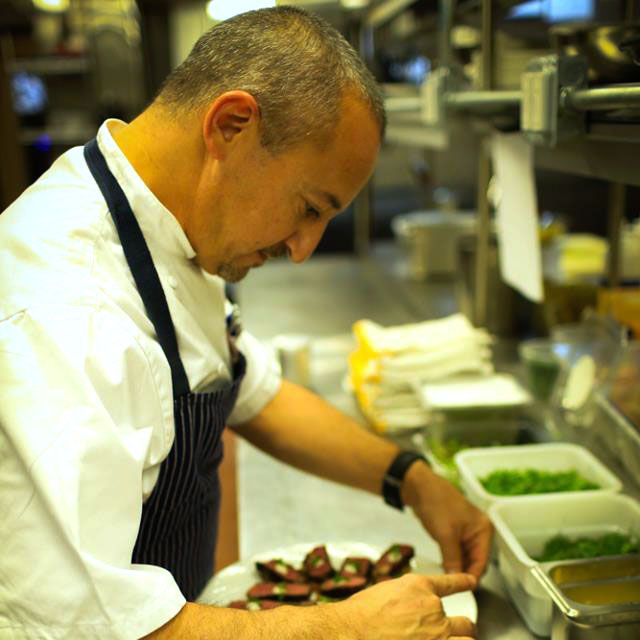 Pims, at work on the Sea Fire Grill line.
Photo: Courtesy of the Sea Fire Grill
Opening a restaurant in New York always has its challenges, but when your planned premiere turns out to coincide with the storm of the century, it's particularly rough going. Sea Fire Grill, owned by the team behind the Benjamin Steak Houses, was due to serve its first meal at the end of October, but as it turned out, plumbers and other contractors were a bit scarce that week to finish up work. "Everything is ready to go," Benjamin Prelvukaj told Crain's. "We have 40 people waiting to start the job."
"We had to beg, borrow, and steal to get inspectors in," the restaurant's chef, Richard Pims, tells Grub Street. "Normally, you have a week to set up the kitchen, train staff, and do tastings: We did it in eight hours. They were installing ice machines in one corner, I was receiving and weighing fish at the other, and we were unpacking bags of flour and throwing bones in pots for stock at the same time."
Pims has had what might not be considered a classic culinary trajectory with many chef-restaurateurs who are now household names, in New York starting off as a sous-chef at Miracle Grill (where Bobby Flay had his launch), before moving across the street to join Sam DeMarco at First. "When Sam left for Vegas, he put me in touch with David Burke," Pims says. He worked with the chef at Park Avenue Café and then as a consultant to Fromagerie, Burke's restaurant in Rumson.
"David was brilliant, but very intense. One night during Restaurant Week, we were doing 300 or 400 for dinner and we had seared off 200 pounds of short ribs and put them in an oven to cook during lunch. After the meal, David asked how the short ribs were doing, and I realized we had charcoaled them. He screamed at us 'get out' and I wasn't sure whether to come back the next day. He would constantly come up with all these ideas that sounded so bizarre, but then they would work on the plate. We had a table in the kitchen, and one night Joe Torre came in right after the Yankees had won the World Series. David sent the dishwasher out to buy a bunch of baseballs so each one of us could have a signed one."
Pims's favorite post was working with Rick Moonen at the short-lived RM. "We got three stars in the Times and four almost everywhere else, and I would have stayed there forever to tell you the truth, but it closed," he says. "Every day was fun: Rick was a blast. He was always smiling and singing while he worked."
Pims wound up as executive chef at the Stanton Social. "One night a rock star would come in, then a famous boxer or a porn star; nothing phased Chris Santos. He was also as cool as they come, but I wanted to work in an atmosphere that was less clubby and casual."
To that end he joined forces with the Benjamin boys to open a high-end, old-school seafood spot, where Dover Sole is served tableside and crab legs are the size of baseball bats.
To wit: Among the offerings is tuna crusted with fennel seeds, coriander, star anise, and white and pink peppercorns; and halibut with fine herbs, seared slightly at super-high heat. "Opening a steak house with fish," he says, "we are taking the purist's approach."