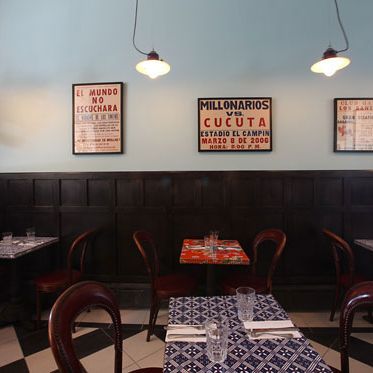 Don't give up the Fort!
Photo: Melissa Hom
Almost all of Red Hook's food shops, beloved restaurants, and bars were affected by the storm and its surge. Because most of the neighborhood's small business and retail shops will not be covered by insurance, a group of proprietors has formed Restore Red Hook, a collaborative fund-raising organization. On average, each business needs an estimated $50,000 in order to rebuild and bounce back.
As you've likely heard, the storm damaged the neighborhood's café and cocktail bar Fort Defiance; Baked was soaked; Botta di Vino was damaged and lost its inventory; Mark's Pizza was flooded and its equipment was destroyed; Brooklyn Icehouse lost inventory and equipment; home/made and the Good Fork were damaged; Sunny's was hit hard, and Mile End's bakery and production kitchen was wiped out completely. No food shop or restaurant escaped damage. As an alternative to taking out small business loans with high interest rates, funds raised by Restore Red Hook will provide a fast cash infusion to businesses that opt in to the group, which is working in conjunction with the Southwest Brooklyn Industrial Development Corp (SBIDC), and Speaker Christine Quinn. Money raised is going straight to the businesses that need it right now; head over here to check it out and learn how you can help Red Hook rebuild.
Restore Red Hook [Official Site]