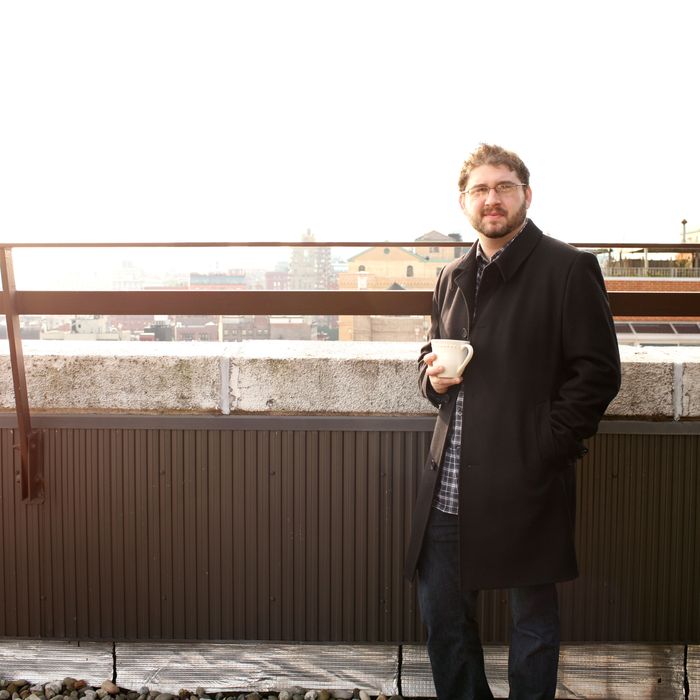 "I'm really craving a box of Entenmann's chocolate doughnuts."
Photo: Melissa Hom
Jesse Schenker, chef-owner of the bustling West Village restaurant Recette, was thankful for many things this past week: his wife and business partner Lindsay, their 2-year-old son Eddie (named after Vedder), the success of his first own restaurant, and … Dr. Steven Gullo, the celebrity psychiatrist-slash-life-coach who's been linked to Jonah Hill's weight loss and many other famous, no-carb body transformations. In fact, Gullo's way of thinking inspired Schenker to lose some weight of his own: "Dr. Gullo suggests that fancy people, or unfancy people like me who are around good food all day, just go crazy with shrimp and lobster," says Schenker, who's largely subsisted on egg whites, fish, and vegetables for ten months, losing more than 50 pounds. But it's not all health food: Read all about his strip steaks, Caesar salads, and dietary slips in this week's New York Diet.

Thursday, November 22
It takes a certain type of person to be in this industry, and that's not the type of person who can't work holidays. I've always worked on holidays. The truth is Recette was my first baby, and my staff feels like family. So it didn't feel like I "missed" anything by being there.
Started day with coffee at the house. Then I stopped by Chelsea Bagels for a dozen bagels and lox for the Recette staff while we prepped for dinner. I've cut out all carbs for several months, but I'm in the maintenance phase now, so I'll cheat here and there.
We opened at 3:30. We were slammed! The mood was totally festive. I had Coltrane on. Great jazz, happy families. I picked on turkey, squash soup, and scallops all day.
At the end of service, I made a warm open-faced sandwich for myself with the night's leftovers: Sullivan Street ciabatta, cranberry chutney, confit turkey leg, and Parmesan cheese. My pastry chef made these pumpkin custards. Everyone was lovin' it. I had to fight hard not to have any.
I haven't drank for years. Nothing was good for me when I used to party a lot. Everything got good when I stopped …
Friday, November 23
I met my parents, who are in from Florida, at Landmarc Time Warner for lunch. Their lamb sandwich is the best, but since I'm on this low-carb thing, I got mussels without the fries, and the striped bass. Delicious.
Around 5:30, I made and drank some French press coffee. I do this every night before service. I'm not a nut about where my beans come from. In fact, I think the trendy coffee places in the West Village taste bitter.
When I got home around midnight, I had Pernil with yucca and garlic from Coppelia delivered. My wife, Lindsay, hates when I order it because it's pretty damn potent with all that garlic. No good-night kisses after that! But going down, it's sooo good.
Saturday, November 24
I took Lindsay and our son, Eddie, to the Standard for breakfast: scrambled egg whites with mushrooms and smoked salmon, and a latte.
Popped into D'Agostino for lunch, where I bought low-carb crackers, chicken salad, and Laughing Cow cheese with arugula and then added my homemade Caesar dressing for lunch.
My 5:30 French press.
I hit up Pastis around midnight. I don't want a menu when I go there; I'm in and out. Ten minutes. I'm not trendy; that's not why I go. I'm just tired, and it's convenient. Had a dozen oysters, Caesar salad with bacon — I think it's one of the best salads in the city — and their new trout dish.
Sunday, November 25
Believe it or not, every Sunday, I review all my surveillance tapes. That's my exciting Sunday ritual. I like to watch everything. It's important to have a handle on what's going on! My job is not all about cooking anymore. Cooking is the easy part. But I've really come to love the business aspect.
My sous chef Ed cooked us brunch at Recette — I had oxtail and eggs. Coffee.
I had a lunchtime craving for carbs and slipped by ordering a Baoguette from Baohaus. It's close and tasty. All that bread! But … eh … whatever!
I left Recette early, called in an order for pickup at the Old Homestead: two N.Y. strips and two sides of creamed spinach. I flirt with the hostess there so that one day, she'll deliver. I brought it home for dinner with Lindsay so we could watch Homeland — see Claire Danes reference below — Dexter, and Boardwalk Empire. Our awesome Sunday TV ritual.
Monday, November 26
I woke up early and took my son to Bus Stop Café for breakfast. Had the Energy omelette, which is spinach with egg whites and grilled chicken. Coffee.
Had a lunch meeting at Frankie's Spuntino: green tea, grilled calamari, the Brussels sprouts salad special with ricotta salata, white bean soup, and a white anchovy crostini.
Around 9 p.m., I was on my way out, but Claire Danes and Lena Dunham walked in, so I stayed. Who wouldn't?! She's pregnant, and I wanted her to be extra-comfortable. Of course, I also wanted to be like, "I love you, Carrie!" They ordered seconds of spaghetti. They were big eaters!
When I got home, I caved and ordered mozzarella sticks from Village Den. It's open late and serves decent food. I'll make crazy stuff for Eddie, but I have yet to cook in my own kitchen for my wife and me.
Tuesday, November 27
Breakfast was a protein bar and cup of coffee.
Lunch meeting at the Cottage on 16th and Irving. I had baby shrimp with cashew nuts. By the way, it's $8 for three courses there! Such a deal!
Pastis again for dinner, around 11 p.m., with my sous chef Audrey and my wife. I had my new go-to order: a dozen oysters, Caesar salad with bacon, and trout with curried cauliflower, carrots, and raisins.
I could probably lose another ten pounds. But I don't know. I'm starting to get hungry again. I'm really craving a box of Entenmann's chocolate doughnuts.