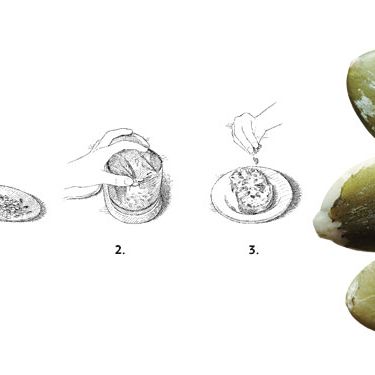 Photo: Victor Prado; Illustrations by John Burgoyne
When the pulpy meat has been relegated to Thanksgiving pie, the seeds of a pumpkin are usually scooped out and tossed aside. But why not put the nutrient-dense pepitas to work, especially when it's so simple to serve a terrific seed-centric dish, like this one from chefs Eduard Frauneder and Wolfgang Ban of Seäsonal and Edi & the Wolf? The chefs' native Austria is known for its superlative pumpkin-seed oil, which the duo blend with farmer's cheese and earthy ground seeds and spread simply across toasted rye or pumpernickel.
Eduard Frauneder and Wolfgang Ban's Pumpkin-Seed-Oil Spread
2 tbs. raw pumpkin seeds
1 tbs. canola oil
3/4 cup farmer's cheese
2 tbs. pumpkin-seed oil
1 tsp. Dijon mustard
1 tsp. finely chopped chive or chervil
Salt to taste
Rye or pumpernickel for spreading
Preheat oven to 350. (1) Place seeds on an aluminum sheet, drizzle with canola oil, and toast until golden brown. Let cool, reserving a few for garnish, and (2) finely grind in a small Cuisinart or with a coffee grinder. Mix ground seeds with farmer's cheese, pumpkin-seed oil, mustard, and herbs until smooth. Season to taste. Chill, and spread on toasted rye or pumpernickel. (3) Garnish with reserved seeds. Serves 4.
*This article originally appeared in the November 26, 2012 issue of New York Magazine.