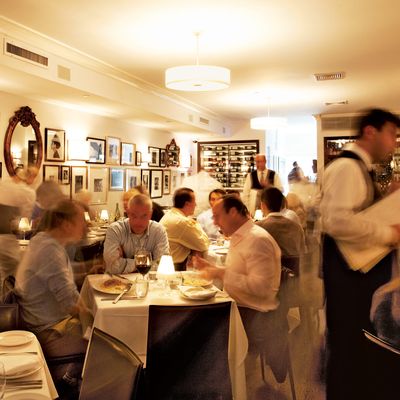 Il Mulino
Photo: Victor Prado/New York Magazine
"Uptown is the new downtown" has been one of the popular memes in Restaurant-land in the aftermath of Sandy, and although things are getting better downtown with every passing week, it still rings true. Many dining establishments in the former dark zone have been slow to reopen in the wake of the storm (let alone recover their lost revenue), and a few of them haven't reopened at all. Meanwhile, the durable old joints and watering holes in midtown and above are buzzing with happy regulars. New uptown restaurants, like Cesare Casella's Salumeria Rosi Parmacotto and Steve Hanson's clamorous new Strip House steak outlet on Fifth Avenue, are more crowded now than they were before the hurricane, and if you drop into Sirio Maccioni's latest restaurant, Sirio at the Pierre, you'll find the gleaming, wood-paneled room mobbed with happy revelers hoisting $16 cocktails in their gold-buttoned blazers and fur-trimmed coats.
Nowhere is this stark divide more visible than at the most popular new uptown restaurant of all, Il Mulino Uptown, which was packed to its not-very-high rafters when it opened before the storm, on 60th Street between Madison and Park, and is more packed than ever now. The original Il Mulino, in the Village, was for many years a small, extravagantly expensive, semi-exclusive dining club for assorted plutocrats and wiseguys, famous for mountains of complimentary antipasti, a multitude of familiar red-sauce pasta dishes, and great Gulliver-size cuts of meat. But the original family owners sold out to a pair of entrepreneurs with ambitious designs several years ago, and now, in addition to the original Il Mulino on 3rd Street (which was closed for six days during the storm) and the brand-new uptown outlet, there are Il Mulinos scattered around the globe in far-off locations like Miami Beach, Puerto Rico, Atlantic City, and Tokyo.
But with its tasteful jumble of vintage black-and-white photos on the wall, its crack, old-school wait staff, and its rows of tightly spaced tables filled with merry, pink-cheeked bankers, this newest Il Mulino feels like it's been a fixture in the neighborhood for decades. Within five seconds of sitting down, my water glass was filled, and one of the six or seven waiters buzzing around the table had dexterously placed a linen napkin in my lap. Seconds after that, a great, metal-covered wine list clattered down beside my plate, followed by the ritual avalanche of bountiful pre-meal finger foods (spicy sopressata, pyramids of garlic bread, plates of fried zucchini drenched in rivers of olive oil) so beloved to Il Mulino regulars. "This feels like a real restaurant," said one of the downtown refugees at the table as we opened our giant, flapping menus, which were as thick as medieval parchment and printed in a ghostly, gray, barely legible script.
Our goodwill began to slowly evaporate, however, as soon as the rest of the food began to arrive. "These make me want to eat real baked clams," said one of my guests as she poked at a platoon of listless, peanut-size vongole casino, which appeared to have been hastily dusted with bread crumbs from a box. My helping of $24 scampi oreganata contained just two rubbery, recently defrosted "jumbo" shrimp, and the gummy slivers of tuna in my neighbor's $26 carpaccio di tonno had been imprisoned in the refrigerator for so long that she had to scrape them from the edge of her plate. The pappardelle with country sausage was the best of the lumpy, undistinguished red-sauce pastas we tasted, and if you enjoy gouts of cream on your food and somehow still have access to a limitless boom-era-type expense account, I recommend the porcini-ravioli special, which is cooked with elaborate ceremony in a chafing dish at the front of the house and costs an astounding $50.
Money is famously no object for Il Mulino's loyal and deep-pocketed customer base, but even the posh midtown banker at our table was slightly aghast to learn that the price tag for the modestly comforting, cafeteria-quality osso bucco was $60. Along with the porcini-ravioli dish, the osso bucco was pitched as a special, with no announced price. Ditto the fresh if slightly overcooked $65 branzino, and the Dover sole, which turned out to cost $10 more than the osso bucco and was served with only a chaste wedge of lemon on the side. The steaks on the regular menu are a relative bargain by comparison (try the $42 filet Fiorentina), and if you feel like economizing on white meat, the chicken parmigiana, at $38, is a marginally better deal than the dried-out veal parmigiana ($45) or veal milanese ($48), both of which look like they've been squashed into the identical lily-pad shape under the tires of the same giant truck.
There's comfort in the pageantry of an old-fashioned dinner like this, especially if you've spent the last decade or so gnawing on overhyped heritage pork chops in spartanly appointed speakeasy joints downtown. "I like waiters who act with authority," said one of my jaded restaurant friends as we watched a brigade of white-coated gentlemen whisk away our stained tablecloth and roll out a new one, like expert stagehands changing the set of a long-running Broadway show. Like lots of long-running productions, however, this uptown iteration of Il Mulino is undermined, in the end, by its own formulaic success. Our modest bottle of '07 Il Falcone Riserva cost $75, which is almost four times what you can expect to pay for this Puglian wine at your local liquor store. The slapdash eighties-era desserts are a slightly better value than that, but with a few exceptions (the passable tiramisu, a tart lemon sorbet), they look and taste like something you could throw together at home with chocolate sauce, some half-melted ice cream, and a few squirts of Reddi-wip from the can.
No Stars
Il Mulino Uptown
37 E. 60th St., nr. Madison Ave.; 212-750-3270
Hours: Dinner Sunday through Thursday 5 to 11 p.m. Friday and Saturday till midnight.
Prices: Appetizers, $10 to $26; entrées, $27 to $70.
Ideal Meal: Arugula salad, pappardelle with country sausage, filet Fiorentina, lemon sorbet.
Note: Avoid the tables in the middle of the small room, which are constantly being bumped by the busy wait staff rushing to and fro.
Scratchpad: One star for the service and another for the intimate, even elegant room. Minus a star for the sloppily executed food, and another for the prices.
*This article originally appeared in the November 26, 2012 issue of New York Magazine.