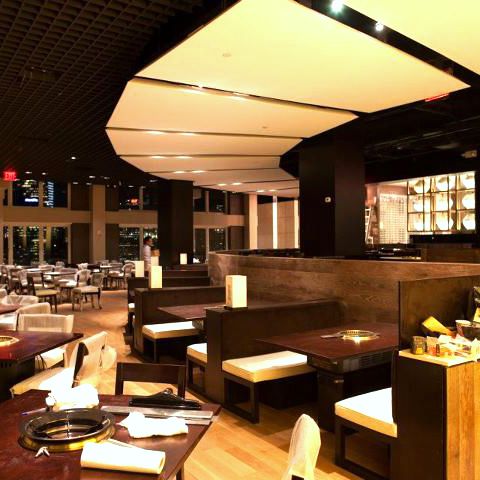 Photo: Victor Prado/New York Magazine
This week, our own Adam Platt puts sky-high Gaonnuri to the test, to see whether their barbecue lives up to the restaurant's name, which means "center of the world." but where did all the other critics dine? Read on to find out.
As we mentioned, Pete Wells thrashed Guy Fieri's Times Square restaurant. It' all questions — questions as dry and mocking as the restaurant's Awesome Pretzel Chicken tenders. We say, is it any surprise the restaurant from the Diners, Drive-Ins, & Dives host is total garbage? (Of course not.) Is the review worth reading? (Yes.)
Speaking of diners, Tejal Rao tried all sorts of "comfort food of another time and place, gut-warming and animal-rich" at M. Wells Dinette, located in MoMA P.S.1. A menu "full of fatty odds and ends, slippery bits and bobs" from a Montreal cuisine "whose food traditions were built on finding sustenance and flavor from every bit of the animal." Think "warm tongue salad with cornichons in a creamy tarragon dressing," or "Stroganoff-style buttery noodles with globes of veal ― the whole thing soft, sticky, and good." Omnivores take note: School's in session.
For fans of "the excellent tamales sold surreptitiously from shopping carts around the Port Authority," Robert Sietsema recommends Sabor a Mexico Taqueria. This East Village "shoebox" specializes in cuisine from the southern Mexican state of Guerrero, such as pozole verde (hard to find in NYC and "tasty enough even before you throw in the accompanying flavorings") and camarones à la diabla ("a half-dozen shrimp bobbing in a thick red gravy made smoky with chipotles").
During Hurricane Sandy, Maison Premiere kept its doors open, and Ryan Sutton noticed: "It's why this unofficial Gulf Coast ambassador is the first restaurant I'm choosing to review since the biggest storm in a generation ravaged our city." Drawing "from the vibrant cocktail culture and French-inflected cuisine of New Orleans," the Williamsburg establishment has a steal of an oyster happy hour (33 varieties, each $1), and "Chef Jared Stafford-Hill has a knack for pairing raw fish with off-the-beaten-track flavors," like bay scallops with lemongrass. Warm plates dress up classic (like seafood risotto, or "gumbo in fancy pants"), and the surf-and-turfs are "oddly satisfying."
Michael Kaminer takes issue with the atmosphere at Rosemary's. The kitchen suffers no ill will, serving "dishes of stunning simplicity, but with enough heft and color that you leave fulfilled, not cheated," and "at price points that seem almost generous for the West Village."
Don't be scared to look for a place to eat above 14th Street, Steve Cuozzo says. In lieu of a regular restaurant review, Cuzzo responds to a disparaging recent Travel + Leisure article with his "Upper East Side 101" for diners. Besides the obvious hotel restaurants and bistros, Cuozzo has suggestions "For the Masses," "Loud and Buzzing," "Italian Heaven," "Asian Revelations," and "Ethnic Discoveries."
At The New Yorker, Amelia Lester raves about The Toucan and the Lion, whose blend of culinary traditions is so "inspired" and "audacious" as "to enliven East Sixth Street's Curry Row, which has lost some of its boisterous energy in recent years."