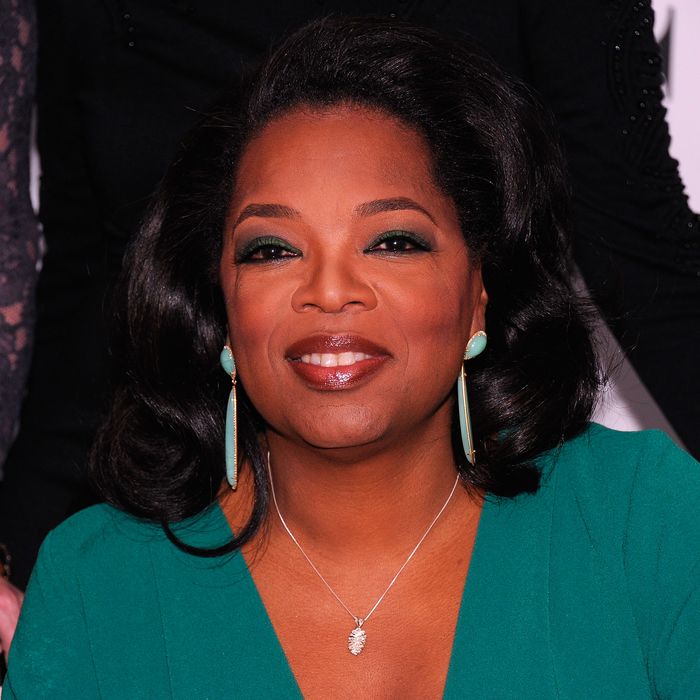 We're guessing she may put her photo on the packaging.
Photo: Andrew H. Walker/2012 Getty Images
Perhaps as atonement for her 2009 Kentucky Fried Chicken giveaway-gone-wrong, a new report indicates that Oprah Winfrey is developing a line of "organic salad dressings and frozen vegetables, soups, beverages and snack dips." "Page Six" notices that a bunch of applications — which also cover beauty products and sunscreen — were filed last month with the USPTO, with the names "Oprah's Organics," "Oprah's Farm," and "Oprah's Harvest," each listing the media titan's Chicago and Hollywood offices. A spokesperson for Winfrey says "[t]he trademarks were filed for Oprah's farm on Maui to enable the farm to grow and distribute produce on Maui and throughtout [sic] the Hawaiian Islands," but is this really just a small, local, organic business in the works here, or the start of something much, much bigger?
So, first of all, You get a hummus! You get a hummus! Everybody gets a hummus!!
Second, if you follow the daisy chain of aggregated gossip that starts here, you may make out the rough form of a another empire in the making. It turns out that if that whole proprietary television network thing doesn't work out, Winfrey has said that organic food is her backup plan. "Oprah's in for the long haul to make OWN a success," an anonymous source told the Enquirer in January. "But if it doesn't work out she's ready to slap on the overalls and start a new life as a farmer in Hawaii."

The star already had a four-mile-long access road built on her Maui property to make distribution possible. While her ratings are no longer upside-down, can Winfrey's Pineapple Upside-Down box cake mix really be that far off in the future?

Oprah's organic appetite [NYP]
Earlier: Oprah Gives Away Free Chicken, Sparking Wonderful Highs and Terrible Lows