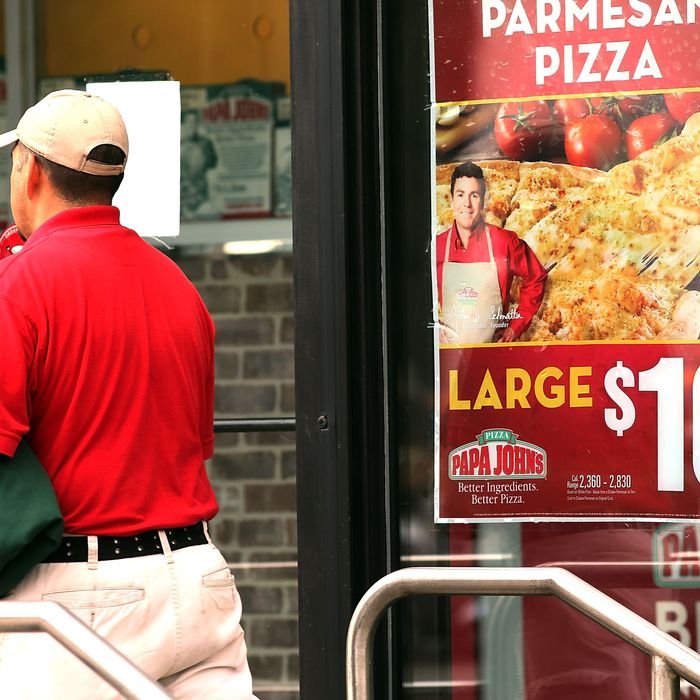 Photo: Spencer Platt/2012 Getty Images
Several restaurant CEOs have suggested recently that since President Obama is keeping his job, their employees' jobs might be in danger. Owners of chains like Papa John's, Olive Garden, Denny's, and Applebee's say that because of the Affordable Care Act, they'll be forced to reduce employees' hours since they can't afford to provide more full-time workers with health insurance or pay the fines for leaving them uninsured. Online Obamacare supporters called for a boycott of the restaurants, and opponents argued that the law will hurt restaurant workers as well as all who turn to them for a cheap, greasy dinner that isn't served in a paper wrapper. However, the claim that the health-care law is worsening conditions for restaurant employees is dubious.
Over the summer, Papa John's CEO and founder John Schnatter, who happens to be a Romney supporter and fund-raiser, said that as a result of the health-care law, the company would have to raise prices and cut employees' hours. On a conference call with shareholders, he said, "Our best estimate is that the Obamacare will cost 11 to 14 cents per pizza." The day after the election, Schnatter told an audience in Naples, Florida, that he estimates the law will cost his business $5 million to $8 million annually. "Unfortunately, I don't think people know what they're going to pay for this," he added.
According to an analysis by Caleb Melby of Forbes, Schnatter doesn't know either. If complying with the law costs Papa John's $5 million to $8 million, that would mean a .4 percent to .7 percent expense increase. Melby estimates that Papa John's would actually only have to increase the cost of a pie by 3.4 to 4.6 cents to cover the cost of Obamacare.
John Metz, who owns the franchise Hurricane Grill & Wings, as well as about 40 Denny's and Dairy Queen locations in Florida, said he'd make the costs of Obamacare even more explicit for customers by tacking a 5 percent surcharge onto every bill. "Customers have two choices," Metz told the Huffington Post. "They can either pay it and tip 15 or 20 percent, or if they really feel so inclined, they can reduce the amount of tip they give to the server, who is the primary beneficiary of Obamacare."
Representatives for Metz quickly recanted, telling ABC News the 5 percent surcharge is "pure speculation and only a potential option" — though Metz does plan to reduce employee's hours.
Darden Restaurants, which owns Red Lobster and Olive Garden, announced last week that it's testing out putting more workers on part-time status in four markets. The company cited the looming costs of Obamacare as the reason for the experiment, but that isn't the only factor. The company's sales have been down in recent years, and it's been looking for various ways to cut costs, including offering lower pay rates to new hires, increasing the number of tables handled by servers, and implementing a "tip sharing" program that requires the waitstaff to share tips with other employees to allow the company to hire more workers at the "tip credit wage" of $2.13 per hour. About 75 percent of the company's 180,000 workers are already part-time.
Obamacare is a convenient target, but before it was passed, many restaurant chains were beginning to rely more on part-time labor. A recent report from the National Employment Law Project found that 43 percent of the jobs added during the recovery from the recession, or 1.7 million, were low-wage positions in food services, retail, and employment services.
Zane Tankel, who owns 40 Applebee's franchises in the New York, said the consequences of the Affordable Care Act go beyond reducing hours and raising prices. "We won't build more restaurants. We won't hire more people," he said on Fox Business News. This sparked talk of an Applebee's boycott online, and the company's president, Mike Archer, said this week that Tankel's views don't reflect those of the company and pointed out that "this franchisee opened a new restaurant last week that created approximately 200 jobs, and will be opening another restaurant next month with a similar number of positions." Publicly railing against providing workers with decent benefits may cost restaurants more than simply complying with the new law.
Papa John's: 'Obamacare' will raise pizza prices [Politico]
Breaking Down Centi-Millionaire 'Papa' John Schnatter's Obamacare Math [Forbes]
Prepping for Obamacare, Chain Cuts Workers' Hours [CNBC]
Applebee's N.Y. Franchise Owner Says Obamacare Could Lead to Hiring Freeze [ABC News]