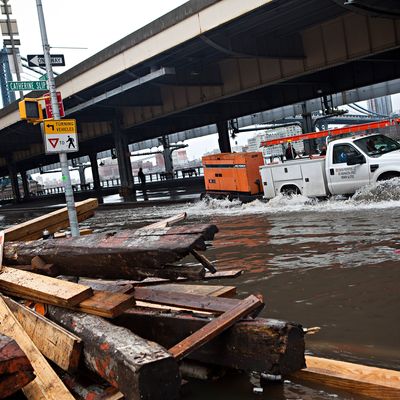 Damage downtown.
Photo: Andrew Burton/2012 Getty Images
Sandy recovery efforts continue to move forward, but there's no denying that New York is still a long, long way from its normal state of affairs. With that in mind, there are plenty of fund-raising efforts being organized around town, including plenty that will include the city's chefs, restaurants, and food vendors. Straight ahead, you'll find a list of the benefits around town, arranged by date so that you can plan your calendar accordingly. As we're doing with our reopened-restaurant list, we will continue to update this list as we hear about more benefits and events. As always, if there's an event you know about, by all means let people know in the comments section below. [November 9 update: From now on, we'll be updating food and restaurant benefits here.]
Until Nov. 9
• Chop't is rewarding those who've donated to Hurricane Sandy Relief efforts with a free drink or snack.
November 9
• NYC Young Professionals Group will donate proceeds from their networking event at the Lower East Side's the DL to hurricane relief efforts. Get on the guest list here. Admission is $20 and includes one free drink.
November 11
• At Industry Bar, Ally Sheedy and photographer Mike Ruiz will host a fundraiser to benefit the , an LGBTQ youth organization that had its drop-in center destroyed by the Hudson River storm surge. The event runs from 4 p.m. to 7 p.m. Tickets, which are $20, will be available at the door.
• The Diamond in Greenpoint is hosting a chili cookoff from 5 p.m. to 7 p.m. Proceeds will donate the Occupay Sandy Relief Effort.
• Point Pleasant benefit at Park Avenue Autumn. Join the restaurant's executive chef Kevin Lasko and writer Jen Murphy for a small dinner being held to raise money for their hometown, Point Pleasant. Lasko and Murphy are working directly with the New Jersey town's Borough Council and police chief for this dinner. The suggested donation is $150; more details, including other ways you can help, can be found here.
• Lucille Roberts in Forest Hills will host a Zumbathon for Hurricane Sandy relief. Members and nonmembers can donate $10 for a 12:30 p.m. Zumba class that will be doubly worthwhile — all proceeds go to the Red Cross and other efforts.
• Pegu Club will host a "50/50" fundraiser from 5 p.m. until 1 a.m. Accroding to the Times, half the money raised will go to Sandy relief and the other half will help ailing bartender Murray Stenson. Expect all-star bartenders and plenty of signature drinks for a good cause. More info is here.
Until November 11
• Anyone who brings a blanket to any of the Meatball Shop's locations (including its Bushwick kitchen) will receive a complimentary order of Naked Balls. Operation #balls4blankets
• Sfoglia on the Upper East Side will donate 10 percent of all sales to the American Red Cross.
• "So Long Sandy, Let's Rally!" at Shake Shack. Head over to the closest Shake Shack and order their latest $5.50 milkshake (inspired by NYC's classic Black & White cookies) appropriately coined the "Rally Shake." The hamburger chain will be donating $2 to the American Red Cross for every Rally Shake sold until November 11.
November 12
• Rooftop Supperclub in Greenpoint will donate all proceeds from dinner tonight to the Rockaway Beach Surf Club. Tickets, which are $50, can be bought here.
• Battersby will hold a buffet-style fundraiser tonight. Exepct passed hors d'oeuvres, casual food, beer, wine, and cocktails. Tickets are $75 each and can be purchased via email or at the restaurant during regular business hours.
November 14
• Tasting Table is holding a very special night of hearty food and good company at its test kitchen. Tickets are $100; all proceeds from the night's festivities, which includes an open bar of custom cocktails and beer, will go to the Food Bank of New York. Tasting Table will also match the donation amount. Tickets are available here.
November 15
• MTV has rounded up the "Restore the Shore", a special that will air live from the Times Square studio. The TV network is partnering with nonprofit Architecture for Humanity and viewers will be encouraged to donate via text to assist with reconstructing the Seaside Heights boardwalk and supporting re-building efforts of businesses and residents in the area.
Ongoing
• Crucial Pies-n-Thighs update via Twitter: "Pies 'n' Thighs is donating $1 of every chicken and pork box this month to Red Cross for #Sandy relief. Let's do this."
• Over the course of this week, Hot Bread Almacen in Harlem is offering its customers bread at "pay-what-you-can" prices. The nonprofit, which provides jobs and economic empowerment for the community, is itself holding a fundraiser for its programs on Thursday, and is also offering bread donations to Sandy-relief organizations that are able to pick up the bread at Hot Bread Kitchen; please email Rachael Nemeth for details.
• Cubana Social has joined forces with the Hester Street Collaborative to assist the Lower East Side and Chinatown's elderly and disabled residents stuck in housing development by doubling as a drop-off point for donations (food, water, batteries, flashlights, generators). In addition to continuing to serve food, Cubana Social will be donating a portion of sales and tips to Sandy relief. Cubana Social is is open daily from 10 a.m. to midnight and until 3 a.m. on Friday and Saturday.