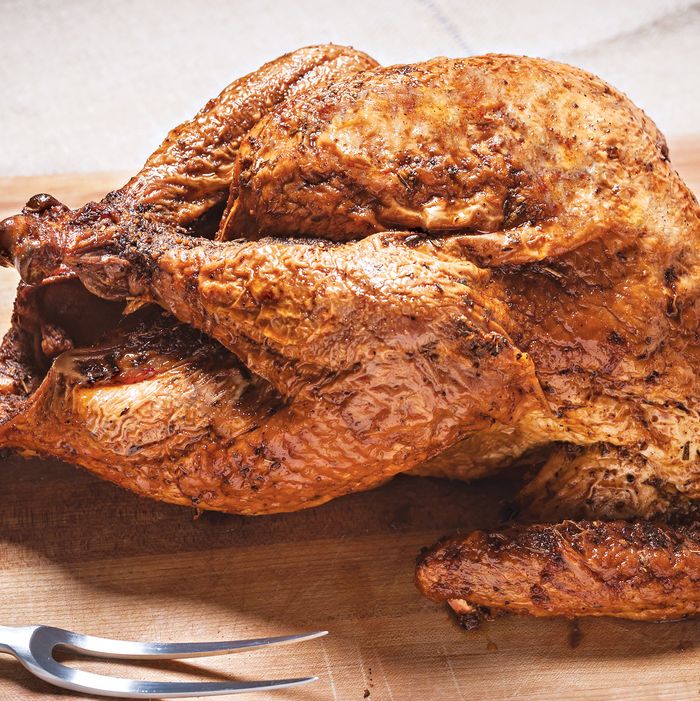 Smoked turkey pairs well with PBR.
Photo: Noah Fecks
Thanksgiving conjures images of Norman Rockwellian domestic bliss, but anyone living in New York knows the food scene these days is about bold flavors, DIY authenticity, and locavore sensibilities. There's no need to stray from these tenets on Turkey Day — we've sifted through the best à la carte takeout options around town and put together an entire Thanksgiving spread full of hipster charm.
The bird: Whole smoked turkey from Dickson's Farmstand Meats ($140; add Dave's giblet gravy for $20)
Ordering deadline: November 14, order online.
Side 1: Chorizo and cornbread stuffing from Bklyn Larder ($22, serves six to eight)
Ordering deadline: November 15, call 718-783-1250.
Side 2: Brussels sprouts with turkey confit and maple from Court Street Grocers ($12 per quart)
Ordering deadline: No set deadline yet, but order online in the next few days to be safe.
Side 3: Longhorn Cheddar mac and cheese from Hill Country ($21 for 32 ounces)
Ordering deadline: November 16, order online.
Side 4: Smoked gouda muffins and Parker House rolls from City Grit ($10 to $15 per dozen)
Ordering deadline: November 18, call 646-580-5720 or e-mail here.
Side 5: Roasted pumpkin with goat cheese and kale from Radish ($35 for six-person order; $62 for twelve).
Ordering deadline: November 16, call 718-388-5188.
Dessert 1: Pumpkin cheesecake from Parm ($35)
Ordering deadline: November 18, call 212-993-7189.
Dessert 2: Cinnamon Bun Pie — or, yes, Crack Pie (both $44) — from Momofuku Milk Bar
Ordering deadline:November 19, reserve online.
What to Drink: Wild Turkey whiskey washed down with tallboys of PBR or Tecate, obviously. If wine is more your speed, try to track down some food-friendly, indie-spirited orange wines. After dinner, go for hipster-digestivo-of-the-moment Fernet Branca or another Italian amaro like Nonino or Averna.
Related: The Thanksgiving Planner