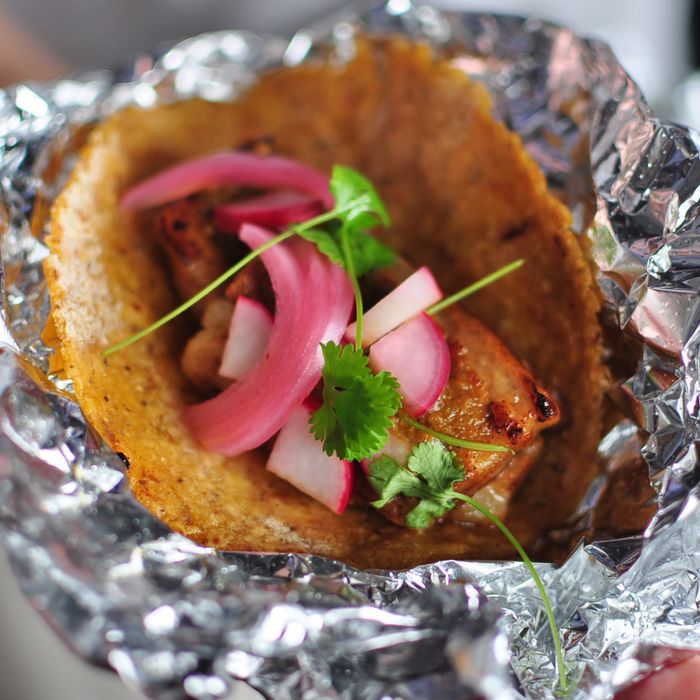 Lonestar Taco's tamarind-glazed pork belly taco.
Photo: Tejal Rao
As hundreds of restaurants and bars try to recover from the effects of the storm, it has become prohibitively expensive for some to continue running generators at their establishments, and so we're hearing about some free food around the city. Others are just being neighborly and aiming to buoy community spirit by offering a complimentary nibble or two to the downtrodden and distressed. Here are a few giveaways going on this afternoon. If you know of others, please let us know in the comments section.
Num Pang
While it's business as usual at the Cambodian sandwich shop's midtown east location, Num Pang on 12th Street in the West Village is giving away free sandwiches while supplies last. The restaurant is still without power, but they currently have a surplus of pulled pork, meatball, and cauliflower sandwiches.
Idle Hands
Thanks to an ice and candle delivery from Speakeasy Ales & Lagers and Omer Traditional Blond, from 1 p.m. to 8 p.m.tonight, the East Village bar will donate 50 percent of its happy hour proceeds to the American Red Cross. Grab a beer or a bourbon.
Lonestar Taco
Per Twitter, the popular New Amsterdam Market vendor is "setting up at front st. & peck slip this afternoon to give away tacos to lower manhattan residents in need."
Wafels & Dinges
Smile the biggest one you can muster for a free dinges.
The "Katie Holmes is Sorry" Freebie
If you are holding tickets and were looking forward to checking out Katie Holmes's Broadway debut Dead Accounts this Saturday, the play has been postponed. You can, however, nurse your disappointment with a free pint of Graeter's Ice Cream.
Sweetery
The truck tweets: "FREE CHEESE ALLERT! Come to 42St btw 5th & 6th Av for tasty cheese samples. We r also giving away 4lb 1/4 cheese wheels while supplies last." Cheese wheels — hop to it.
The Dutch
Andrew Carmellini tweeted that the Soho restaurant is serving "free soup and a big salad for anyone in the neighborhood."
Did we miss something? We probably did! Let us know in the comments below.