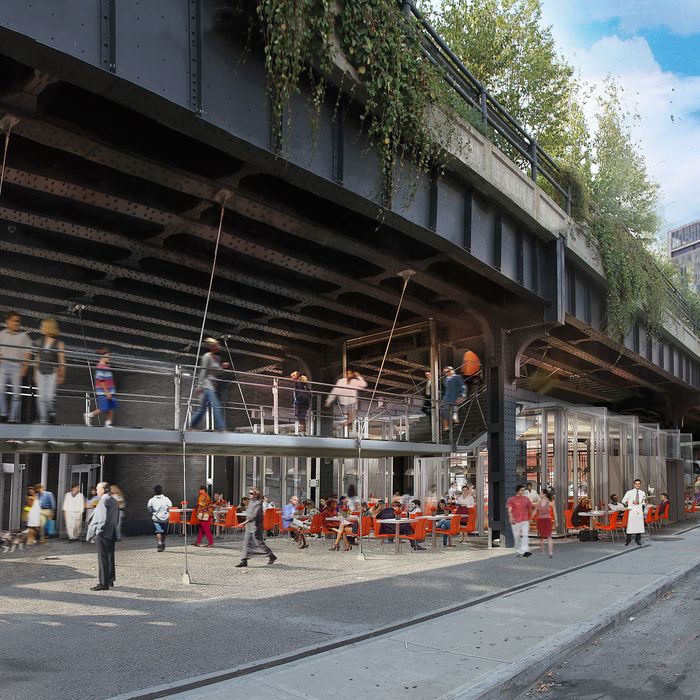 Insert meatballs here.
Photo: Renzo Piano Building Workshop and Beyer Blinder Belle Architects & Planners
Forget Frisbee and Shakespeare. "The No. 1 activity that people do when they go to a park is eat," says Robert Hammond, who, as co-founder and executive director of Friends of the High Line, knows whereof he speaks. Benefiting from being born in the post–Brooklyn Flea era of food vendors and culinarily overseen by a veteran of the Yale Sustainable Food Project, the High Line has never lacked for good grub, be it locavore ice pops or boutique frankfurters. Last summer, Terroir wine bar opened a lovely seasonal outpost with Hudson River views. But the biggest development in High Line food, and perhaps in park concessions in general, is taking shape inside a Renzo Piano glass box adjacent the forthcoming Whitney Museum at the High Line's southern tip: a full-service Italian neighborhood restaurant operated by Major Food Group, the team behind Torrisi Italian Specialties and Parm.
Partners Mario Carbone, Rich Torrisi, and Jeff Zalaznick were among more than twenty applicants who submitted proposals last winter, and little by little, via tastings and presentations, the field narrowed. "It felt like a giant tournament," says Carbone. Their selection means more to the rapidly expanding company than a new West Side location, though. "It wasn't just 'Let's open Parm in the meatpacking [district],' " says Zalaznick. "The High Line represents a lot of the things that we love about New York. It's an unbelievable place that these guys found and brought back to life, an incredible piece of the future New York that represents its past."
That bridge is not unlike what co-chefs Carbone and Torrisi have engineered at their Mulberry Street fiefdom, where local food traditions inform their progressive menus. Although the partners have yet to finalize dishes, design, or even a name, they've determined that when the 100-plus-seat spot opens in late 2013 or early 2014, it will serve their style of New York Italian-American food for breakfast, lunch, and dinner and that the price range will fall somewhere between their two existing restaurants (in the meantime, they're busy constructing two new projects on Thompson Street, Carbone and the Lobster Club).
The goal, according to Hammond, is to be accessible, appeal to the locals, and, most crucially, help fund the park's $5 million annual operating budget. He sees a parallel between the chefs and the park's original design team. "They're at a great point in their career trajectory," he says. "Their passion for the project is just palpable. And it helps that there are two of them."