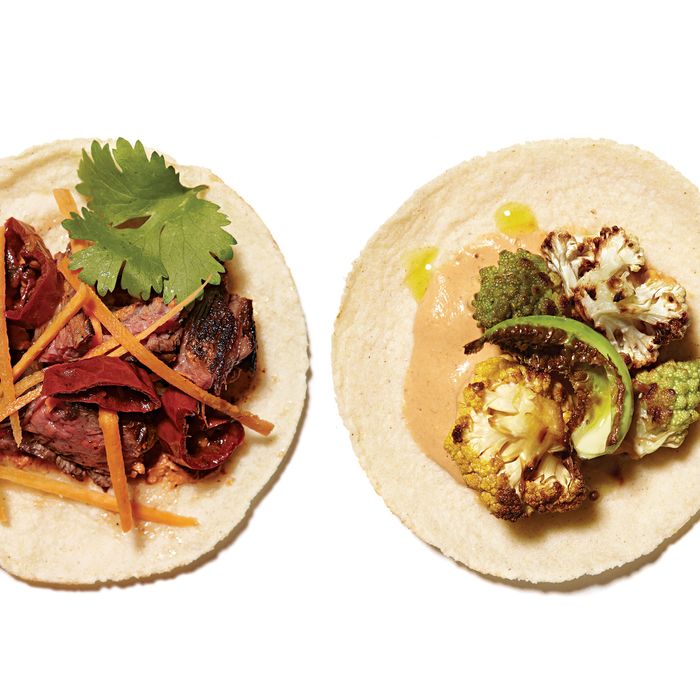 Photo: Victor Prado/New York Magazine
There are plenty of far-flung ­places in this town to satisfy cravings for unalloyed, super-authentic Mexican tacos. Salvation Taco (145 E. 39th St., nr. Third Ave.; 212-865-5800), opening next month in Murray Hill's Pod 39 Hotel, isn't one of them. But that's entirely by design: Salvation is the brainchild of April Bloomfield and Ken Friedman, the duo better known for the gastropubby Eurocentric fare of the Spotted Pig, the Breslin, and the John Dory than for Mexican street food.
Yet when the budget hotel enlisted the team to run the kitchen, Friedman thought the former Salvation Army space was perfect for a south-of-the-border-­inflected take on his patented "bar with great food" formula. To stay semi-true to tradition, Bloomfield has collaborated with Fonda's Roberto Santibañez on the menu, which will employ housemade tortillas as vehicles for fillings like roasted cauliflower with curried crema and skirt steak with pecan and chipotle (pictured). She's bypassing the corn tortilla altogether for more esoteric creations, like braised lamb breast swaddled in naan, and sweetbreads on a chickpea tortilla. There are hot-dog tortas at lunch and large-format, DIY tacos at dinner, when groups are encouraged to tear into whole roasted pig's heads and full slabs of short ribs.
Whether you consider this taco tinkering evolution or sacrilege, the timing couldn't be better. Like pizza, burgers, and pork buns before it, the taco is the latest lowbrow foodstuff to undergo a gourmet upgrade. For examples, you need look no further than Masaharu Morimoto's hamachi taco at his new Tribeca Canvas, Marcus Samuelsson's doro wat taco at Lincoln Center's American Table Cafe and Bar, or Matt Hamilton's bone-marrow version at Lulu & Po. Former Bouchon Bakery executive sous-chef Wayne Surber chucked it all to roll out Lonestar Taco, a New Amsterdam Market stand (and, he hopes, future restaurant) with locavore leanings and tortillas griddled to order, and Alex Stupak, who some say sparked the trend, left his wd-50 pastry post to pursue his passion at Empellón. Other cross-cultural tacos come stuffed with pastrami at Super Linda and chicken livers at Gran Eléctrica, or wrapped in a jumbo scallion pancake at Earl's Beer & Cheese. Behind these interpretations, it can only be assumed, is a love for the classic form, no matter the expression. For Bloomfield, at least, nothing beats a legitimate taco al pastor, which she adores for "the sweetness from the pineapple, the heat of the chile, and the fatty, crispy pork." No translation required.
*This article originally appeared in the December 3, 2012 issue of New York Magazine.