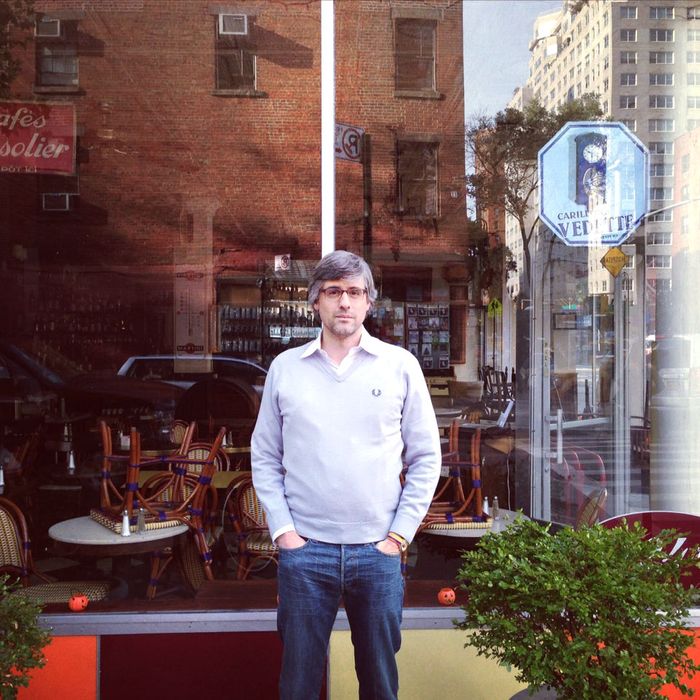 Rocca, outside French Roast, closed after the hurricane.
Photo: Melissa Hom
As it did for all New Yorkers, the past week took a sudden turn for comedian and CBS Sunday News correspondent Mo Rocca. Late last week, he was wrapping filming on the first season of his new Cooking Channel series My Grandmother's Ravioli, in which Rocca learns traditional recipes from actual grandmothers. "It's partly because I'm ashamed," he says, "and guilty for never having helped my amazing grandmother in the kitchen." But by Tuesday, Sandy forced Rocca to abandon his Greenwich Village apartment in search of food, coffee, and the kindness of strangers. How did the workaholic storm refugee make it through? Find out in this week's New York Diet.
Friday, October 26
My breakfast routine is a K-cup from my Keurig. I also usually try to make myself have oatmeal because somebody told me that it's like a bowl of fuel that keep you going through the day. I have no idea if that's true but I like the idea.
 
On Friday, however, I had to tape an interview at the WNET Lincoln Center studios, and I was rushing there, so I hadn't eaten anything and was incredibly hungry. I was afraid that during the interview I would start just gnawing at my hand, but luckily they had an assortment of baked goods. I had a chocolate doughnut, a cherry Danish, and a banana nut muffin. Mitt Romney wants to cut off money to PBS, but I would have starved if they didn't have a baked-goods budget.
 
For lunch, I had rock shrimp and chorizo at Whym on Ninth Avenue and 57th Street. I thought this place was Thai because Hell's Kitchen and Chelsea are just all Thai. I don't know if there's a connection between being gay and liking Thai food, or maybe Thai food makes you gay, but in those neighborhoods, everything is Thai. So I originally assumed this place was Thai, but it's not. It's "traditional" American. The rock shrimp and chorizo was pretty great, and I had a seared yellowfin tuna salad that was nice, too.
 
That night, I went to a party for my show in honor of the first grandmother Ruth Teig, a math teacher in Scarsdale, who is a force of nature and is amazing. Her daughter threw the party, and it was catered, but I think Ruth cooked some of it. There were sliders, corn quesadillas, and crab cakes, which I enjoyed. It surprised me. I'm not a huge crab-cake person even though I'm from Maryland. I always used to be so jealous of Virginia because "Maryland is for crabs, but Virginia is for lovers," which sounds like the setup for a dirty joke.  On the menu was also kreplach, a Jewish ravioli with a meat filling, which was exciting because that was something that Ruth taught me how to make and pronounce.
 
Saturday, October 27
Coffee with milk, a square bagel with nothing on it, one-fourth of full-size bran muffin.
 
Saturday we taped with Venetta, who is a 70-year-old Jamaican grandmother who worked as a wedding-cake baker all her life. I spent some of the day shopping with her son Courtney for Caribbean food. We went to a Caribbean food market — well, he called it Caribbean food, I didn't want to lump Barbados, Jamaica, and everywhere else into one, but he was sort of like, "No, there are a lot of similarities." On the way there, he explained that because of the poverty in Jamaica, they had to make do with parts of the meat that no one else wanted. So we actually bought an oxtail. It looked like something out of Jurassic Park. It was so awesome.
 
Lunch was catered crew lunch from the Cheesecake Factory. I'm not a fan of the Cheesecake Factory menu. Like, it's authored by Tolstoy, it's so long. I find it maddening. However, I do think that the food is pretty good. We had chicken potstickers, shrimp spring rolls, teriyaki and orange chicken, and red velvet cheesecake.
 
Then we cooked the food we bought for the big party that occurs at the end of the episode, where all the relatives came over. We made oxtail stew, jerk pork and jerk chicken, rice and peas (which I had nothing to do with), cabbage salad. And we had begun making black cake, which is sort of the Jamaican version of plum pudding. It's a very moist cake. I hate the word moist, by the way, but no other word works for it. We drenched it in port wine and rum, and it was fantastic.
 
I left about 5:30 and went to my office at CBS Sunday Morning to track a piece, and by the time I got home, I was starving. I went to my new "Regal Beagle," French Roast on Sixth Avenue. I had their terrific trout salad, artichoke ravioli, and a slice of pumpkin pie, which I think they gave to me for free. I was really stuffed, but I didn't want to be rude. I ended up eating the whole thing anyway.
 
Sunday, October 28
Sundays are pretty lazy. I got up and watched CBS Sunday Morning, which I watch whether I have a piece airing or not, and went to Lenny's Bagels for orange juice and a bagel with cream cheese, nova, red onions, a slice of tomato and extra capers. I wasn't planning on socializing that day. If I'm going to see someone really soon after, I try not to do it with all the onions, because some people get really offended.
 
I got swept up in hurricane preparation, but I wasn't really thinking that I shouldn't be getting things that needed refrigeration. I walked by Citarella, but there was a line outside. I returned to it later, because I thought, Oh, I should be in here because this is one of those New York experiences. I should be in here watching a lot of entitled New Yorkers freak out. But I didn't have the patience to wait in line. So I went to a little Korean grocery store across 11th Street and got some Fage yogurt and some coconut water, and felt really lame because I'd been making fun of coconut water a lot on Twitter, saying that coconut water sounded like a euphemism for ball sweat. Which is not really my brand of humor, but I said it, and I apologized for it because I didn't think it was that funny, but then people got really angry with me for apologizing.
 
I went to French Roast and had the "organic" Bloody Mary and a Niçoise salad, then returned to my apartment to finish a pint of Häagen-Daz Dulce de Leche, because it was the calm before the storm, so it was time to binge. And I really was thinking about the fact that the ice cream was going to melt in my freezer.
 
That night, I had a date at Kingswood. Actually, I don't know if you'd call it a date; I'm just not sure. Our reservation was at eight, and they actually kept it open to honor reservations, which impressed me. I had a crudo appetizer, hake, and I wanted a cocktail, but the waitress, who was terrific, said they'd "already covered up all the liquor." Which meant the liquor was all covered with a tarp. I'm not sure what they were expecting. It was kind of like, Look, if the liquor is getting wet, that's because the hurricane has blown through a glass window. So I don't think that covering single-malt Scotch with a tarp really makes sense. I had two glasses of Malbec Mendoza instead.
 
Monday, October 29
The electricity was still on, so I was able to have my Keurig coffee. I had two bowls of Lucky Charms, which were part of my hurricane provisions. In my mind, I didn't have to feel guilty about having sugary cereal, because there was a storm coming.
 
I had a glass of apple cider with two Aleve — the Malbec gave me a headache — and one Alive, a multivitamin. I went to French Roast, and then I saw Madeline, an old friend of mine from college. She and her twin boys were there, so I had second breakfast with her: a cappuccino and three eggs, bacon, and an English muffin. Their menu was really limited that day: I asked for oatmeal, and they didn't have it. But they could not have been more polite.
Around seven, I went to the Waverly Diner, which was suggested by the doorman in my building. It was great. I had a bacon cheeseburger and fries, and at this point, I was starting to feel ashamed of my food log because of how few vegetables there were. And so after I had the burger and fries and a glass of cabernet, I had a plate of broccoli.
 
I got home and was about to send an e-mail — I was revising a script and had made some notes, and my finger was headed toward the send button — when the lights went out.
 
Tuesday, October 30
Coconut water for breakfast. Post-blackout, it was the only thing from the shopping expedition I would actually eat.
 
I wanted to get to work and was hoping that West 57th Street would be okay, and indeed it was. The traffic wasn't terrible, but I wasn't able to get a cab, so I started walking a little bit, and — I kid you not — a shiny black British cab pulls up, with a couple and an adorable little British girl inside. They beckon to me to get in, so I do, and I think this is either going to be an amazing New York story or I'm going to be murdered. It turns out that they are the owners of the fish-and-chips shop A Salt & Battery, and this is their delivery car. And they are just really nice people. I offered them money for the lift, but they refused it and said, "We just think at a time like this, people need to help each other." I was so overwhelmed by this. All I can say is that I'll be eating a lot of meals at A Salt & Battery.
 
For lunch, I had wonton soup and orange chicken by a place on Ninth Avenue for the only reason that it was open. Then I spent a long time at work, where it was basically empty. I figured I should find a place to stay the night, having no power, so I called around and was offered an apartment on the East 72nd by a generous couple who I found through the board of this inner-city scholarship fund that I am involved with. I headed straight there after work. All I needed was a toothbrush and toothpaste, in case I ran into some red onions.
I had dinner at a place called Brasilina, which is a Brazilian restaurant and one of the few places that was open that was not overrun. I had a plate of Salgados (assorted Brazilian croquettes), a "Brazilian" Caesar, a seafood stew called Moqueca, and two Caipirinhas. They weren't filling the Caipirinha to the top, but I didn't want to complain. In this state of affairs, don't complain about the amount of Caipirinha, just be grateful for the Caipirinha.
 
Wednesday, October 31
The next morning, I wandered around the new neighborhood, looking for a cup of coffee. The Starbucks were all closed, which I didn't quite understand. I ended up at a vegan snack bar, and I knew it would have been a dumb question, but I very sheepishly asked the woman behind the counter if she had coffee. She said no. So I tried a Turmeric tonic. It was seven dollars, but I had recently learned that turmeric is great if you're pregnant or nauseated. I was neither, but it was great.
I popped on a bus headed to work, but immediately, we ran into a jam, so I got off and walked the rest of the way, stopping in a bodega for a bowl of pineapple chunks and coffee with milk. My first coffee in two days! Then I went down to the CBS cafeteria and bought some more coffee: some bottled Frappuccino, along with two Light & Fit Dannon yogurts. It didn't even register that it was Halloween. I think when you work in media and entertainment, Halloween is not that exciting. There's less appeal in the performance aspect of it. If I didn't get to perform in my everyday life, then it would be more appealing.
I'm gonna try to head back down to my apartment on Saturday, the day my hosts get back. I don't want to be "that guy" that overstays his welcome, you know? If I have to live one day without power in my apartment, it will be okay. I should probably go get those yogurts out of my fridge, but I think Fages are wrapped tightly enough that, even if they are rotting, it won't be a problem.