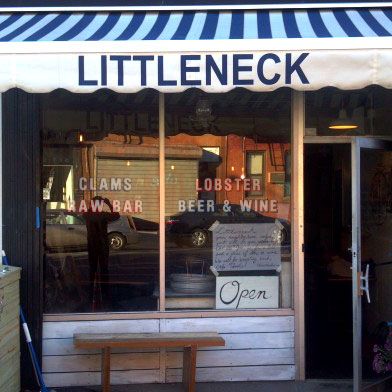 Clam rolls, and beer for breakfast.
Photo: Courtesy of Littleneck
The Gowanus clam shack's owner Aaron Lefkove sends word that the restaurant has added what it's strategically calling "weekend lunch," which is another way of not using the word brunch, from 10 a.m. to 2 p.m. on Saturdays and Sundays. If you enjoy Cap'n Crunch and clam rolls in the same sitting, congratulations, you know where to go. Click on through for the full menu, which also includes a duck egg sandwich, shrimp and grits, and fluffy fromage blanc pancakes. Also, if brunch isn't your thing, Littleneck has introduced two new oyster happy hour deals: One is that all tap beers are $5 with accompanying bivalve at $1 apiece, while the "Rhode Island Meets Long Island" $10 deal gets you one half-dozen local oysters with the Narragansett tallboy of your choice.
Dill and Caraway Cured Arctic Char
Smoked Cream Cheese, baguette, and
Hard Boiled Egg | $12
Duck Egg Sandwich
Frisée, Tillamook Cheddar, Nodine's
thick-cut bacon, and French Fries | $12
Shrimp & Grits
Anson Mills grits, Nodines thick-cut
Bacon, and Scallions | $17
Fromage Blanc Pancakes
Mirto and Banana Maple Syrup
and Local Honey Butter | $14
Omelette Arnold Bennett
House-Smoked Haddock, Chives,
Crème Fraîche, and Local Greens | $12
Full Belly Ipswich Clam Roll
Tartar and Shredded Romaine | $16
Maine Lobster Roll | $18
Hamburger and Fries | $11
with Tillamook Cheddar | $13
Idaho French Fries | $5
Sides:
Bowl of Cap'n Crunch
Milk | $5
Coffee Milk | $7
Bruléed Grapefruit
Lemon Salt | $4
Organic Egg
Any Style | $4
Nodine's Double Smoked Bacon | $5
Baguette and Jam | $4
Granola
Milk | $5
For dessert:
Rachell Roth's Homemade Pie of The Day | $8