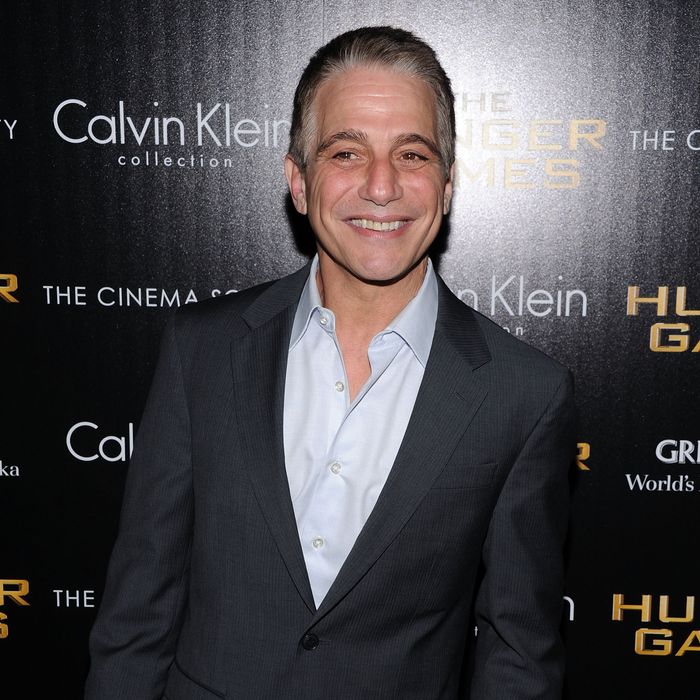 Tony Danza: Steak house boss.
Photo: Dimitrios Kambouris/2012 Getty Images
This week, New York celebrities were back at their usual pre-Sandy wining/dining activities, and, having come through the storm safely, there was a definite sense of seize-the-day romance in the air. Justin tried to woo back Selena at Morandi, Chelsea Handler cozied up to ex André Balazs at Monkey Bar, and on-again couple Robert Pattinson and Kristen Stewart drew stares (and jeers) at Beatrice Inn. All this, plus all you wanted to know about Leo's epic birthday bash, straight ahead in our weekly roundup of celebrity dining.
Arlington Club: Tony Danza dined at the new Laurent Tourondel steak house. He and a friend were seated under a photo of Danza himself, because Danza is in fact the boss. [NYDN]
Beatrice Inn: Robert Pattinson and Kristen Stewart dined at the newly reopened Graydon Carter restaurant, already wall-to-wall with celebrities. Robsten, however, doesn't seem to be doing so hot its second time around. Witnesses saw Stewart shrug off Pattinson's attempts at PDA, prompting onlookers to urge the jilted actor to "move on." [NYDN]
The Darby Downstairs: Leonardo DiCaprio turned 38 last Sunday and threw the party of the weekend, if not the month. After a birthday dinner of branzino with truffle crust, yellowtail sashimi, spinach truffle pizza appetizer, and steak filet with truffles, the man of the evening partied with all of his famous friends and then some. At one point in the evening, Leo grabbed the mic and beat-boxed (who knew?) to some West Coast hip-hop. The partygoers racked up a nearly $3 million tab (most of which went to the Leonardo DiCaprio Foundation) by 5 a.m., at which point Leo and the guests still standing headed over to Avenue. But the birthday fun didn't extend to everyone at the West Village club. Robert De Niro called out Jay-Z for failing to return his calls. He tried to make light of the accusation, but De Niro wasn't having it and called the rapper "rude" and "disrespectful." [Page Six / NYP, NYDN]
Indochine: Emma Watson stopped by the Rust and Bone after-party after a day of filming her current project, Darren Aronofsky's Noah's Ark. [NYDN]
Jimmy: Samantha Ronson attended Nicole Winhoffer's birthday party. Madonna's MSG concert dancers also made it out for her personal trainer's birthday party, but Madonna opted for beauty rest. [Page Six / NYP]
Lexington Candy Shop: Woody Allen and John Turturro were spotted shooting scenes for Allen's upcoming Fading Gigolo, in which the director plays a pimp, at the Upper East Side luncheonette. [Page Six / NYP]
Little Cupcake Bakeshop: Jessica Biel drank hot chocolate with two friends at the Nolita bakery. [NYDN]
Michael's: Sarah Jessica Parker attended the Cosmo 100 Power Lunch on Monday. [NYDN]
Monkey Bar: Chelsea Handler skipped a Today show appearance Monday morning because of food poisoning, but was well enough to go out with on-again boyfriend and club owner André Balazs Monday night. Selena Gomez held court with her family and Ethan Hawke at another table. [Page Six / NYP]
Morandi: Speaking of Selena, the Disney progeny entertained recent ex Justin Bieber's hopes for a reunion Sunday night. He asked her to dinner in-person during a visit to her hotel and then invited some friends along in an effort to keep things casual. [NYDN]
Philippe Chow: After dinner, Justin Bieber watched the Jets game with a group of twenty in a private room. Chris Cornell and his Soundgarden bandmates arrived at the Upper East Side restaurant just after Bieber and friends made their exit. [Page Six / NYP]
Prospect: Brooklyn foodies are flocking to the new Fort Greene restaurant. Recent diners included T.R. Knight from Grey's Anatomy, David Costabile of Breaking Bad, and Ted Allen, who came to support chef de cuisine Vinson Petrillo, a winner of his Food Network show Chopped. [Grub Street]
Ruby Foo's: Anne Hathaway and Rihanna joined the SNL cast at the Times Square restaurant for this week's after-party. [NYDN]
Serendipity 3: Joan Collins sipped the restaurants famed frozen hot chocolate with her granddaughter and husband Perry Gibson, who shared his hot dog with the Dynasty star. [NYDN]
Southern Hospitality: Justin Timberlake and Jessica Biel joined Timbaland at the Memphis BBQ restaurant Timberlake helped found. The three worked up an appetite earlier in the day volunteering in the Rockaways. [Page Six/NYP]
W.i.P.: Selena Gomez went out with friends after dinner at Morandi Sunday night. She reportedly asked a friend to hold onto her phone to avoid texting Bieber and had quite a few calls and texts from him when she got it back at the end of the night. [NYDN]