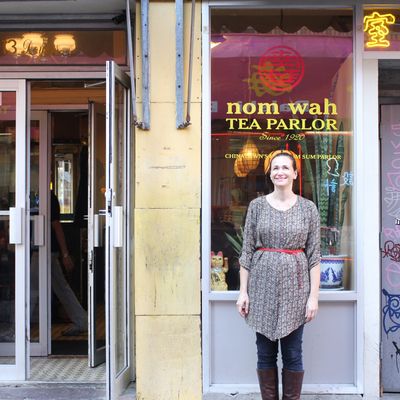 Moskin, outside Nom Wah.
Photo: Melissa Hom
It's been a busy week at the Times Dining Section: In addition to Pete Wells's review read 'round the world, it's also Thanksgiving, the biggest food week of the year. "With the hurricane, and the recipe testing for Thanksgiving, this week was very ramped up," reporter Julia Moskin says. "But I feel very fortunate." That's not even the only thing Moskin had to worry about — she's also been traveling to let people know about CookFight, the new book she co-wrote with Kim Severson. (If you're in Atlanta, where Moskin was last week, she highly recommends the fried chicken at the Busy Bee Cafe.) See how Moskin balances it all and still manages to work in a rooftop beef barbecue in Soho, a dim sum feast at Nom Wah, and lots, lots more in this week's New York Diet.
Thursday, November 8
It's not often that I eat three meals. I have to maximize my appetite at the end of the day, for work, so two is typical.
I fuel/fill up on cappuccino in early morning, eat a very late breakfast, then achieve ravenousness around 6 p.m. — probably not the healthiest regime, but the only reason I don't weigh 300 pounds. So, first thing every morning, three shots of espresso and steamed milk. I had the same FrancisFrancis x5 machine for twelve years, but bits of metal and paint began showing up in the cup, so I just made the switch to Nespresso, which is like the Ikea of espresso: economical, streamlined, and not quite satisfying. I'm not married to it yet.
Breakfast is toasted Eli's Health Bread, which I eat not for reasons of health but because it has a chew and sourness that is hard to find these days. Chunky peanut butter and jam of some kind — jams, flavored vodkas, and weird new snack foods are things we always have an ample supply of around the office.
Dinner at Buttermilk Channel in Carroll Gardens, which was donating 20 percent of its proceeds for the night to Hurricane Sandy relief. Hadn't been there before, so had to try the fried chicken and barbecued oysters (amazing). Also an apple-turnip salad, fried mozzarella squares, squash tart, and Caesar salad with lamb. Ice-cream sundae and chocolate tart (also amazing) and a bottle of "orange" Sauvignon Blanc from California, the Scholium Project's "Prince in His Caves," with some interesting sweetness and funk.
Friday, November 9
Forced to eat near the office, a bleak strip even by midtown standards (I can see the Port Authority and the parole board from my cube). Hale and Hearty recently opened on our block, so I had chicken tortilla soup, doctored heavily with the Cholula and Valentina hot sauces I keep in my desk. I also stock 18 Rabbits granola bars, the brand I landed on after much taste-testing; most of the ones out there are insanely sweet.
Dinner at home, leftovers from an article about stuffing that I was testing for the Times. For the Dining section, Thanksgiving is like the presidential election and the Super Bowl and Fashion Week combined; reams of copy must be produced. There was prime rib, chicken, guinea hen, and three kinds of stuffing, one of which had whole chunks of lemon and ginger and was not liked by anyone in my family but me. I halved and roasted some Brussels sprouts with paprika and Maldon salt, because an all-leftover meal just doesn't taste great, even if it's prime rib.
Saturday, November 10
A rooftop lunch in Soho where the Argentinian chef Francis Mallman was demonstrating his "seven fires" grilling method — had read about him but never tasted the food. There was a huge (and not exactly legal) setup, including charcoal and mesquite logs, ash blowing everywhere and rain spotting. The food was terrific. Skirt steak with the best chimichurri I've ever had, sweetbreads, whole rib eyes cooked slowly until they were as tender as pot roast, garlicky mushrooms, beets, sweet potatoes. A mound of salt big enough to hold Amar'e Stoudemire, cooking over low heat, turned out to contain two whole salmon and long, knobbly fingerling potatoes; an assistant came around with thick, yellow garlic mayonnaise. Dessert was crepes rolled around dulce de leche, lightly grilled, sprinkled with sugar, and then caramelized under a hot, heavy cast-iron press.
For dinner, I made a Moroccan lamb stew from the new cookbook from Epicurious.com, a book I was interested in because the editors made a smart decision to include only recipes with the highest possible rating — four forks. I get 20 to 30 cookbooks a week at work and barely have time to even look at most of them. But Epicurious has been at it for a lot longer than most of the recipe-aggregator sites, so I thought the recipes would hold up — and they do. My apartment reeked of cumin all weekend, but it was worth it.
Sunday, November 11
Made corn muffins for breakfast with my kids, a recipe from way back when the Magnolia Bakery first opened. I lived two blocks away, and before the cupcake/Sex and the City invasion, the place actually had tables; I ate there every day. When they published a cookbook, I covertly copied this recipe down onto a napkin. (Even then, the gorgeous people who worked there were so bitchy that I refused to buy a copy of the book). The muffins have a stick and a half of melted butter in the batter, so they are perfect served plain, and they last forever.
Lunch at a coffee shop with my best friend from high school and her kid; we have spent so many hours in leatherette booths since 1980, when we met. There is never a time when I don't want a cheeseburger deluxe and Coke with lemon, but settled for poached eggs and bacon.
We ordered in roast chicken and rice and beans and avocado salad from Flor de Mayo, a meal I have eaten almost every Sunday night for the last ten years. How they get those Florida avocadoes so perfectly ripe I will never understand. The leftovers make fillings for tacos and quesadillas and lunchbox Thermoses for the rest of the week.
Monday, November 12
No school, so I took my 10-year-old downtown for a dim sum binge at Nom Wah Tea Parlor. I also wanted to talk to the owner, Wilson Tang, who is trying to get Chinatown restaurants organized for a Hurricane Sandy relief effort. We had pretty much everything on the menu; I love their roughly rolled egg roll, fried dumplings with a thick but crunchy skin, and huge stalks of Chinese broccoli with oyster sauce.
I had dinner with a friend at a new ramen place that I can't name (I'm reviewing it and will go back twice more), but the broths were excellent. Also tofu salad, and a brisket-topped bowl of rice that had been simmered in beef stock and onions. Excellent with beni-shoga, the red pickled ginger that goes with ramen. Came home and plowed through a bag of milk chocolate-covered almonds. Milk chocolate is underrated among foodies, but a lot of the dark chocolate on the market is too tangy and bitter.
Tuesday, November 13
The other edible option on 40th Street between Seventh and Eighth Avenues: Maoz. After extensive experimentation, have worked out a favorite meal of falafel salad with no lettuce (it's just filler), extra falafel balls (an off-menu option), lots of mint tabbouleh, pickled cabbage, roasted cauliflower, and cilantro sauce.
Peckish around 4 p.m., I ate some Beanitos, a new brand of chips made from black and pinto beans that keeps showing up in huge boxes at my cubicle.
Dinner was a party of eight at Cafe Noir, and I was assigned the tricky job of ordering for everyone. I especially like the charcuterie (basic, tasty, made by people who know what they're doing) and cheese plates there, so I kept it simple. When you're eating dinner with that many people in a New York City restaurant, you can't pay attention to the food anyway.