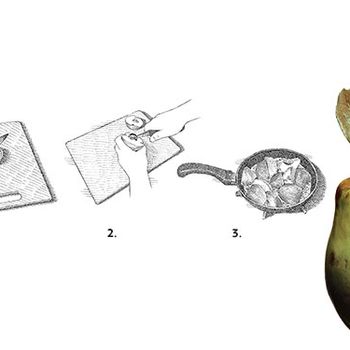 Photo: Victor Prado/Illustration by John Burgoyne
Scent alone—sweet and floral and uncannily pervasive—is reason enough to seek out the quince, available now at your local Greenmarket. One placed innocently on a kitchen counter acts like some sort of natural-world time-release air freshener, two together are almost overpowering, and the perfume department at Saks Fifth Avenue has nothing on a bowlful. You can't really eat this ancient fruit without cooking it, and cooking it well, as demonstrated in this recipe adapted from Paula Wolfert's The Food of Morocco ($45; Ecco). Steamed, then sautéed in butter and honey, the quince has a flavor that is mild, pleasantly sour, and, like its aroma, a little mysterious.
Paula Wolfert's Caramelized Quinces
3 large quinces, washed
Juice of 1 lemon
2 tbs. unsalted butter
2 tbs. floral honey, such as lavender, acacia, or orange blossom, thinned with 2 tbs. water
(1) Halve and (2) core the quinces (do not peel), dropping them into a bowl of water to cover with the juice of the lemon. Fill the bottom of a couscous or pasta pot with water, set a snug-fitting vegetable steamer or colander on top, and bring to a boil. Add the quince halves, cover, and steam until completely tender, about 1 hour. Transfer to a rack to drain. Melt the butter in a 10-inch nonstick skillet over medium heat. Add the honey and bring to a boil, stirring. (3) Carefully cut each quince half in half, add to the skillet, and cook, uncovered, over medium heat, turning occasionally until glazed on all sides (about 5 minutes). Serve with chicken or lamb tagine or even good Greek yogurt for dessert. Serves 4.
*This article originally appeared in the November 19, 2012 issue of New York Magazine.