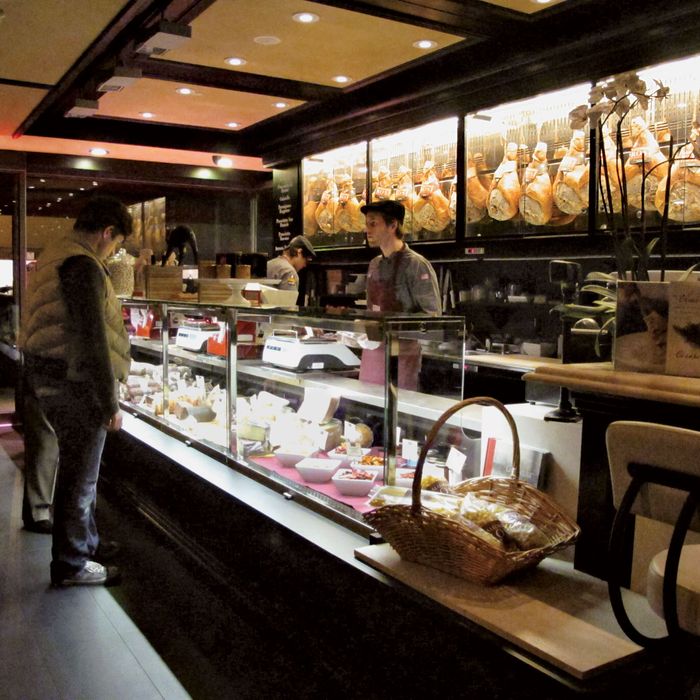 Salumeria Rosi.
Photo: Jenny Westerhoff/New York Magazine
This week our own Adam Platt made a trip uptown to Salumeria Rosi Parmacotto, where he gave two stars to rigatoni con melanzane and Cesare Casella's "signature 'rosemary perfumed' Berkshire pork chop." Where did New York's other critics sup this week? Read on to find out.
Hurricane Sandy made for a few aberrations for our weekly eaters: In lieu of formal reviews, Pete Wells penned a love letter to downtown, and Ryan Sutton offers "Survival Tips for Restaurants Post-Sandy."
"Restaurants, like rock stars," begins Stan Sagner in his review of Perla, "can often succumb to their own success." Such, he says, is the case here. The regional Italian dishes are "occasionally brilliant," but service and interminable waits during peak hours leave a bad taste is Sagner's mouth. Food-wise, "stunning emerald Brussels sprouts … tempered by chanterelles and creamy parsnip puree" start things off right, while the "splendid complex tripe and guanciale ragu" only made the inconsistent pasta look worse. Three out of five stars.
After a visit to the new UES location of Il Mulino, Steve Cuozzo wants to know: "How can a new, supposedly celebrity-magnet restaurant seem bridge-and-tunnel when the bridges and tunnels are closed?" If that brain teaser isn't enough, the prices are sure to confuse. In his star-and-a-half review, Cuozzo offers the following advice for navigating a menu of prices he "gagged on every time" in a restaurant full of "big-bellied guys" and "tattooed-back females": "gobble as much as possible of the abbondanza of gratis antipasti," "choose half-orders of pasta as your main course," and stick to seafood ("poached and marinated octopus — peppery, vividly herbed and olive-tinted — justified its $22 tab"). In conclusion, "may your wallet be thick, and warned."
Ever attentive to language, The New Yorker asks in its write-up of Bistro Petit, what's in a name? "No more than is necessary," argues Hannah Goldfield. Faithfully upheld reservations, "warm but unobtrusive service," and "farmhouse décor and Benny Goodman on the stereo" set the stage for the food to shine at this tiny (tiny) Williamsburg bistro.
Robert Sietsema and Tejal Rao find the South — old and new — in the East Village. Sietsema finds fowl (and fish) at Bobwhite. Both are fried, of course — but in a style more South Carolina than South Williamsburg. As for the catfish, "each fillet crackles like the sound of a car fender crumpling on a brick wall." The small menu finishes sandwiches with southern sides like Brunswick stew, and two desserts: a banana pudding and, in what "might be the menu's greatest triumph," "a boxcar of cakey pudding rife with nuts and sluiced with a salty caramel sauce. Rao's visit to Exchange Alley finds New Orleans by way of Brooklyn native Paul Gerard, who conjures fried jambalaya, fried okra (pickled beforehand), and a French-style pudding made from house blood sausage, so "wonderfully sweet and soft with a delicate crumb" that "it could stand in for cake at a gothic winter wedding."