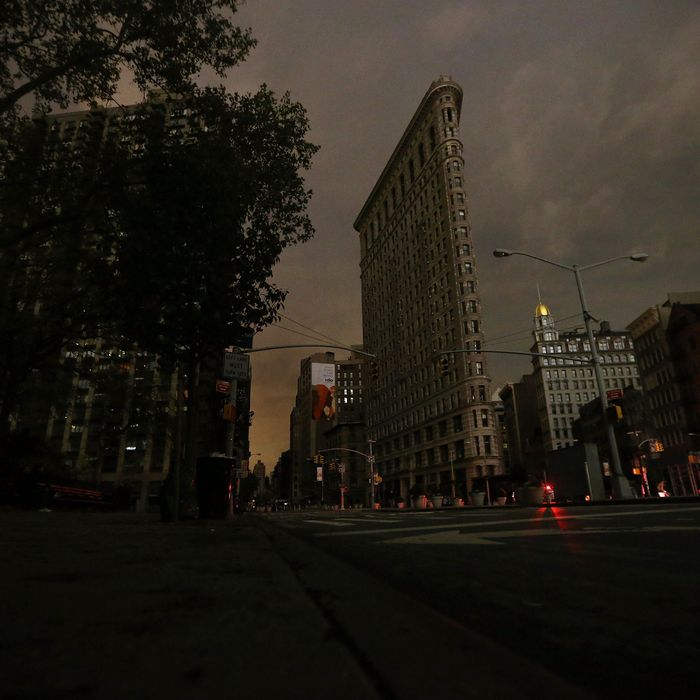 Without power, chefs are forced to throw out ingredients and start again.
Photo: Mario Tama/Getty Images
As the city still reels from Sandy, and lower Manhattan continues to wait for the lights to come back on in the next day or two, it's clear that the city's restaurant landscape won't be back to normal for a long time. We've been talking to a number of chefs and owners over the last few days, and the interesting thing is that even in the face of such dire circumstances, there isn't any wallowing, no matter how hard their restaurants were hit. Instead, there seems to be a workmanlike determination to just ride out and push through. "There's really no time to deal with heartbreak or anything like that," says Brad McDonald, whose restaurant Governor flooded and needs to be more or less rebuilt. "We're pushing through the business hours — we kind of let our hearts fall heavy at the end of the day."
That's easier for some chefs and owners than it is for others — the biggest toll for most is monetary. "You're really looking at two numbers," Andrew Carmellini says of the financial hit he'll take at his two downtown restaurants. Not only does he have to deal with spoiled inventory (including thousands of dollars worth of truffles that were purchased for the now-cancelled Trufflepalooza), there's also the revenue loss that comes from being closed. "The good news," he says, "is that Sunday and Monday nights are slowest — at least it didn't hit on a Thursday or Friday." Even still, Carmellini says his team flirted with the idea of opening up in a limited capacity to recoup some of the lost revenue before eventually nixing the idea. "In the end," he says, "It's not really safe for employees, and there are refrigeration and delivery issues."
Empellon's Alex Stupak has a similar take. "We discussed opening the bar and just having candlelight," he tells us. But because the power is out, credit card machines are down and everything has to be done with cash. "It's Halloween, people are running around in masks. I wouldn't put it past someone to come in and rob the place, so we're not even going there." While he's closed, he's doing his best to keep his inventory cold ("we ordered a ton of emergency ice") but adds, "I'm going forward with the assumption that we lost everything." In the meantime, he's meeting with his sous-chefs to try and be productive any way they can. "Even if it means sorting out our recipe books — just the things that we never have time to do and can get to now."
Keeping things cold seems to be the biggest concern to lots of chefs. King Phojanakong, of Kuma Inn in the LES and Umi Nom in Bed-Stuy says he was able to salvage at least some of his inventory — pickles, frozen pork belly — by transporting it to Brooklyn. Tertulia's Seamus Mullen says he managed to find some ("not cheap") black-market dry ice in the Bronx. Others are starting over: Josh Capon, chef at Lure, B&B; Winepub, and the brand-new El Toro Blanco, all downtown, says he's spending today throwing everything out and will begin again from scratch.
But while some chefs are waiting for the power to come back, or dealing with now-spoiled ingredients, others have to deal with extensive damages. McDonald says the Governor damage was so considerable that he and his partners will more or less have to re-build the restaurant from the ground up: "We'll have to rethink the design of the restaurant. We knew we were in a floodplain, but we never could have imagined this damage." He estimates the costs could run into the thousands of dollars, but he isn't sure what sort of assistance, or even insurance, will be available: "Our insurance company is based in Westchester and their phones are down."
Even still, it's impossible to overstate the impact this will have on the industry. Just as both the Times and the Post point out today, small businesses like restaurants don't have much of a cushion to fall back on when money is due to vendors and landlords. "We need our friends from North of 23rd Street to come downtown as soon as the power is on," Mullen says. "We're going to need all the support from the community we can get to get us back on our feet."