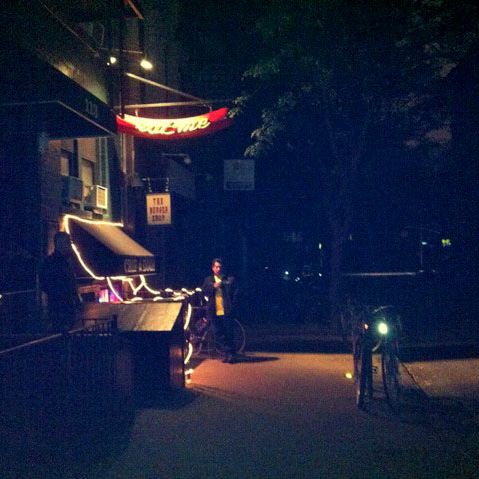 Crif Dogs, last night.
Photo: Carl Swanson
The eastern tip of St. Marks Place on Avenue A was chummy, dark, and candlelit on Tuesday and Wednesday — several bars were open, but decidedly subdued. Chefs and restaurants struggled to keep things cold without refrigeration. And then there was Crif Dogs, the shamelessly beery, fratty feedbag, which had music blaring and its eternally virile hot-dog-shaped sign lit over the door, beckoning all as if nothing unusual was going on. But how? Brian Shebairo, the joint's clever, bearded, and somewhat profane owner, has been planning for this since the blackout of 2003.
Back then, Shebairo "happened to have a generator because I was building a cabin upstate, and the generator happened to be in my loft. I was the only guy on the block who was open." After that, he became a "doomsday prepper." When Irene came, he bought more generators (which came in handy up in Vermont, where he owns a house). "So Sunday night after we did an event in Prospect Park with the food truck I drove up to Vermont and got 180 gallons of gas. I was fucking prepared."
He installed 8,000-, 3,000-, and 2,000-watt generators in the back yard. From 2:30 p.m. on Tuesday all the way to midnight, and then the next day, the shop's neon Pabst sign was aglow in the window and the video games were going inside, along with CNN — a haven for people who'd barely peeked out of the information blackout of downtown, or whose only hot meal had been from the pizza restaurants, which still served Tuesday. All hot dogs were $6; fries, $4, cash only. Shebairo sold somewhere between 600 and 800 hot dogs, twice what he normally sells on a Tuesday night.
The only issue is that the neighbors behind the restaurant hate him for all the rattle. "They had the cops here today," he said. "I said, I know I'm making noise and the second the lights go on the generators are going away." He's thrown extension chords to the people in his building, and helped get the hot water restarted. But the neighbors behind him aren't interested.
"They literally want to hang me. Like I've ruined their life," he says. He even offered them the 2000-watt generator. "Run your refrigerator for two hours. Watch a movie. I don't give a fuck." No dice — the neighbors would rather complain about the noise. Even during one of the worst natural disasters to hit New York, some things in the East Village remain constant.
Related: Coping When They Should Be Cooking: The Impressive Resolve of New York's Hard-Hit Chefs