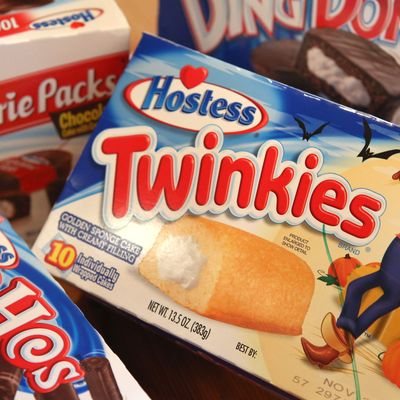 Time to stock up, armageddon-style.
Photo: Scott Olson/Getty Images
Start hoarding those Cupcakes: Hostess — the company that makes Twinkies, Cupcakes, Ho Hos, Ding Dongs, and all the other little plastic-wrapped cake-y things you begged your mom for when you were little — will shut down.
Hostess has been in trouble since at least January, when it filed for Chapter 11 bankruptcy amid financial struggles and a crushing debt load. It hoped to use the bankruptcy to shed some of its labor expenses and emerge a stronger and leaner company. But talks with its bakers union (think of them as the Keebler elves, but with a list of demands) broke down, and earlier this month, after a bankruptcy judge forced the union to accept a new contract that contained major pension and wage cuts, the union went on strike, forcing Hostess to close several of its plants. The company's management threatened to pull the plug on the entire business if the striking workers refused to return, and today, it showed it wasn't bluffing.
"We deeply regret the necessity of today's decision, but we do not have the financial resources to weather an extended nationwide strike," Hostess CEO Gregory F. Rayburn told Bloomberg in a statement. "Hostess Brands will move promptly to lay off most of its 18,500-member workforce and focus on selling its assets to the highest bidders."
Although Hostess's plants will be shut down, its nearly 20,000 workers laid off, and its inventory sold in bulk to a discount store, this probably isn't the last you'll see of Twinkies and Ding Dongs. An iconic brand like Hostess doesn't stay off the market for long, and some new bidder — either a private equity firm or a rival confectioner — will likely step in and buy at least some of the intellectual property and copyrights, and begin making them again with different bakeries and a different (not necessarily American) workforce. But it's not clear how long that will take, or which brands will be bought, meaning that you should probably stock up now in case of a long hiatus.
This post has been updated with new information throughout.
Twinkie Maker Hostess to Shut Down After Strike [Bloomberg]
Hostess Brands closing for good [CNN]
Related: Time to Mourn: Watch Sixteen Vintage Hostess Commercials
Earlier: Twinkie Trouble: Hostess Facing Liquidation