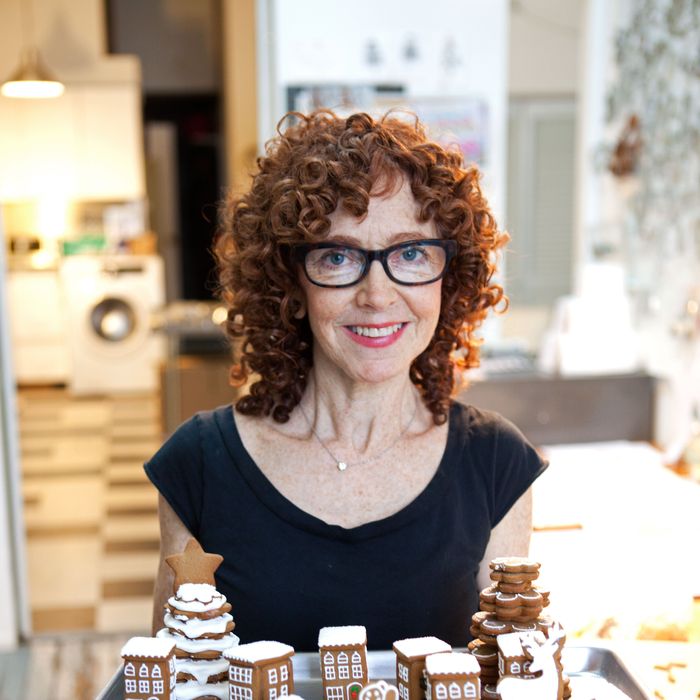 Patti Paige, owner of Baked Ideas.
Photo: Victor Prado / New York Magazine
Several thousand locals go into overdrive with the official arrival of holiday season. In addition to the various department-store Santas, gift-wrappers, perfume spritzers, Champagne room hype men and sidewalk Douglas Fir hawkers, here are three people who'll be working tirelessly right up until midnight December 31, plugging away at frosting your cookies, getting you gizzards, and making sure Aunt Ethel's Kung Pao Chicken is just the way she likes it.

The Gingerbread Woman
Patti Paige, owner of Baked Ideas

New Yorkers really have a thing for gingerbread men doing yoga, huh?
Oh my God, it's the most popular thing I've ever done. Something about the goofy chubbiness of them makes people go crazy.
Any sticklers criticize their form?
Most people say it's pretty accurate actually.
Do your men get up to anything other than yoga?
Well, I do Kama Sutra gingerbread men. My biggest client is Babeland. People also love the taxi-with-a-Christmas-tree-on-top cookie and my mini gingerbread houses. You can hang it on your tree and eat it when you take it down.
In January?
Yeah, gingerbread keeps for a long time — the ginger acts as a preservative.
Do you get a lot of custom orders?
I do. Tom Armstrong, the former director of the Whitney, used to have a big annual Christmas party at the Knickerbocker Club, and I'd do a gingerbread box for him filled with custom cookies. When he'd just built his glass house, the cookies were made to look like the house. When he had grandchildren, the cookies were shaped like toys, or related to the Andy Warhol Museum when he was the director there. Some clients are with me from the very beginning.


The Turkey Farmer
Zaid Kurdieh, managing partner at Norwich Meadows Farm

What makes your turkeys so special?
We grow the only organic, halal turkeys in the country. They're in demand from as far away as Washington State, and between Thanksgiving and Christmas, they all get bought. One restaurant — Marlow & Sons — has already bought a third of our herd for this year.
Does Marlow & Sons cater to a lot of Muslim eaters?
In general, no.
So it's just because they're delicious?
Most likely. But a lot of our customers are Jewish people who see halal as similar to kosher and are interested in sustainability.
What makes a turkey halal?
It has the right to be well taken care of, well fed, not abused, and given at least a chance at some amount of life. We also believe they have the right to die with dignity — you don't show them the knife, and it has to be extremely sharp and done in one swipe.
Is it hard for you to kill your own birds?
Yes. But we don't feel too guilty because of the way we process them — it's not the mayhem that occurs in the conventional system where they're prodded and kicked. When I slaughter sheep for Eid, for example, I don't even have to tie them down anymore — they just stick their necks out. I think they know.
The Mensch
Michael Tong, owner of Shun Lee Chinese restaurants

I hear you do a stiff business on Christmas Day.
Yes, it's the biggest day of the year for us. It's routine for Jewish people in New York to see a movie and eat Chinese food; at our West Side location, we'll get about 1,000 covers on Christmas, compared to 500 on a normal day.
Why Shun Lee over any other Chinese restaurant?
We got four stars from the Times back in 1967. In the 40 years since, we've built up a clientele of generations. Grandpa, son, grandson — it's a tradition to take your family to Shun Lee on Christmas.
Do you serve kosher?
Only when I cook for someone in their home. You've heard of Howard Rubenstein, the big PR person? From time to time, I cook kosher food at his home when he has an event. But I have to go to a special meat company and cook accordingly; we
can't have two separate kitchens and a rabbi at our restaurant. Though if I did Shun Lee Kosher, I would definitely do some business. A Chinese restaurant without Jews? Forget about it.
(All photos by Victor Prado / New York Magazine.)