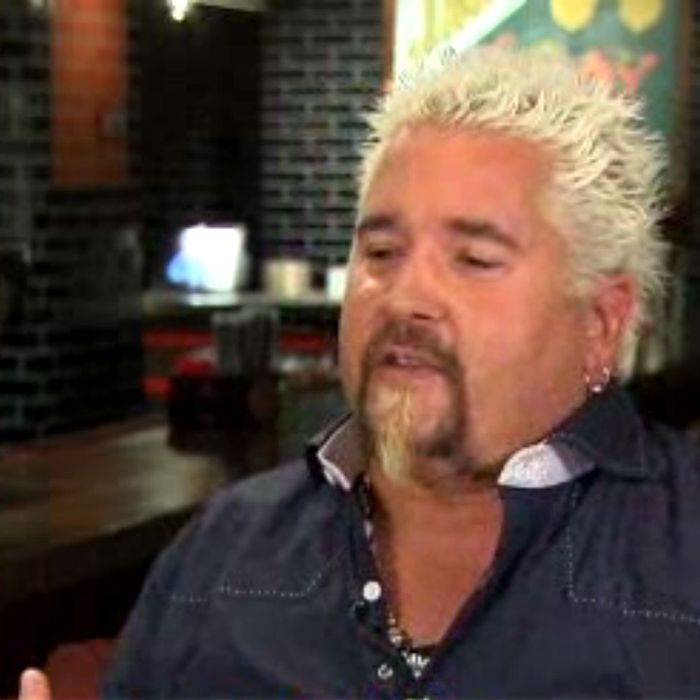 Guy Fieri didn't say anything yesterday in the wake of Pete Wells's public thrashing of Guy's American Kitchen and Bar, but he did show up on Today — increasingly becoming the go-to morning stop for Food Network stars in damage control mode — to address the issue.
"I've read reviews," Fieri told Savannah Guthrie. "There's good and there's bad in the restaurant business, but that to me went so overboard, it really seemed like there was another agenda." (Please keep in mind that Wells's opinion is really no different than that of every other critic who bothered to review the place.)
"Do we do it perfect?" Fieri asks rhetorically (we doubt that was a callback to the review's all-question style). "No. Are we striving to do it perfect? Yes."
So what's the issue, according to Fieri? The place is just too new to be putting out great food. "This is an ever-changing, ever-evolving process … Let's see where we are in six months."
After Guthrie points out that Fieri took a red-eye into New York so they could tape the segment at the restaurant, he says of the spot, "This is more heart and soul. This is not just a name-stamp." Fieri presumably has to know that isn't true; Wells certainly seemed to figure it out.
Visit NBCNews.com for breaking news, world news, and news about the economy
Update: A member of Guy Fieri's PR team tells the Braiser that yesterday, the day the actual review dropped in print, the Times held a staff party at… Guy's American Kitchen and Bar. Even more awkwardness: Today brought Fieri back out this morning to hash things out yet again — this time alongside Dr. Phil, Donny Deutsch, and Star Jones. This has to be the end of this story now, right?
Visit NBCNews.com for breaking news, world news, and news about the economy
After Scathing Review, NYT Held 160-Person Party At Guy Fieri's Times Square Restaurant [The Braiser]
Earlier: Twenty-eight of the Best Twitter Reactions to the New York Times' Guy Fieri Takedown