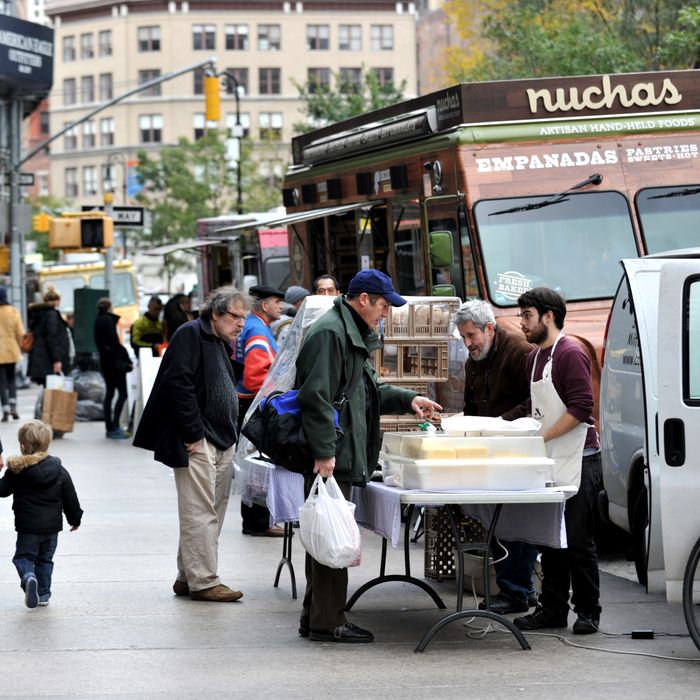 You see something helpful, not disruptive, right?
Photo: STAN HONDA/AFP/Getty Images
Recently, food trucks were having a rough go of it: The police were pushing them out of customer-heavy midtown, owners were singing the praises of brick-and-mortar locations, and in October an FDNY presentation titled "Food Trucks: a Transient Hazard" said the mobile kitchens were ideal conduits for terrorism. But when Sandy hit, mobile vendors were some of the first to react and offer their help, and almost overnight everyone was reminded just how great food trucks can be. Only talk-show makeovers can transform an image faster.
"Because they're self-sufficient and run off their own generators, they were able to pop back into business quicker than a lot of brick-and-mortar establishments," says David Weber, president of the New York City Food Truck Association. "That created this opportunity to use the trucks to provide relief in neighborhoods still without power."
Twenty-four hours after the storm, the association had begun mobilizing to find locations where trucks could be most useful. Drivers hit the road to donate food and use of their generators to people who needed to charge their cell phones. "The drivers are tech-enabled and used to finding customers and setting up shop," says Weber. "They're very sensitive to traffic patterns and pedestrians, so having a team with skills like that is so essential when you're dispatching them to neighborhoods. That's part of I think what has made this effort so successful: the trucks are really good at finding people in need."
Now, as the recovery wears on, unlikely sponsors have lent their support to the trucks: JetBlue partnered with the NYCFTA to donate food to the trucks' outreach efforts; the following week, the Mayor's Fund to Advance New York City signed on to sponsor around 20 to 30 trucks a day to serve areas like Breezy Point, Coney Island, and the Far Rockaways. Last week, the NYCFTA announced that more than 120,000 meals have been served.
Of course, the Mayor's office sponsorship stemmed from pragmatic and humanitarian considerations, but it's tempting to also see the partnership as tacit endorsement from a bureaucracy that has historically had, at best, a somewhat strained relationship with the street-vending community. To wit: Last October, City Councilwoman Gail Brewer introduced a bill designed to regulate the city's food trucks, which she described as "noisy and filthy," while Councilman Dan Garodnick began drafting legislation to designate specific zones where trucks could operate. A few months prior, a New York State Supreme Court judge ruled to reinforce an arcane Department of Transportation rule prohibiting street vendors from selling merchandise from vehicles parked in metered spots.
Whether or not that will make life easier for food-truck operators once their relief efforts are finished, the sight of the trucks providing hot meals to those who need them most certainly doesn't hurt their cause. "One of the things we're always striving to do is show how mobile food operators are part of the streetscape," Weber says. "This provided a great opportunity to leverage the strengths of mobile food vendors in a way that could give back to the community."
Keith Klein, the owner of the Milk Truck, has spent the past two weeks bringing food to places like Red Hook, Coney Island, and Breezy Point. He has more or less put his regular business on hold to dole out boxed lunches. The response, he adds, has been unequivocal: "They're happy to see us."
The FDNY memo, Klein thinks, is a nonissue. "All it was was an educational document," he says. "That stuff tends to get blown out of proportion. Like really, Schnitzel and Things is a terrorist threat? It's pretty silly."
And while food trucks couldn't ask for better PR than selflessness in the face of adversity, it seems pretty clear that no one in Staten Island or Red Hook or the Far Rockaways is giving any thought to their image, positive or otherwise. The more relevant message: The trucks, Klein says, are "a little bit of humanity in an otherwise fucked-up situation."