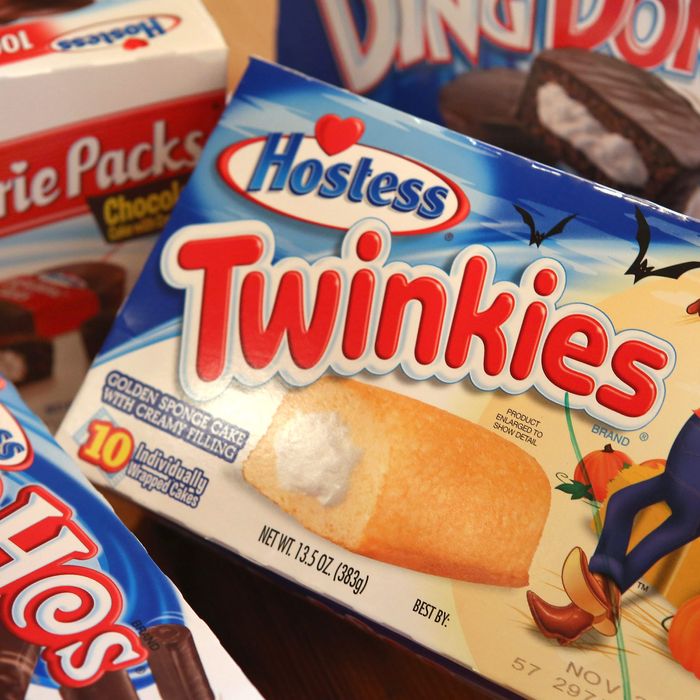 Gone, but not for much longer.
Photo: Scott Olson/Getty Images
That didn't take long: It's only been about a week since Hostess shut down its three dozen bakeries and put its nearly 20,000 employees on the unemployment line after mediation talks fizzled out, and a potential buyer for the brand has already emerged. The Wall Street Journal says that Flower Foods, the Georgia-based baker that last year snatched up Philadelphia's Tasty Baking Company — makers of Tastykakes — is a top contender to make a strong bid for at least some of Hostess's assets.
While Flowers hasn't announced plans to purchase Hostess or any of the 30 or so brands it's looking to unload, the WSJ goes on to say that the company renegotiated lending terms to free up more cash for a possible bid, and that its facilities have been running below capacity after a recent expansion for a private-label customer petered out.
Perhaps coincidentally, with the scarcity of Twinkies already taking its toll on our nation's collective sweet tooth, Tastykakes have started turning up on store shelves in and around Boston that were previously reserved for Hostess products.
Flowers Foods Sizes Up Hostess [WSJ]
Tastykake begins filling the holes left by Hostess [Inquirer]
Earlier: Hostess Definitely Probably Still Dead
Not So Sweet News: Tasty Baking Co. Announces Layoffs