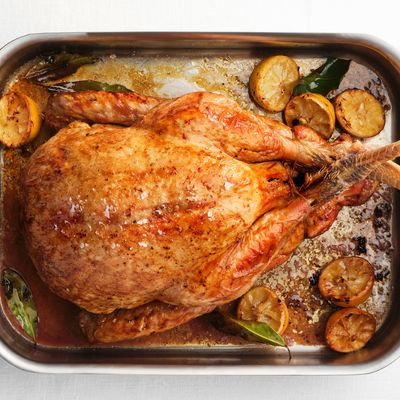 Stick to the thighs.
Photo: Drool Ltd, William Lingwood/the food passionates/Corbis
It's Thanksgiving week, which means Thursday is basically a lost cause from a healthy-eating standpoint, right? Well, not exactly. It turns out there are a couple things you can do both ahead of time and during the big day to help soften the damage (and neither requires you to hold off on mom's mashed potatoes). That's not all this week: We've also got good-for-you ramen, a veg-friendly butcher, and more.
Monday, November 19: Go Green at DBGB
Next time your carnivorous friends drag you to DBGB for, say, the bone marrow and the three-sausage triple dog dare, show them up with some selections from the seasonal green market menu — like concord grapes and rosemary, or arugula salad with shaved fennel, radish, and toasted coriander.
Tuesday, November 20: Check Out a Vegan "Butcher"
If your heart doesn't skip a beat at the sound of beet tartare or roasted vegetable terrine (mushroom walnut pâté, broccoli rillettes, you get the gist) — both off the butcher-board list at brand new all-vegan café Butcher's Daughter — that's probably just because your cardiovascular system is working so efficiently from all this ticker-friendly fare.
Wednesday, November 21: Pre-Turkey Detox
Three foods credited with being great for your digestive system: Seaweed (try the deluxe seaweed salad at Taro Sushi), dandelion greens (find them in the trumpet mushroom and duck salad at Ici), and turmeric (give it a whirl with achat — vegetables pickled in tumeric powder and spicy herbs — at Malaysian spot Nyonya). Load up to prepare for tomorrow.
Thursday, November 22: The Bright Side of Dark Meat
You can eschew dry turkey breast today and forevermore because guess what? The drumsticks are actually better for you. Dark meat has more folate, zinc, iron, and a heart-healthy nutrient called taurine than the light stuff. (We're still looking for the research that says stuffing and gravy are okay, too, but don't hold your breath.)
Friday, November 23: Ramen Broth for Your Health
Take a break from the poultry-themed leftovers for some Japanese comfort food. Bone broth — the fragrant liquid surrounding your noodles in Ganso's signature ramen — is traditionally thought to have medicinal qualities: It's a source of calcium and other minerals, and it doesn't take a scientist to determine that it can work wonders for a cold.
Kate Lowenstein is the senior features editor at Health magazine.