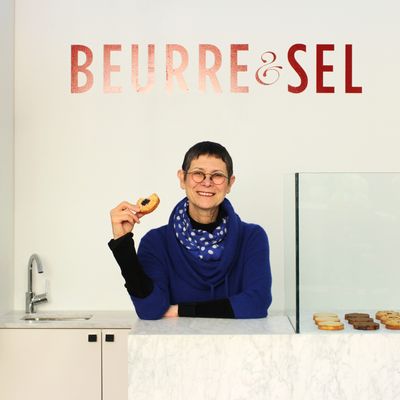 "Cappuccino from Porto Rico Coffee, a fresh-squeezed apple-celery-ginger juice from Tra La La."
Photo: Melissa Hom
Pastry authority and owner of the new, celebrated Beurre & Sel Dorie Greenspan knows what's on the city's collective mind right now: "the importance of comfort" and the strength of New Yorkers. That's why the multiple James Beard–winning cookbook author spent most of the week feeding her own soul, then lending support to her friends in downtown New York, where a dinner at ABC Kitchen was "miraculous" and porridge from Mission Chinese was "like a hug." She also baked mountains of her incredible cookies — like the streusel-topped Jammers and her World Peace Cookies (also sold at La Marqueta and at Essex Street Market) — and recipe-tested holiday cookies and a caramel-nut tart for her next book, "the one with the looming deadline." Read all about her "Pumpkin Stuffed with Everything Good" and "triumphant" squash toast in this week's New York Diet.
Friday, November 2
Sandy plus four days, and I'm on Connecticut's shoreline, where I was extremely lucky — no damages. After a few days of no heat, no water, no cell service, no Internet, no cable, dinners by candlelight and bedtime reading by flashlight — so much less romantic than it sounds — everything's flipped on, and I'm slightly less flipped out.
Up at seven. No breakfast as usual, but … years ago, my husband bought a rebuilt professional espresso machine, the kind that needs plumbing. It's huge, hulking, and the ugliest thing in the kitchen, but every morning I'm happy to hear it hiss, a sound I missed during the storm days. Two cappuccinos.
Mary Dodd, my amazing recipe-tester who still doesn't have power, came over for a shower, tea and a taste of the new cookies. Our verdict: Spiced pumpkin and crumb topping is a great idea, but the spices need to be punched up.
I've been eating some variation of this lunch for more than twenty years: apple, plain yogurt, sunflower seeds, and raisins. At my desk. When you work at home and your office is — and is in — the kitchen, there really is no time off.
Powerless friends chez us for dinner. I made guacamole, which we scooped with carrots and chips, and then two versions of a favorite recipe, Pumpkin Stuffed with Everything Good. For the bacon-eating vegetarians, rice, bacon, onions, apples, cheese, chard, and cream stuffing; and for the true carnivores, leftover chili (made just before the power went down), Monterrey Jack, and black beans.
Saturday, November 3
Two cappuccinos. Half a banana, the half my husband didn't have with granola. I ate it and thought of my mom, who would stand at the kitchen counter and polish off what was left on the kids' plates. Do we all become our mothers?
My regular lunch at my regular place, a last Connecticut cappuccino and another cookie from yesterday.
Back to NYC with a stop at Fairway on 125th Street to stock up because Joshua, our son and my partner in Beurre & Sel, and four of his friends are living in our West End Avenue apartment — downtown refugees from the storm in search of electricity, hot showers, clean sheets, and camaraderie.
Walked around the neighborhood — poor, poor Riverside Park — then made dinner for two: roasted-pear salad, pasta with anchovies, shrimp, tomato-lemon sauce, and shredded kale. For dessert, some Cato Corner (Connecticut) Hooligan cheese.
Sunday, November 4
This turn-back-the-clock thing hit me like jet lag. It always does, and I've never been able to figure out why. Up early, as usual, and had coffee with hot milk. I couldn't stop nibbling: crackers, bits of cheese, a clementine, a few handfuls dark-chocolate M&Ms;, two cookies, and then more cheese. Finally, I got some 'real' food — I fried two eggs and a couple of strips of bacon and had them on a slice of my husband Michael's homemade multigrain bread. I should have done it a handful of M&Ms; earlier, but …
Up to La Marqueta in East Harlem, where we do the baking for Beurre & Sel. Our terrific and intrepid pastry chef, Marisa Croce, was working after a ferry from Brooklyn, a jammed train and enough waiting time to have read War and Peace.
After a day of aimless eating — the kind I wouldn't admit to if I weren't keeping this diary — dinner was a feast. We all went to ABC Kitchen and shared a bunch of plates from the appetizers, starters, and pizza portions of the menu — squash toasts, crab toasts, roasted-carrot and avocado salad, pretzel-crusted calamari, tomato pizza, kasha, bowties and veal meatballs, roasted Brussels sprouts, too. And apple pie and the justly famous salted-caramel ice-cream sundae with popcorn and peanuts. And a Sylvaner from Ostertag and a fun red, Gueule de Loup, from Chateau Roquefort in Provence. Everything was, at it always is, bold and completely spot on, bordering on the miraculous, since the restaurant had lost all its food when it lost power. That night, having started everything from scratch, was their first post-Sandy service. A delicious triumph!
Monday, November 5
Coffee, of course. One at home and one from Starbuck's last-minute.
A quick lunch: chicken and green papaya salad from Saigon Grill that somehow found its way into my fridge. Yeah, I two-timed my apple-and-yogurt Old Faithful.
After a long day, I got a second wind, and so my husband I crossed town to T-Bar, the restaurant owned by our longtime friend Tony Fortuna. We caught up on storm news and friends in the biz over chunky guacamole and my new favorite dish at T-Bar, chicken Milanese, a chicken paillard topped with a really great chopped salad. Michael had the beet salad, followed by the chicken liver and foie gras parfait — two apps that made such a good meal.
Tuesday, November 6
Up at about six, mostly because I was too excited to sleep. It's Election Day and Beurre & Sel's reopening after Sandy!
We left for the polls before seven expecting to vote and then go out for breakfast, but we expected wrong. The process was a mess, and we didn't finish until 9:30! Thank goodness PS 75's PTA ran a bake sale. I bought rounds of coffee donated by Starbucks and homemade pumpkin bread.
It was great to get back to the Essex Street Market and great to see so many chefs and fellow vendors who were also returning to the neighborhood after the storm. Rodney and Kirein from Sorella stopped by, so did Liz Clayman from Pearl Oyster Bar and the sweet, sweet Mark Isreal, Mr. Doughnut Plant. I nibbled through the market, having a cappuccino from Porto Rico Coffee, a fresh-squeezed apple-celery-ginger juice from Tra La La, a brisket taco from Jesse at Brooklyn Taco, and a few chopsticks' worth of Joshua's cold udon-noodle salad from Ni Japanese Delicacies — sooooooo delicious.
Shopped the market and the 'hood for Election Night 2012. I shop here all the time, but post-Sandy downtown shopping is its usual delicious plus newly important. I bought: Edwards' Surryano Ham and Armandino Batali's salumi from Heritage Meats; some smoked salmon and scallion cream cheese from Russ & Daughters; cheeses, including curds from Saxelby Cheesemongers; breads from Pain d'Avignon; and, for dessert, Roni-Sue's super-good buttercrunch, a box of macs from Macaron Parlour, a gift from a friend with good taste, and our own World Peace Cookies, for good luck.
I already had Champagne on ice, but I found a surprise waiting for me on my doorstep: Pliny the Elder India Pale Ale. There was just one bottle, but as Joshua later said, "One bottle is one more than most people can ever get their hands on in a lifetime." He might not have been exaggerating. We poured a little into small tumblers, making it go around — I learned too late that I should have used wine glasses — toasted, oohed and aahed.
Wednesday, November 7
A Nor'easter. Ugh. Enough already!
I grabbed a coffee from Almacen, Hot Bread Kitchen's stall at the market, and went into Beurre & Sel's kitchen to bake with Marisa and the team. Later, we had a terrific photo shoot with Claudia Ficca for our new website and celebrated it with a few Jammers, shortbread cookies topped with jam and streusel.
Downtown to our Essex Street Market shop — cold, wet, crazy hungry, and with one specific thing in mind: porridge from Mission Chinese. The only thing more comforting than Danny Bowien's rice porridge is a hug.

When we pulled down Beurre & Sel's gate, I so didn't want to face the storm, another storm, and yet, I was dreaming of food from the land of nor'easters. Ever since yesterday, when Liz told me that Pearl Oyster Bar had reopened, I'd had visions of fried oysters and lobster rolls. It was freezing, it was raining, it was snowing, it was slushy, but braving the elements makes a Maine dinner more Maine and a New Yorker more fiercely New York.